Alumnae/i Feature
Julie Bliven '05 '08MA Shares the Power of the Simmons Community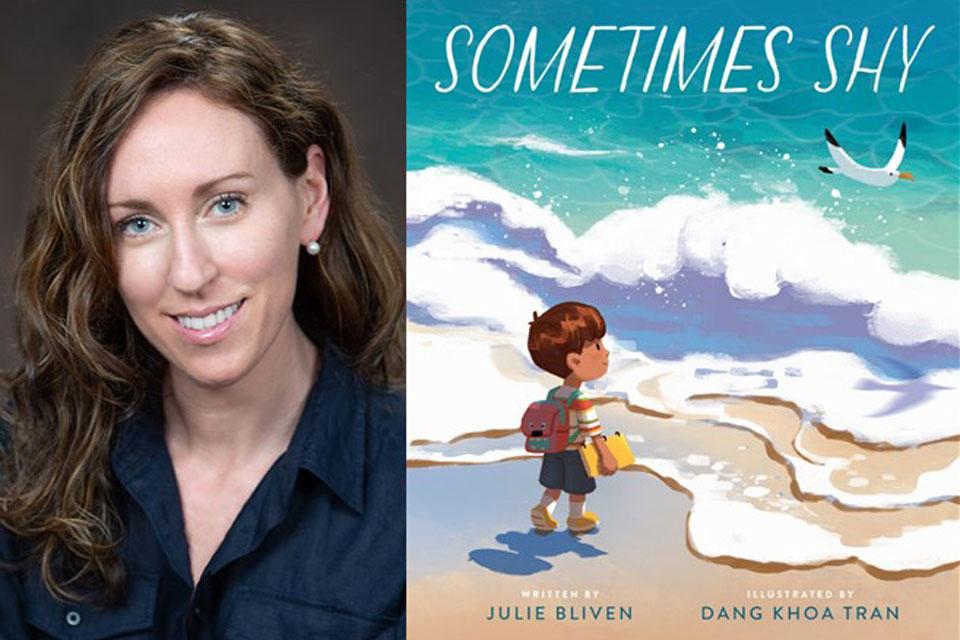 The impact of the MFA program on the [children's book publishing] industry is amazing.
Charlesbridge Publishing Children's Book Editor Julie Bliven '05 '08MA mentors students in the MFA program at Simmons, and has taught Writing II in the MFA program. She worked with Simmons classmate Elaine Dimopoulos '08MFA on her most recent novel, The Remarkable Rescue at Milkweed Meadow (Charlesbridge, 2023). In addition, Bliven has returned to her love of writing with her debut picture book, Sometimes Shy (Beaming Books, 2023). Bliven shared with us how being a writer has helped her be an editor, and vice versa.
The world of children's publishing may be vast, but a degree from Simmons University's Department of Children's Literature makes it a lot easier to navigate.
"The impact of the MFA program on the [children's book publishing] industry is amazing," says Julie Bliven, Senior Editor at Charlesbridge. "So many authors, editors, publishers [went through the program]." Bliven is in a longstanding book club with friends from the program who are now teachers, editors, writers and designers. "We cover this scope of professionals who work with children or in children's literature. For me, that group has been the most significant thing [that I gained from] Simmons."
Finding a Simmons connection
One member of that book club, Elaine Dimopoulos '08MFA, has been a friend since their time at Simmons. "We were partnered together on our very first assignment — a presentation on Carolyn Coman's novel What Jamie Saw," she recalls. "Our friendship is rooted in our shared passion and appreciation for children's literature."
Though she admired Dimopoulos's published work, Bliven never envisioned working with her as an editor. As Senior Editor, Bliven acquires books for children at every stage of childhood, from board books and picture books to middle grade and young adult novels. "I look for stories that can straddle commercial appeal and the school library market." She's always searching for books that fill gaps in their editorial list, and in the market at large. She's drawn to books that "feel simultaneously timeless, books that I would have loved as a child, but are also relevant to this moment in time. It's a hard balance to find, but when it's done, it's powerful."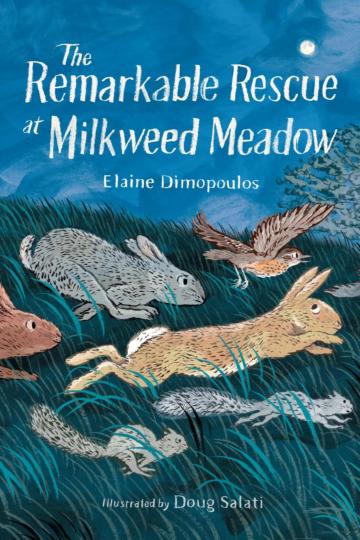 When Dimopoulos asked Bliven to read her middle grade novel, Bliven recalls, "I couldn't put it down. I was taking notes, circling passages. I loved it from the get-go." She asked Dimopoulos to consider submitting to Charlesbridge, once the manuscript was complete. "When it was submitted by her agent, I sent it around to my colleagues to make sure they, too, felt the writing and premise were as exceptional as I did."
The book, The Remarkable Rescue at Milkweed Meadow, was released this year. "Working together was, well, remarkable. I enjoy the analysis of what makes a good story — what's working, what's not, and what's at the heart of the story. [Dimopoulos] is so deliberate in what she does, and we had wonderful conversations about her intentions for the story. It was already strong, and my role was to help her amplify what was already there."
There is a "meta" layer to this book that Bliven particularly enjoyed. "It's a story about storytelling," she says, "which brought us both back to our roots at Simmons! It feels like a classic, anthropomorphic animal tale, with deep, meaningful themes." The protagonist, an anxious rabbit, is both timely and relevant. "Anxiety is hitting hard these days for children and adults. Plus the novel is heartwarming, fast-paced, and hilarious. It's a wonderful homage to our roots in the children's literature program." Bliven and Dimopoulos will work together on the sequel as well.
Celebrating her debut picture book
This year, Bliven also has her own debut to celebrate: her picture book, Sometimes Shy, was published in May of 2023. She first started writing the book when her son was very young and she noticed how parents tend to react to their own child's perceived shy behavior.
"We parents often apologize for our child, [saying] he's so shy, like there is something wrong with that. Adults can present shyness as a label for the child, as opposed to the way he is feeling at one moment in time," she recalls. "I liked exploring the idea of a story about a confidently quiet child understanding how the world around us can reflect different emotions: maybe the ocean is shy at low tide and more bold at high tide." The book ends with the child talking non-stop to a sibling. It's an experience that Bliven had in her own childhood, when she felt shy in certain situations and not so much in others. "Students who are shy aren't less intelligent or less engaged [in school]. We need to continue to find ways to connect with them, too."
Making the switch from editor to author
Being on the other side of the author-editor relationship has also been an eye-opening experience. "It gives me that much more empathy and understanding for my authors. I now realize how much of themselves, their time, and their energy they put into these projects. I've always been aware of that, but this personal experience of becoming published elevates my understanding. As an editor, I want to be the best possible sounding board for authors, and create the safest space to discuss all of the decisions that need to be made when a book is published."
Until a few years ago, Bliven had been hesitant to share her writing, but mentoring students in the MFA program and teaching Writing II inspired a return to her own work. "It felt tricky to straddle both worlds," she recalls. "It was strange  for me at first, but there are other agents and editors who write, too. I feel I wouldn't have been brave enough if I hadn't had the opportunity to work with so many incredible students, authors, and illustrators. To see their perpetual vulnerability and creativity, to see them put themselves out there, that helped me."
Bliven's connections to Simmons continue. She will soon publish her second picture book, which will be edited by  Rotem Moscovich '06MFA, another editor she met while at Simmons.
Julie's recommended reading: