Campus & Community
Julia Hvoslef on Breaking the Status Quo: Leadership that Defies Norms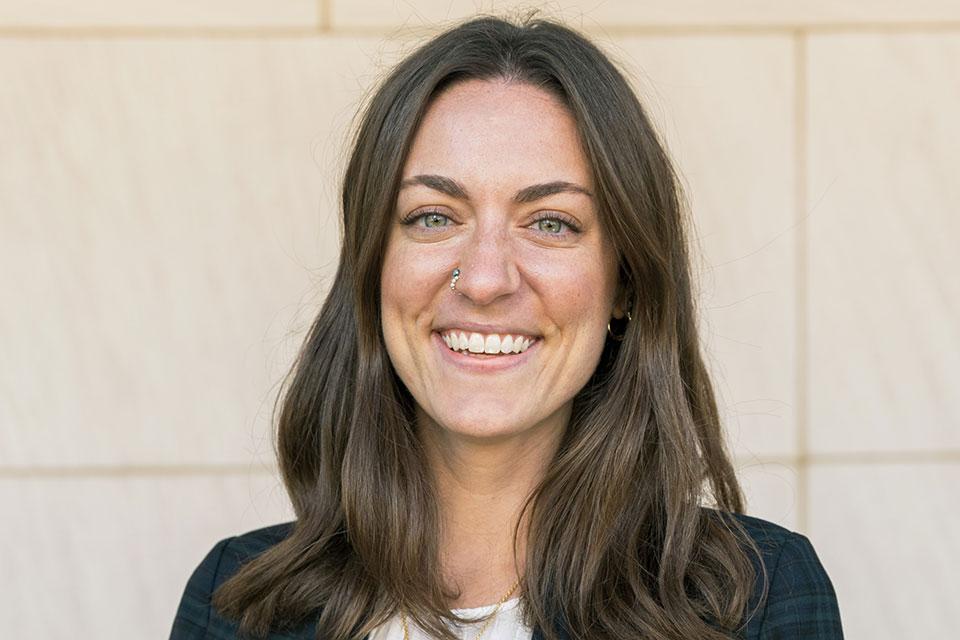 "Leadership is a process that we go through always, with no end goal," says Julia Hvoslef. "It can be seen as positional, but it's not."
She speaks from experience, both in her role as Director of the Jennifer Eckert Center for Leadership and Engagement and in the Leadership course she teaches as part of the PLAN core curriculum. Breaking the Status Quo: Leadership That Defies Norms examines leadership development and redefines how we perceive and experience leadership.
Hvoslef uses her own experience as an example, and encourages her students to do the same. "I have this title of director now and see myself as a leader in that way, but my title doesn't mean that I'm finished learning and developing. There are always things to learn and that openness is part of being a respectful and thoughtful leader."
When she taught the class in Spring 2022, she aimed to empower students by recognizing what they each brought to the classroom. "A student's lived experience brings a lot of value," she says. "I've always had a personal interest in learning about identities that I don't hold, not to become an expert but to gain a better understanding of what life is like for someone else. It reminds me to be mindful of intersecting identities, such as non-binary individuals and members of the trans community, and I've learned a lot from my students."
Nursing student Katelyn Fox '25 was hesitant about the leadership course, at first. "I never used to think of myself as a leader, but through learning different leadership styles I was able to recognize my strengths and how to create change while making a positive impact in my community." Fox noticed an increase in her confidence level, especially in her waitressing job and as an orientation leader at Simmons. "Both of these positions are heavily rooted in teamwork, which is a big part of being a leader. The skills I learned in class have been put to use several times in my daily life since the course ended."
In addition to encouraging students to learn from their peers, Hvoslef focuses on female historical leaders who defied a lot of those assumptions. Psychology major Molly Brodeur '25 cited the value of the course materials. "They enlightened me on social problems that I was not very knowledgeable about," says Brodeur. The syllabus included Women, Race & Class by Angela Davis, as well as works by Nobel Peace Prize winner Shirin Ebadi and writer and social commentator Roxane Gay. "We learned about identity and different ways to be a leader while dismantling stereotypes of leadership," says Fox. "Many of the discussions we had in class were completely different than those in any of my other classes and helped me grow a lot as a person." For Hvoslef, sharing her passion for these authors and activists feels important. "I have a strong interest in learning different ways that women have felt empowered throughout history, and being at a women's centered institution is a perfect space to teach students about those things."
To encourage students to venture beyond Simmons, Hvoslef assigned them a field trip based on the Boston Women's Heritage Trail. The trail offers paths in neighborhoods throughout Boston, noting statues and buildings related to women who have made a difference in the city's history. "I asked them to take a selfie [in the location] and write a reflection on the experience, while also getting out into Boston," says Hvoslef. In the reflections, many students reported frequently passing by statues and never knowing the history behind them until they were asked to stop and pay attention.
Students also chose a mentor to interview about issues and challenges they faced in their careers, which facilitated connections with the alumni network and local business leaders. Fox, a Nursing major, spoke to a professional in the healthcare field. "It provided an opportunity for me to learn more about what leadership looks like to them, and gave me some insight into what my future may look like." Brodeur also noted the value of this experience: "It allowed me to connect with faculty besides my professors and provided me with additional options and avenues to reach out for assistance."