Alumnae/i Feature
John Campopiano '13MS Combines Archives, Documentaries...and Monsters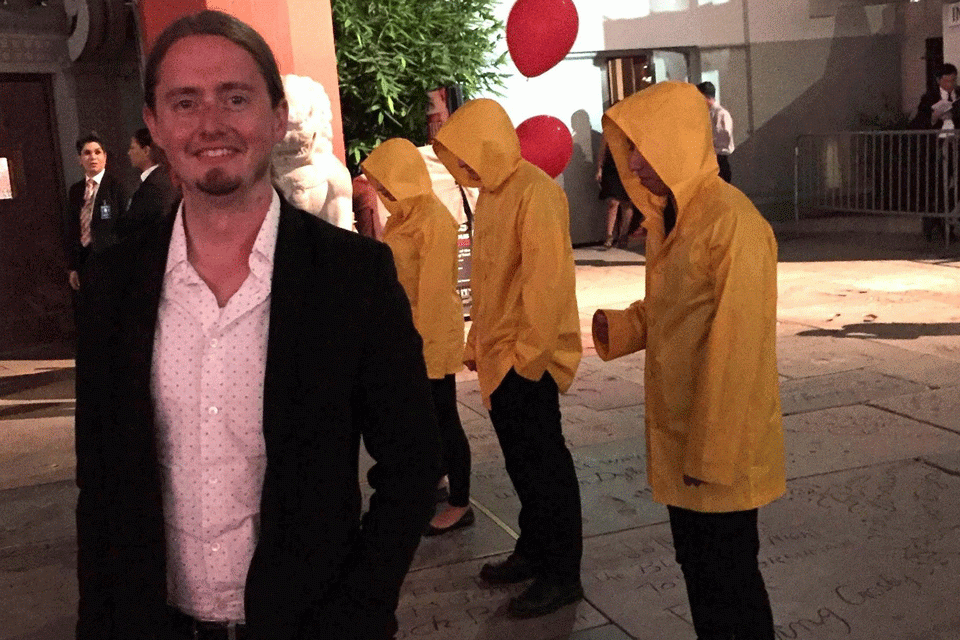 The tools you learn at Simmons can be applied in different ways, depending on the materials and the environment. Look outside the obvious scope to see all the options.
"Simmons is omnipresent in everything I do," says John Campopiano '13MS. As archives and rights manager for WGBH's FRONTLINE for the past six years, he continues to draw on the courses he took in digital archiving and metadata at Simmons.
In his job, he says, "I do a bit of everything. I work with our producers in the field, gathering footage and music. I work with our legal team for fair use assessment of materials." After the episode airs, he works with the media library and archives. "Closing the films out involves creating footage databases and shot logs, making sure all media and content are tracked and findable and managed in perpetuity." He is often contacted by educators and researchers to license FRONTLINE footage.
Campopiano has helped facilitate WGBH's transition from tape-based media to digital, an ongoing process. "It's a lot of data migration and dealing with the obsolescence of hardware. I often feel like I'm back in my 'Preservation of Digital Media' class, discussing the assumptions we all bring to the table about protecting digital media, both professionally and at home."
Despite the pandemic, Campopiano remains in contact with FRONTLINE producers worldwide and in the field. Though he misses gathering with colleagues to screen films getting ready to air on PBS, he has been fortunate to continue his work remotely.
His path to studying archives at Simmons SLIS, and his work since then, has been steered by serendipity. "In my undergraduate degree, I stumbled on ethnomusicology. After graduating, I worked for a musician and managed his archives. I fell in love with archives, which led to SLIS."
While at SLIS, he and a fellow Stephen King fanatic visited the filming location of Pet Sematary (1989) in Maine. While there, they talked to locals who referred them to people who lived in the area during filming. Campopiano and his friend gathered so much material — they realized there was enough for a documentary. Five years later, they had a film, Unearthed & Untold: The Path to Pet Sematary (2015), a distributor, and screenings at film festivals.
"After that, I got a call from someone in the UK, inviting me to direct another documentary." This one, Pennywise: The Story of It, is focused on the filming of the 1990 miniseries, based on Stephen King's novel, It. The film was crowd-funded, and Campopiano has flown to Los Angeles and Vancouver to film interviews with actors involved in the miniseries.
With all of these projects, Campopiano has become the de facto archive producer, gathering and organizing all behind the scenes materials, researching fair use laws, and cataloging what shots to use in a film.
"My interests in film and archives are dovetailing," he says. "The thrill of the hunt is what turned me on to archiving. It's not uncommon to find people who have three-quarter-inch tape in their basement that no one has seen in 30 years. I get a high from discoveries like that — it's so exciting."
His interest in documentary filmmaking (and monsters) led to his creation of a short documentary for PBS American Experience, about a massive sea serpent created by master-puppeteer, Tony Sarg, photographed washed up on the shore of Nantucket in an elaborate hoax.
"I've always been interested in monsters and crypto-zoology," says Campopiano. "Even though I knew the creature wasn't real, the photos were stunning."
Campopiano is still thankful for the support of his professors. "In graduate school, my classmates were getting jobs before I did. I had to grind for months after graduating. When I got discouraged, then-Professor of Practice Donna Webber offered encouragement. My professors were kind and pushed me really hard — writing grant proposals in Donna's class is something I won't forget. It was important work."
He encourages archive students to think creatively about their work and their careers. "Coming to FRONTLINE, I was a 'lone arranger.' This gave me the opportunity to think creatively and consider what I learned at Simmons that I could use — something the team at FRONTLINE didn't know they needed. The tools you learn at Simmons can be applied in different ways, depending on the materials and the environment. Look outside the obvious scope to see all the options."