Alumnae/i Feature
Jennifer Dembo '18MSW on Supporting Women Physically, Mentally, and Emotionally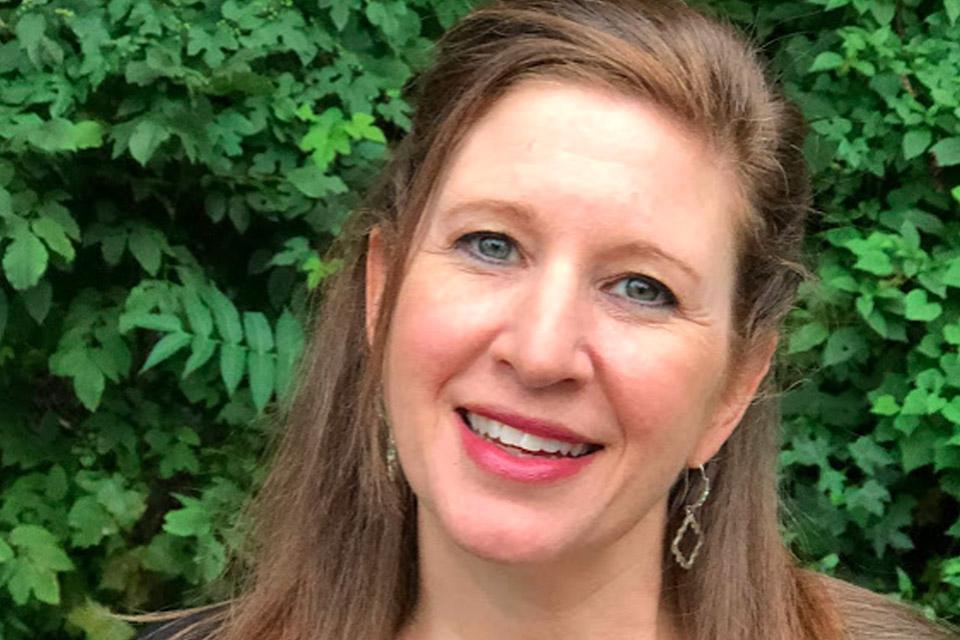 Social Work graduate Jennifer Dembo '18MSW is a Psychotherapist at Everyday Parenting Psychology and an Adjunct Faculty member at Simmons. She describes her professional work as "reproductive social worker." She shared with us the evolution of her career, from a certified doula to psychotherapy, and how those experiences inform each other in her chosen field of women's behavioral health.
What led you to social work?
I worked in the music business after I graduated college and loved it, but the business part of it started to wear on me. I saw so many amazing, talented people sucked in and spit out [by recording companies]. As passionate as I am about music, I thought, "what am I doing? I'd rather be helping others in a meaningful way."
After having children, I felt called to support other people on their journeys to becoming parents. I went back to school and became a certified labor support doula as well as a certified childbirth educator. Several years later I was privileged to manage a homebirth midwifery practice. I got to sit in on appointments in living rooms — the care was excellent, and it didn't have that clinical feel that can be anxiety-producing for some patients.
However, being a doula is a 24/7 job. Babies like to show up at all hours of the night! Suffering lack of sleep, with young children of my own, I wondered how I could continue to support women and families without sacrificing my own wellbeing. The emotional and psychological piece of this experience goes hand in hand with the physical, and I had a lightbulb moment: I would focus on mental health. The importance of the person-in-environment perspective in social work made sense to me; considering external factors is inherent in social work. This, in combination with attention to women and their needs and preferences, seemed to be a perfect fit.
What made you choose to pursue your Master of Social Work at Simmons?
I was interested in an online Social Work program, which Simmons offered years before the COVID-19 pandemic. The structure of the program and the academic rigor was impressive, and Simmons' commitment to social justice really spoke to me. The Simmons [University] School of Social Work also has an amazing reputation in the field.
You describe yourself as a reproductive social worker. Can you describe what that means?
It's my attempt at a succinct way to describe my combination of training and practices. I'm a certified doula, childbirth educator, and mental health specialist, with expertise in PMADs (Perinatal Mood and and Anxiety Disorders) and sexual health. . On any given day, I might find myself talking with clients about low libido, birth trauma, perinatal OCD, grief and loss, perimenopause, abortion, breast cancer, interpersonal, or parenting concerns. What drives me is the need to support women and their behavioral health throughout the reproductive and life cycles.
What do you find most rewarding about this work?
I consider it an honor to sit across from clients and hear their stories and struggles and triumphs, no matter how large or small. Anyone who identifies as a woman has likely felt dismissed, disrespected, or neglected by a health care provider, particularly individuals who identify as women in BIPOC and LGBTQIA+ communities. My work is to listen to their experiences, validate them and help them to feel empowered. I believe that comprehensive healthcare and education should be accessible to everyone, and that everyone has the right to bodily autonomy, which is a human right.
I also teach a course in SWO 403 Social Policy Social Work in Organizations & Communities, and my students remind me every day of the importance of being fully engaged in this work. Simmons is intertwining the clinical program with macro social work and civic involvement, which is critical.
What challenges or opportunities do you foresee in the field of women's behavioral health?
The need for support in this area is greater than ever, especially after the overturn of Roe v. Wade. Gender inequality is nothing new in the United States, , and now that the Supreme Court has stripped Americans of the right to abortion, we are even worse off. We know, based on what happened before Roe v. Wade, that women will suffer and die as a result. This is not a politicized statement, we know this from the data.
I attended a National Association of Social Workers meeting after the overturn, and spoke to providers who were terrified as well. How are we supposed to protect ourselves and our clients, legally and ethically? These are painful questions to ask, especially after 50 years of healthcare protection we're no longer entitled to.
How can students follow your career path?
Anyone who's interested in reproductive health might consider volunteering at organizations like Planned Parenthood or attending local birth network and social justice organization meetings,. I also recommend arranging informational meetings with professionals who work in areas of interest. Just ten minutes of their time could be fruitful and ultimately lead to internships or other roles in their respective organizations. That's how I patchworked my first three jobs together after graduation. Get out there and network.
How did Simmons prepare you to become a leader in your field?
I learned from an outstanding group of educators at Simmons, who held us to the highest standards. They encouraged us to think critically, to always support our arguments, to engage in often very difficult conversations with one another, and they fostered a tremendously strong sense of community. We learned to never back away from a challenge and instead to embrace it, and the learning environment at Simmons allowed us to find our voices. The focus on ethical guidelines and attention to how to conduct ourselves professionally was especially important. All of these competencies are integral parts of leadership, especially when many of us were entering the field for the first time.
For more data on maternal health and Roe v. Wade:
To learn more about reproductive justice, women's reproductive behavioral health, networking organizations, check out these resources: