Alumnae/i Feature
Jane Wesman Arts Management Experiences Fund Gives Simmons Students a Competitive Advantage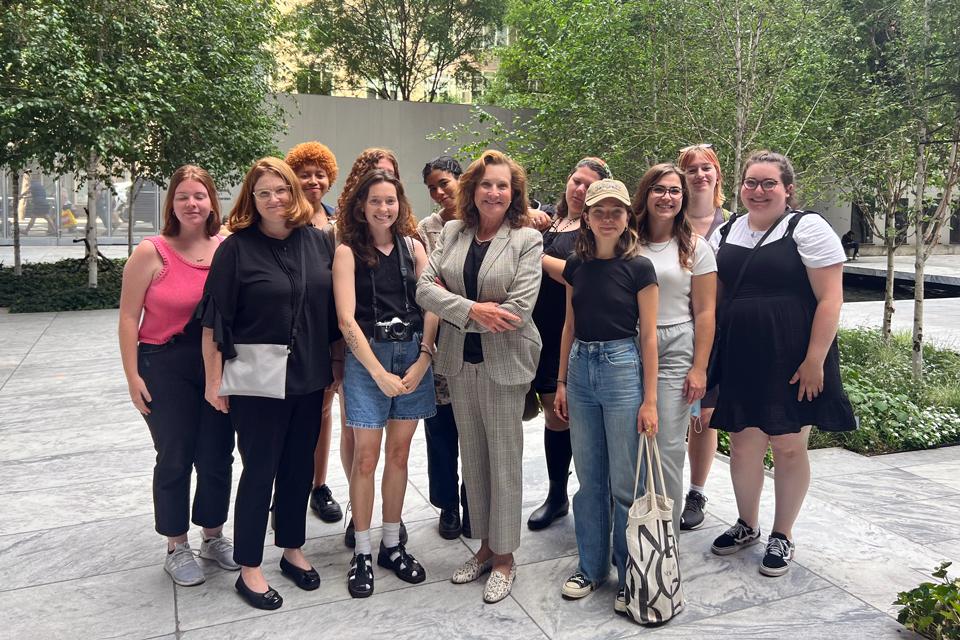 Jane has transformed the Arts Administration Program with her gift and her dedication to providing Simmons students with professional experiences that prepare them for leadership in arts and cultural organizations.

- Program Director Heather Hole
Jane Wesman '69 is a New York-based marketing and public relations powerhouse with a passion for art, a commitment to philanthropy, and a conviction that "success in life is not just about what you know, it's also about who you know. No one ever achieved something great without the help of other people." All those facets of her life are reflected in the Jane Wesman Arts Management Experiences Fund she has established at Simmons which is helping students access transformative career experiences. Wesman's years as a student at 300 The Fenway also informed her gift.
"I wanted to go to college in Boston, preferably at a relatively small school and a women's college, so Simmons was perfect," says Wesman, who grew up in New Jersey. "Simmons was career oriented, which was important—and highly unusual at the time. I was able to combine practical courses about journalism and publishing with liberal arts courses. I wanted, and received, a wonderfully well-rounded education." 
Wesman describes her Simmons experience as "pretty terrific," but she wishes there had been a more organized internship program when she was a student. As it was, the publications major took matters into her own hands to find career-related summer jobs and turn an unpromising magazine internship into something productive. 
Now, through her gift, she is supporting three learning opportunities for Simmons students: an internship program, the New York Arts Institute, and a Gallery and Curatorial Fellows Program that is affiliated with the University's Trustman Gallery. All three are offered through the Arts Administration Program at The Gwen Ifill College of Media, Arts, and Humanities.
"Jane has transformed the Arts Administration Program with her gift and her dedication to providing Simmons students with professional experiences that prepare them for leadership in arts and cultural organizations," says Program Director Heather Hole, an associate professor of art history, and the chair of the Department of Art and Music at The Ifill College.
Wesman notes that good entry-level jobs in arts management can be difficult to get, and Simmons graduates must compete with those from larger institutions, many of which offer internships and other opportunities through on-campus museums. "I want to give Simmons students a competitive advantage when they graduate," says Wesman.
According to Hole, the internship fund that Wesman established is a crucial part of her gift. "College internships are critical to students' prospects and professional success after graduation. A first internship in the sophomore or junior year can jump-start a student's career and allow them to explore what kind of work would be meaningful to them in the future," says Hole. 
Wesman first got involved with the Arts Administration Program after meeting Hole about a decade ago. Before long, Wesman was tapping her expansive network to open doors for students participating in The New York Institute, an intensive monthlong travel course. Offered every other year, it introduces students to the cultural life of New York City. This includes meeting with leading professionals at museums, theaters, auction houses, dance companies, art galleries, archives, artists' studios, conservation labs, and more.
"The majority of students who participated in the Institute this summer received support from the Jane Wesman Arts Management Experiences Fund, enabling everyone to participate regardless of financial need," says Hole.
Wesman continued opening doors for the Institute this year, including at the New York outpost of Bonhams, a prestigious global auction house. "The director emailed me afterward and said the students were amazing—she loved them and Heather," says Wesman. She also arranged behind-the-scenes access to a groundbreaking performance art organization and an innovative art gallery. 
"Year after year, the students are terrific, they're really engaged in the program," says Wesman, who enjoys connecting with the students while they are in New York. "I guarantee, if one of the students who met the head of the auction house or a gallery director, wanted to follow up with them, she would receive an encouraging response. And that's really important—meeting people and getting out into the community." She applauds the Simmons faculty for "doing a great job with the arts management program."
The Gallery and Curatorial Fellows Program, another beneficiary of Wesman's generosity, gives students hands-on experience curating, installing, and promoting exhibits in the Trustman Gallery, where Helen Popinchalk is the director. 
"This past spring, we were able to hire three fellows. In addition to supporting day-to-day work in the gallery, the students had an opportunity to do independent projects," says Popinchalk, who is also an associate professor and the curator of the University's art collection.
As a spring independent project, the Fellows produced the first-ever audio tours for two exhibitions in the Trustman Gallery. They interviewed artists, collaborated with Simmons' new media center, generated QR codes and installed them under relevant artworks; visitors could scan them with their smartphones and listen to the tour.
"Not only did this project enhance the educational mission of the Gallery," says Popinchalk, "It also provided myriad professionalizing experiences for our students—from working directly with artists and drafting interview questions, to learning about audio recording and encouraging meaningful connections between visitors and artworks. This project had it all!"
"I love the fact that the students have been recording commentary about the art in the Trustman after installing it. That kind of immersive experience is invaluable," says Wesman.
Wesman sees "giving back" to Simmons as something every alumna should do, to whatever degree they can. "It doesn't matter how much or how little your gift is—lots of small gifts add up." The roots of Wesman's philanthropy stretch back to her childhood. 
"I grew up in a middle-class family. But my parents were always as generous as they could be with charities. So philanthropy was just part of what you do in life," says Wesman. "It's something we need to teach our children—to care about other people and give back. That helps shape the leaders of tomorrow."
Wesman is the president of Jane Wesman Public Relations, which she founded in 1980. Her company's focus is on marketing books. She has worked with many bestselling authors and thought-leaders, but she is also passionate about the visual arts. Around the time she launched her business, a high school friend started introducing Wesman to people in the New York arts scene—and she's been actively engaged ever since, including as a collector. "Every day, I either look at art in person, look at art online, speak to people in the art world, or read about art," says Wesman.
As with philanthropy, Wesman traces her fascination with art back to her childhood. "My parents introduced me to art and collected it in a modest way," says Wesman. "One of the most impactful experiences I had was going to New York's Museum of Modern Art with my parents when I was about eight. My dad was a musician, and he was in love with this Picasso painting, "Three Musicians." He would stand in front of it and talk to me about it—it resonated with him so much." She was struck by how "art relates to what we do in our everyday lives." 
Fast forward to her college days, when Wesman bought her very first piece of art: a work on paper she saw exhibited in Simmons' Main College Building. "And I still have it!"