Alumnae/i Feature
How Africana Studies Shed Light on Entertainment and Healthcare, with Helena Fils '07 '21SN '24MSN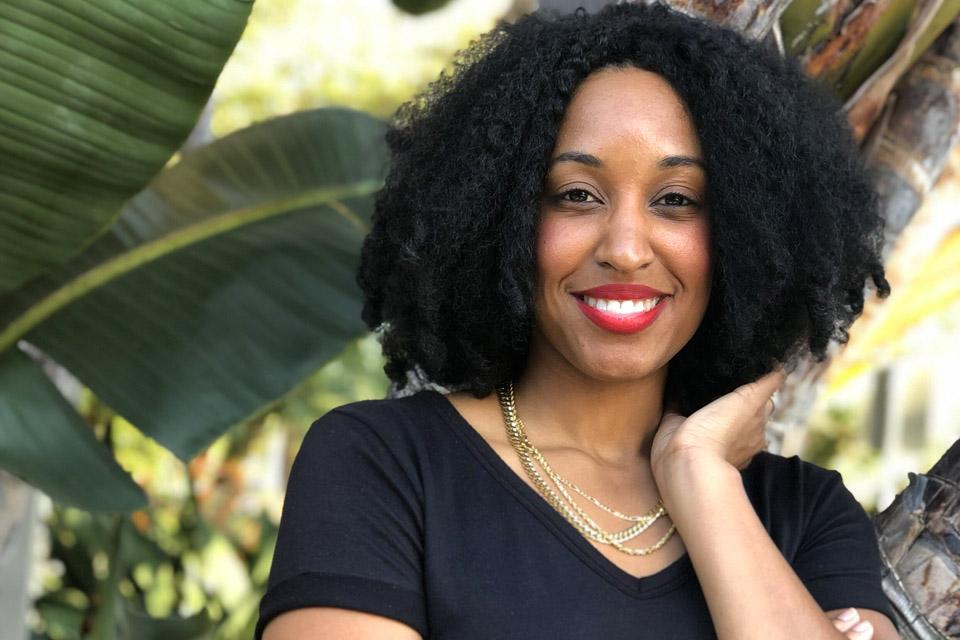 Helena Fils '07 (English) '21 (Nursing) wrapped her nursing board exams and received her license number in March 2022. Shortly thereafter, Helena returned to Simmons for her MSN.
Why did you decide to attend Simmons for your undergraduate degree?
My father and I went on a tour of the residential campus, and I liked how small and enclosed it was — especially compared to Suffolk and Tufts, where the campus is spread out across the city. The gate around the residential campus made me feel very safe. 
What made you choose to pursue Africana Studies?
I wasn't trying to pursue it! One class led to another. I enjoyed having these courses as options in my sequence of studies. I had never had that option before. I was drawn to having a choice in what I learned, especially in learning about people who look like me, who weren't only fighting on the front lines of civil rights but who were also making an impact in other fields that I was not aware of before my time at Simmons. The conversations expanded in Africana Studies. We were discussing black presence in film and television. We were noticing the barriers that were broken in science and math, not to mention the contributions that African American people made that still directly impact my daily life.  Africana Studies really opened up my eyes to the fact that blackness was not, and still is not, monolithic. 
How did Africana Studies impact/enhance your studies in English, or your current Nursing degree?
In my career before nursing, I was a talent manager in film and television. My studies at Simmons prepared me to step into meetings, feeling empowered, knowing that people who look like me had made pretty impressive strides in the entertainment industry. One time, I attended a dinner honoring Sydney Poitier at Tyler Perry's house, and I realized that I was part of the conversation. I could keep up with the conversations around Poitier's legacy. I knew of his contributions to the entertainment industry because I had studied them: he was a legend and a pioneer in film and television, and I knew how much his on-screen presence influenced many of the people in the room to pursue the arts. Because of Africana Studies, I know I was in the presence of a man who meant so much to so many across the diaspora. 
What inspired you to start the Nursing program?
I lived in Los Angeles for ten years and came home right before the pandemic hit. With none of my clients working, I had no income. I needed to do something to keep my mind occupied, so I took classes at a local community college. When I looked at programs at Simmons, I saw that nursing was on the rise and we were still in the middle of a pandemic. I only needed two more prerequisites before starting the accelerated nursing program in Fall 2020. The timing was perfect — the world was quiet, and I ended up doing three of my four semesters online. The program was so rigorous that the only way I could have gotten through it was if the world was shut down and I had no other distractions. 
In the nursing program, my Africana Studies background gave me the wisdom and forethought to research things that are affecting African Americans at a greater rate, as well as the disparities and lack of research in health care concerning African Americans. Africana Studies also gave me the confidence to raise my hand in the classroom and ask my professors, "why?" Growing up in suburbia, there was this understood notion of simply doing your work and figuring out the "whys" later. Classroom questions were always reserved for the white students. Africana Studies helped me change that. 
Advice for students who are considering a major or minor in Africana Studies?
Just do it! Think about it as though you would English or Political Science — there are always opportunities to learn from people who look like you. A lot of students don't get that opportunity  prior to Simmons. You will be so incredibly amazed, humbled, and honored to learn what the diaspora has added to the community and to the world around you.