Voices of Simmons
On the High Seas: Simmons Course Creates Pirate Walking Trail in Boston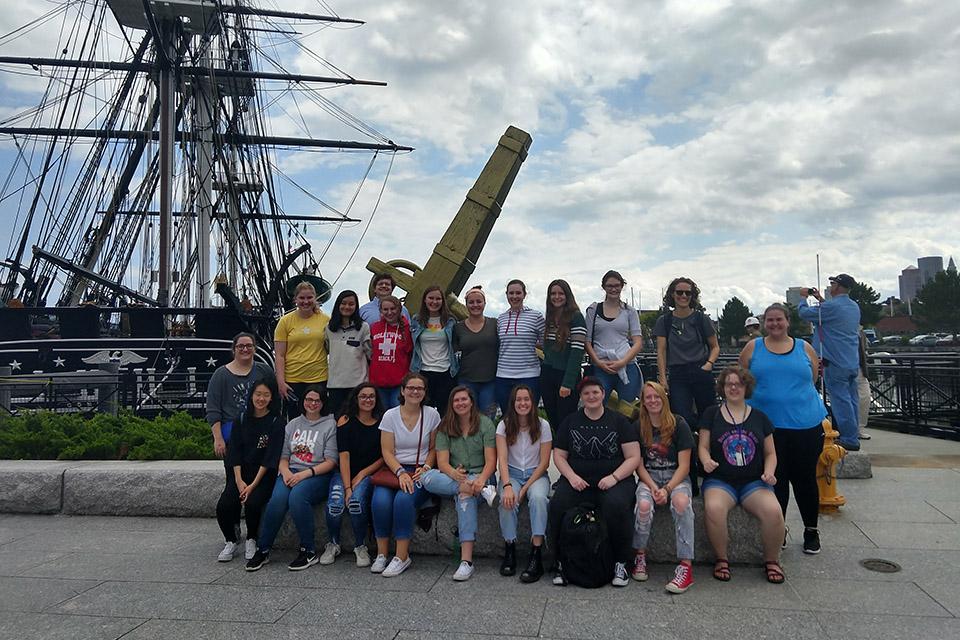 Assistant Professor Lydia G. Fash shares details about the "On the High Seas" course which combines literature and the history of piracy.
This pirate walking trail is the final project for "On the High Seas," a Simmons University course taught by Stephen R. Berry and Lydia G. Fash that wedded literature and history about piracy. Our understanding of piracy in the course was purposefully broad: we did study buccaneers from the Golden Age of Piracy (1650-1720), and we watched Pirates of the Caribbean, but we also looked closely at the Atlantic slave trade (which was legally denominated piracy in 1808), oceanic exploitation (particularly through whaling), and contemporary piracy and shipping.
Throughout all these topics, we queried the definition of "pirate" and considered the rhetorical strength and popular appeal of the term and the associations it conjures.
While it is Revolutionary history that has been publicly memorialized through means of the Freedom Trail, Boston has had a long and close relationship to piracy. As the location of the first English-language colonial newspaper and a vital colonial port, eighteenth-century Boston closely followed and disseminated news of piratical happenings. It also hosted—and hanged—a number of pirates.
Although the heyday of Caribbean piracy was past, nineteenth-century Bostonians continued being fascinated with pirates. A number of publishers capitalized on this interest with copious cheap novels and books about pirates; in the age before international copyright, others pirated literature from Europe. Piratical magazines and books were read far and wide, including by apprehended pirates (a pirate book was used as evidence in a New Orleanian courtroom) and whalers (who translates piratical cover images onto whale teeth while cruising for whales).
Massachusetts abolitionists like Frederick Douglass (who worked as an agent of the Massachusetts Anti-Slavery Society) were likewise doing all they could to distribute their writings and argue against the piratical institution of slavery. In Douglass's Narrative of the Life of Frederick Douglass (Boston, 1845), the most famous American slave narrative, Douglass recalls that, imprisoned after a failed escape attempt, he had to endure an inspection by "a band of pirates" (slave traders) who "never looked more like their father, the devil." The comparison of slavery and piracy was made earlier and further south too: in a passage stricken from the final Declaration of Independence, Thomas Jefferson blamed King George for the "piratical warfare" of the slave trade.
This 3-mile trail takes you back in time to when Bostonians were intimately connected to the ocean, reliant on it for trade and for news. You'll learn about pirates held, tried, and executed in Boston; enslaved peoples brought to the City; abolitionists fighting against slavery; and the explosion of popular novels through the means of a female pirate captain.
Thanks for walking (the plank) with us.