Student Story
The Guided Path: Celebrating National Mentor Month at Simmons University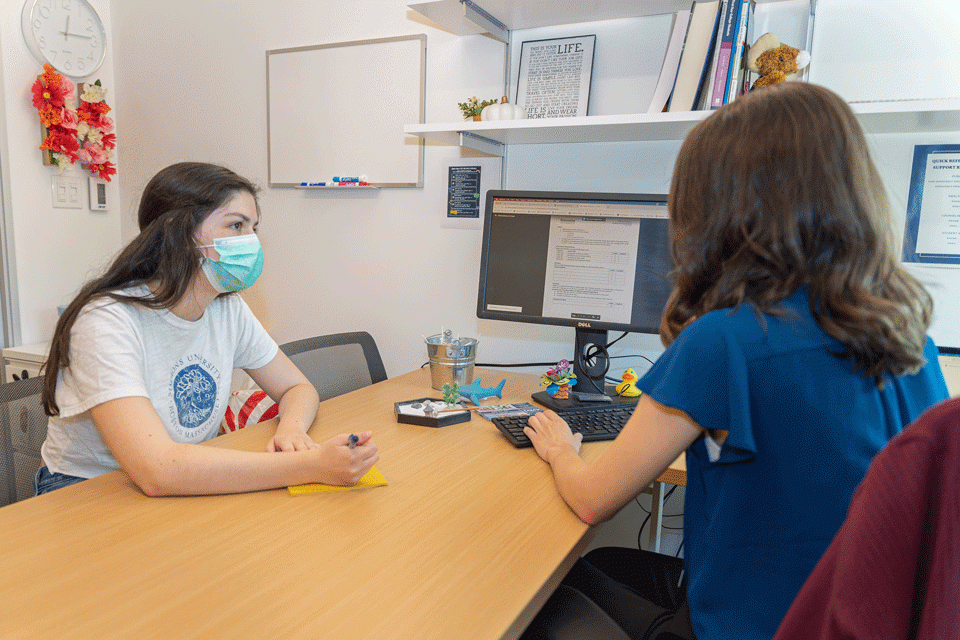 The mentorship I received at Simmons has given me the opportunity to find out what direction I want to go in my career and has opened the door to an amazing research opportunity at a nearby hospital. I am so grateful to have had this guidance during undergrad and to have a mentor that continues to keep in touch after graduation.

- Michelle Balcarcel '21
"I consider mentorship to be like a runway," says Assistant Professor of Biology John Young, who works with students in the lab, guiding their independent research. "I help students see their potential and believe in themselves, allowing them to gather speed", he continues, "Then I provide opportunities that will build the confidence they need to fly." 
Mentorship is an integral part of the Simmons student experience; many students connect with faculty and alumnae/i during their course of study to gain insight into the working world. 
Young's mentee, Emma Harrison '22, is thankful for the impact of mentors in her life. "I have gained confidence in my skills as a scholar and as a scientist. Mentorship has provided me with resources, advice, and connections that I will use for the rest of my life." The best mentors, Harrison notes, are those who lead by example. "By experiencing their mentorship, I feel empowered to mentor others, sharing in mutual cycles of empowerment that may span across many generations of new scientists." For Kate Konshina '23, mentorship means a safe learning environment, ideal for unfettered growth. "There is always someone who cares about my success and will guide me through challenges — from failed experiments to a quarter-life crisis."
Reflecting on her mentorship experience with Professor Young, Michelle Balcarcel '21 says, "The mentorship I received at Simmons has given me the opportunity to find out what direction I want to go in my career and has opened the door to an amazing research opportunity at a nearby hospital. I am so grateful to have had this guidance during undergrad and to have a mentor that continues to keep in touch after graduation."
Professor of Psychology Sarah Martin coordinates the Simmons Psychology fieldwork program, which places students at different sites throughout the Boston area, ranging from Harvard teaching hospitals to community organizations to corrections facilities. "Students learn so much by taking what they have studied in the classroom and applying it in the real world, and mentorship is so important to making the most of that experience," says Martin, who works with students throughout their fieldwork experience, coaching and supporting them as they develop new skills and tackle new challenges. "As fieldwork students navigate these new experiences and professional roles, I watch them grow in maturity and self-confidence – it's a rewarding experience." 
Looking for a mentor? 
Advice from Assistant Professor John Young:
Look for someone who has similar values and priorities as yourself.
Look for someone who is doing what you would like to in the future.
Advice from student Emma Harrison: 
Don't be afraid to ask for help from the people you trust. The best mentorship comes when you are willing to make mistakes and to self-advocate. 
Mentorship can show up in so many different ways in our lives: I have found mentors in peers, tutors, professors, co-workers, and family members. 
Stay connected to professors, peers, and others who you admire.
What's next?