Campus & Community
Graduate Commencement 2022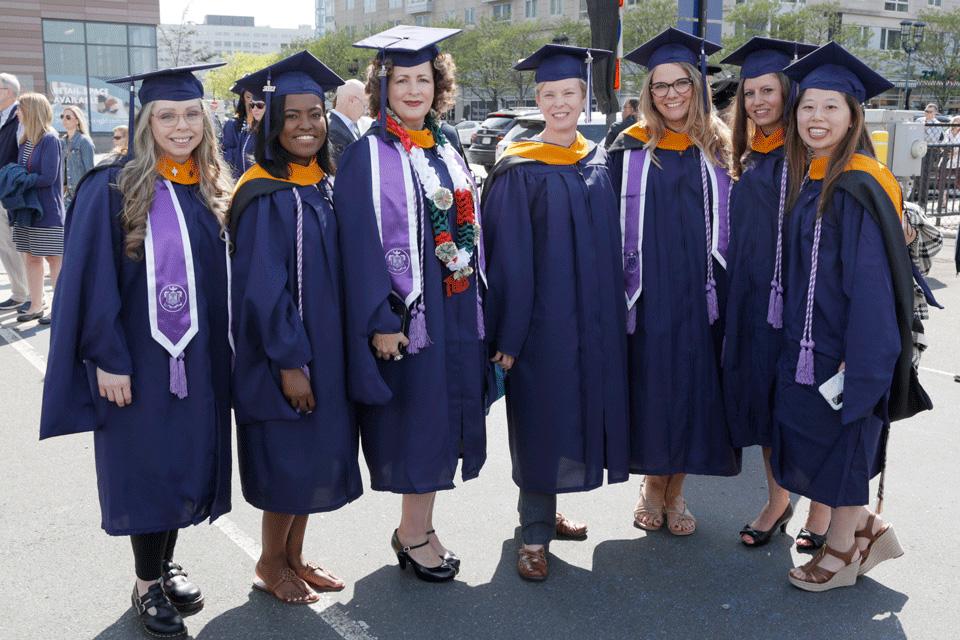 On Friday, May 20, Simmons University Graduate students processed into the Leader Bank Pavilion in Boston's Seaport District. Simmons' first in-person graduation since 2019, graduates filed in, some with mortar boards decorated with flowers and artwork, and a few with babies in their arms. Simmons awarded 1,000 undergraduate and graduate degrees during the 117th Commencement, and more than 1,500 during the academic year.
President Lynn Perry Wooten granted an Honorary Doctor of Laws to Commencement Speaker and former acting Mayor of Boston, Kim Janey. "As a fourth-generation native of Boston and of Roxbury, your roots in this city cannot be deeper," noted Wooten. "For decades, you focused on the community of Massachusetts and have been an advocate for children. You carry that emphasis on building opportunity and eliminating the gaps for children of color." Wooten's highlights of Janey's career, including her history-making turn as the first female and Black mayor of Boston, was greeted with thunderous applause.
"I get to stand before you as the first woman and the first Black Mayor of Boston, joining the first Black woman president of Simmons University. Yes! It is truly a blessing," Janey said. She shared the impact that the activism she saw in her community had on her, including personally benefiting from the leadership of Mel King, who had received an honorary degree from Simmons earlier in the day. "He [Mel King] is a Boston treasure," said Janey, adding that King teaches us to "look at ourselves with the strength of who we are. Don't let others define what is possible for us." That spirit of changing the narrative has fueled her own efforts to combat economic inequality, and she has hope that the Class of 2022 will help to make the world better. "COVID-19 has reminded us that we are all connected," said Janey. "But now is our time to move forward together. And together we must build a more equitable, and more just community for all of us to thrive and prosper. And I am so confident that you, the class of 2022, will continue to do this work to make sure that the city of Boston, our commonwealth, and our country is a more equitable, just country that we all deserve and that we live up to our ideals as a nation."
Sanda Erdelez, Interim Dean of COCIS, conferred a special degree to Mildred Kagan Greenbaum, a candidate who completed the requirements for the Master of Science in Library and Information Science at Simmons in 1951. At the time of Greenbaum's graduation from Simmons, she did not have a bachelor's degree, and was thus given a certificate instead of a master's degree. With the assistance of the University Registrar and University Archivist, Greenbaum's hand-written transcripts were reviewed, and the faculty voted to award her the degree. President Wooten officially granted the degree to Greenbaum with "enormous pleasure and pride," and congratulated her on her achievements.
At the Commencement for Graduate Programs in the College of Natural, Behavioral, and Health Sciences, Honorary Degree recipient and Commencement speaker Byllye Avery, a pioneer in women's health, urged graduates to consider their purpose in life. Avery began her career as a special education teacher, but pivoted after the sudden death of her husband, in his early thirties. "I realized that we were educated Black folks, but we didn't know how to take care of our bodies," said Avery.
She became involved in the women's health movement of the 1970's, opening a women's health center and later a birthing center. "Know that each one of you has a special gift," Avery told the crowd. "Find out what your gift is. Did I know that I had the ability to get Black women to get engaged in being activists around our health? I didn't know what I was doing, all I knew was…I wanted us to learn how to love ourselves, how to take care of ourselves, and out of that sprung a whole movement among Black women. I am so proud of the work that we're doing around Black women's health across the country and across the world."