Campus & Community
Get Involved this Fall: Join One of Simmons' 100+ Student Clubs and Organizations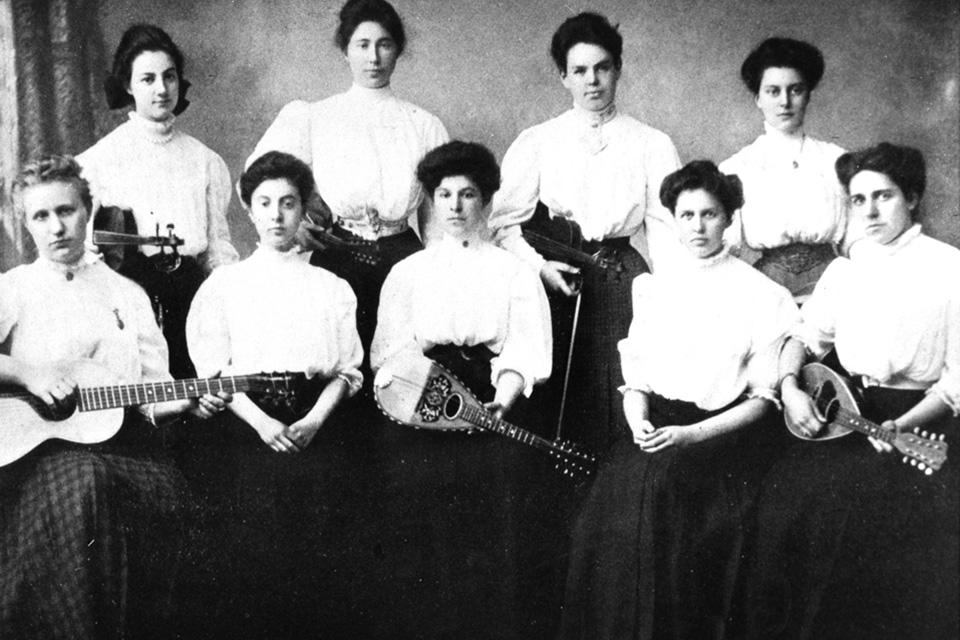 Are you an incoming first-year student at Simmons University? Are you a sophomore, junior, or senior who would like to widen your social circle? Do you want to meet people with similar interests and make lasting friendships? If so, you may want to join some of Simmons' many student-run clubs and organizations.
Simmons has a long history of student-run collectives. Extracurricular life developed in the early 1900s, right around the time when Simmons College first opened. The Student Guild, later renamed the Student Government Association, was founded in 1902, and helped advance the educational and intellectual growth of the community. Other early clubs include the Scribunal Club, the Mandolin Club, and the Modern Dance Club.
Today, Simmons offers many kinds of organizations, including those centered around diversity and belonging, mental health support and wellness, crafts, politics and government, academics, faith, and the arts. Simmons students may participate in a variety of team sports, including crew, cross country, field hockey, gymnastics, lacrosse, softball, soccer, swimming and diving, tennis, and volleyball. Collectives such as SWAG (Sexuality, Women, and Gender Union), Alliance, and TaNC (Trans and Non-Binary Collective) support our LGBTQ+ communities.
A particularly socially rich organization is the Campus Activities Board (CAB). CAB is designed to make the Simmons community stronger by bringing activities to students, as well as coordinating interactions between students and faculty. For CAB member Sarah Auletta '24, this organization "gives everyone something to do that is productive in the spirit of community." One of CAB's biggest events is Soiree, which is an upscale college version of prom that takes place near the beginning of the spring semester.
Many first-year students are looking to connect with people with similar cultural backgrounds. The Black Student Organization (BSO), for instance, promotes the socialization of Black students on campus. According to Bart Brown '24, President of BSO, "our mission is to create a space that is open and welcoming to Black students."
One of the BSO's annual events is called Soul Circle, a day when new members are welcomed over drinks and refreshments. BSO also celebrates Kwanzaa and hosts numerous events during Black History Month. In recent years, BSO hosted a Black Fashion Show, which featured Black fashions from 1960 until 2020. They also organized Black-Owned Bingo, which supported Black-owned businesses.
Certain BSO events are not just social, but also educational. For example, during a film screening, Bart explains that "we watched snippets of different Black entertainment and discussed the ways Black entertainment has changed over the last century and how we depict Black people in media and also how we can use our different platforms to support change in that."
A number of Simmons organizations and clubs revolve around the arts. A recently reestablished arts organization is the Arts and Music Liaison. Member Bella Santos '25 helped revamp this collective in 2021. "We wanted to create a space for all artists and musicians at Simmons to be able to create and express themselves and for non-artists and musicians to learn more about their craft," says Santos. "Additionally, as a liaison for the Art and Music Department, we wanted to use our club to forge deeper student-professor connections/relationships outside of the classroom setting."
Students involved in the Arts and Music Liaison take excursions to the Symphony Hall in Boston and local museums and enjoy album listening parties. For Bella, the arts create a unique bonding experience: "Art is one of the most important modes of communication, empowerment, and expression and I believe that a part of each of our souls is connected to it, no matter how little or much you may be able to comprehend. Since Simmons is a school devoted to giving a voice to marginalized peoples, I believe that the Art and Music Liaison will be a fantastic space for BIPOC, Queer, and other minorities to use to tell their stories through artistic and musical expression."
Other arts organizations are more centered on performance. For instance, The Sirens is an acapella group open to all Colleges of the Fenway students. Tess Federico-Maietta '23, one of the music directors for the Sirens, says that "we sing, we have a lot of fun, and we do performances around Boston." The Sirens holds auditions at the start of fall and spring semesters, and is known to be a beginner-friendly group. They sing a diverse repertoire of classic and contemporary songs. The Sirens have some small albums available on Spotify, such as "Brookline Ave." The group hopes to record more this year.
For students who wish to hone their dancing skills in a safe space, the Simmons University Dance Company (SUDC) may be an ideal community. "SUDC is a student-run company that seeks to provide a space for incoming students that either have a strong dance background or are new to dance. We try to provide an inclusive space for people to explore all kinds of movement styles," explains Sofia Post '23, the Diversity, Equity, and Inclusion Chair of the company. In their student-choreographed performances, SUDC has showcased contemporary dance, modern dance, Bollywood, and jazz. As the DEI Chair, Sofia is open to new dance styles and cultural dance forms to diversify their repertoire.
SUDC has been a haven for Simmons dancers. According to Sofia, "many of our dancers came from dance communities that involved toxicity and trauma. I chose SUDC because it is so inclusive and there are no barriers to becoming part of the community and identifying as a dancer." The organization's welcome dinner will take place on September 9, followed by a weekend of auditions.
Another way students can get involved at Simmons is through publishing groups. MindScope Magazine is a student-run magazine that publishes undergraduate research on science, health science, public health, and beyond. The mission of MindScope is "to make science accessible to the entire Simmons community and also to showcase the amazing work our students are doing," says Sarah Auletta. While most MindScope members are science majors, the editing and design work also attracts students from English, communications, literature, and the arts. "MindScope is for all majors," says Sarah, "you don't have to be a biology major to have a part on our team."
Although more academic in nature, MindScope allows for unique socialization opportunities. Dan Nguyen '24, a designer with MindScope, says "I'm a science major, so I don't get to meet people from English or Communications all the time. But through MindScope I have made a few friends who are from those majors that are not my own." MindScope members also develop a deeper connection with Simmons faculty. "A lot of Simmons faculty know about MindScope," explains Dan, "so they are happy to help you with your article, and this is a great way for students to connect with professors."
For students passionate about healthcare, the newly formed Partners in Health may be a promising organization. As Co-President Sarah Auletta explains, Partners in Health "focuses on community building, advocacy, and fundraising, all in the mission of health is a human right instead of a privilege."
Many Simmons groups focus on mental health and wellness. For example, Active Minds spreads mental health awareness and promotes mental health advocacy. As Active Minds President Jada Cameron '23 explains, "we believe in creating a safe space to talk about all things mental health among the Simmons community. Currently, we have two open executive board positions, and we are proud to have over 100 general body members! Anyone and everyone are welcome."
If you are new to Simmons, be sure to check out the Connections Carnival, which happens near the beginning of each school year. This event is essentially a club fair where you will find tables of people representing each club and organization. You can sign up to be on the club's mailing list and find out how to become a member. More information about current clubs and organizations can be found on the Simmons website.