Campus & Community
Feminist Art with a Simmons Connection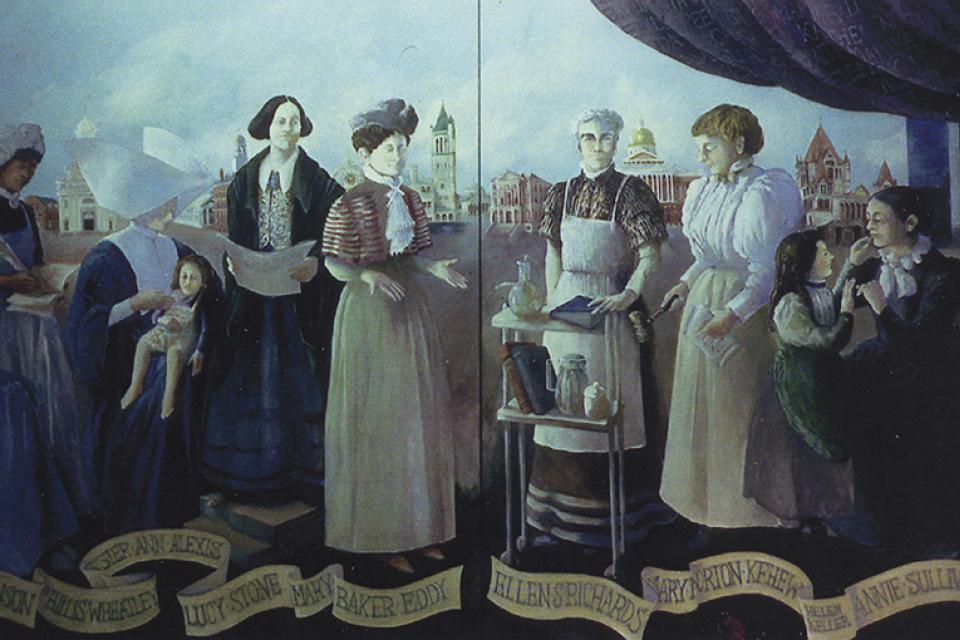 Now on view at the Massachusetts State House, Ellen Lanyon's Notable Women of Boston mural is an artwork with a fascinating and complicated history. In honor of Women's History Month, we tell the story of how this painting was created, where it traveled, and how it has enriched Simmons and Boston.
In 1980, artist Ellen Lanyon (1926-2013) created Notable Women of Boston, a large-scale mural that depicts nine historical women who made significant advances in religious freedom, literature, environmental science, and civil rights. The women who appear in the painting are: Anne Hutchinson (1591-1643), Phillis Wheatley (1753-1784), Sister Ann Alexis (1805-1875), Lucy Stone (1818-1893), Mary Baker Eddy (1821-1910), Ellen Richards (1842-1911), Mary Morton Kehew (1859-1918), Anne Sullivan (1866-1936), who is pictured with her student Helen Keller, and Melnea Cass (1896-1978). Simmons is currently loaning the mural to the Commonwealth of Massachusetts, State House Art Commission.
A Chicago native, Lanyon trained at the Art Institute of Chicago, the University of Iowa, the Courtauld Institute of Art (London), and the University of London. In 2002, she told The Boston Globe "I'm a narrative artist. I like to connect people to their history."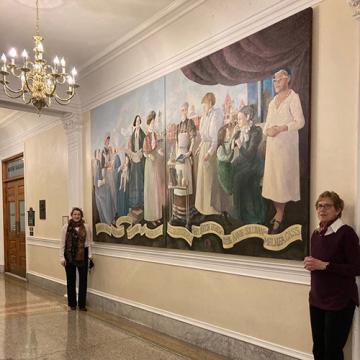 Lanyon's artistic style has been compared to painters Salvador Dali and Hieronymus Bosch. During her career, she produced several public artworks, including the Riverwalk Gateway, in which she used ceramic tiles to tell the story of the Chicago River. Lanyon was especially interested in ecological and environmental themes. According to Michelle Jenney, a former president of the Boston Women's Heritage Trail (BWHT) who met the artist in person, "Lanyon incorporated into her work elements of natural landscapes, myth, ancient religions and intriguing ways to create a sense of mystery in her work."
Lanyon's artwork now belongs to the permanent collections of over 50 museums, including the Metropolitan Museum of Art, the National Museum of Women in the Arts, the Museum of Modern Art, and the Smithsonian American Art Museum. Her friends remember her not only for her artistic talents, but for her strength, independence, and optimism.
In 1980, Lanyon received a commission for Notable Women of Boston from the Workingmen's Cooperative Bank. Jane Tholen, then Vice President of Marketing, and Ernest P. Pope, then President of the bank, realized that despite Boston's rich history and ample public statuary, the city had very few monuments dedicated to women. In conjunction with the 100th anniversary of the bank and the 350th anniversary of the city of Boston, Tholen and Pope decided to commission a work of art that would specifically honor women.
Deciding which women would be represented in the artwork involved a rigorous process of selection. Janet James, a History Professor at Boston College, led a jury of experts. According to Jenney, who has researched Notable Women of Boston since the 1980s, "the goal was to uncover and give recognition to notable rather than famous women. The mural would be donated to the City of Boston. A committee made up of mostly scholars would select possible notables that were submitted for consideration through an essay contest for students in public and parochial schools in Boston and Winthrop." Although not all of the women mentioned in the student essays were chosen, Lanyon included drapery in the upper right side of her mural that contains the names of additional women that the students nominated.
The mural was first shown at the John F. Kennedy Presidential Library and Museum, where it was seen by Queen Elizabeth II. In addition to being displayed at the Workingmen's Cooperative Bank, Notable Women of Boston was exhibited at the Federal Reserve Bank and the State House. The painting was donated to Simmons in 1985. For several years it adorned Bartol Hall, and in 1998 it was put into storage due to construction on campus.
Jenney is a key figure in unlocking the history of Lanyon's mural. She first encountered Notable Women in Boston in 1986 in a history book entitled Boston – City on a Hill by Andrew Buni and Alan Rogers. The book did not credit the artist or provide the mural's current location, so Jenney began to undertake extensive research. After numerous attempts to locate the painting, Jenney convinced The Boston Globe to publish a "missing persons" story about it in March of 2000. A few days later, the newspaper reported that the artwork had been found safely in storage at Simmons.
With Jenney's intervention, Simmons loaned the mural to the Boston Public Library, where it was displayed before the public for about ten years. In 2015, the mural returned to Simmons, where it was displayed in the Park Science Building. On December 15, 2022, Notable Women of Boston was installed at the State House, where it will presumably remain until the One Simmons construction project (a plan to combine both Simmons campuses) is complete.
In the course of her decades-long research devoted to Lanyon's mural, Jenney became involved with the aforementioned Boston Women's Heritage Trail (BWHT). Founded in 1989, this organization enshrines local women's history for Boston residents, visitors, and students. BWHT helped put Notable Women of Boston on the map, literally, by listing the mural in its Trail Guide that provided its current location, thereby encouraging people to see it in person.
Jenney's colleagues at BWHT are deeply aware of the mural's significance for Boston and its women. According to Jennifer Gregg, President of BWHT, Associate Professor of Communications at U Mass Boston, and Interim Associate Dean for the College of Liberal Arts, "if you look at the Boston Women's Memorial, there is only one. But there are many more representations of men. . . . We have to work to make sure the place of notable women is brought forward. We talk a lot about notable men, but we don't talk about notable women."
Gregg makes a key distinction between notable and famous individuals. "You can be famous for your last name and for the clothing you wear. But does that mean you have been notable in advancing women's health, or women's roles in society, or the health of children? For example, Ellen Richards [one of the women depicted in Notable Women of Boston] was the first to think about the quality of water we drink and use in our homes, and they would not acknowledge her and give her a Ph.D. at MIT because they did not want the first advanced degree in Chemistry to go to a woman. Therefore, the difference between notable and famous is what have people done to advance important causes."
The figures that Lanyon depicted in Notable Women of Boston resonate with the public today. Moreover, Jenney's commitment to recover and better understand this piece of feminist art constitutes a form of advocacy. As BWHT board member Mary Smoyer reflects, "I think Michelle Jenney's quest for recovering the mural shows how you have to keep fighting for these things, whether it be peace, feminism, or the environment. If you don't persevere, people forget about it, and it disappears. I think this mural is a wonderful story about perseverance."