Alumnae/i Feature
A Family Affair: Simmons Student and Alum Train for Boston Marathon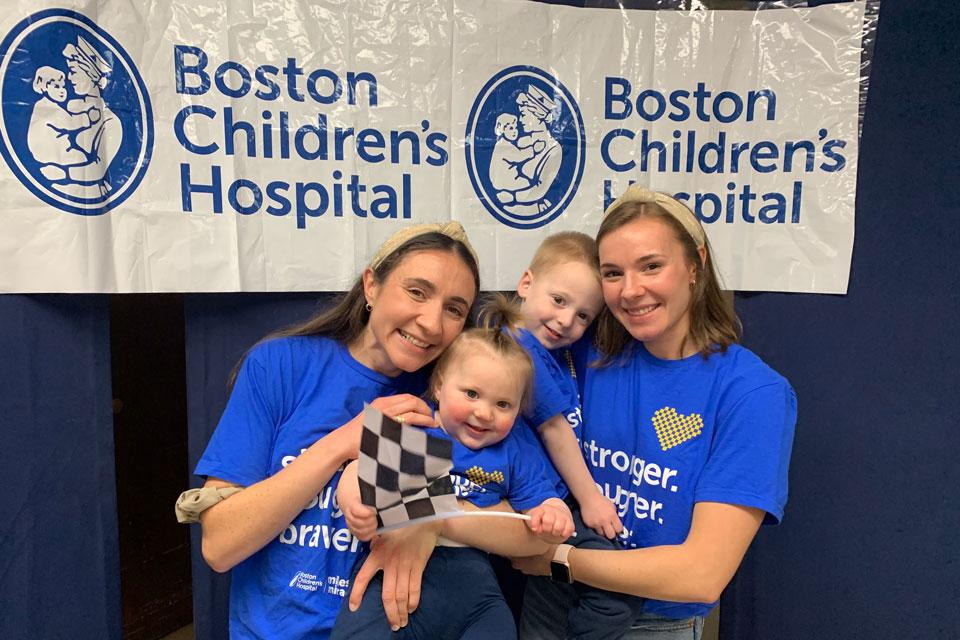 Olivia Panagiotou '23 and her sister Kaitie Panagiotou '18 are training with Boston Children's Hospital for their first Boston Marathon. We caught up with Olivia who shared their motivation for running, and what she is most looking forward to on race day.
"Kaitie and I both started running track and cross country in high school, and kept running through college," says Nursing student Olivia Panagiotou '23. "Kaitie also went to Simmons, and we found that running is a great way to explore the city."
This year, one run will be particularly special: their very first Boston Marathon. The iconic, 26.2 mile race begins in Hopkinton, Massachusetts and carves a pathway through eight cities and towns before reaching the finish line in Boston's Copley Square.
"The Boston Marathon has been a dream of ours," says Olivia. "We always said that if one of us did it, the other one would do it, too." In past years, the two had volunteered in medical tents near the finish line, and had talked about participating in the future. When her sister brought up the idea in fall of 2022, Olivia was less than favorably inclined. "I had just come back from a three mile run and felt terrible," she recalls. "I thought, no way! But Kaitie can be very persuasive." There was no harm in applying to a team; after all, there was no guarantee they would be accepted.
The inspiration for the run is also close to home. In March 2022, Olivia and Kaitie's eldest sister, Ashleigh E. Dziedzic '16, gave birth to their first niece, Caroline, who was born with a cleft lip and palate. At just over a year old, Caroline has undergone surgery at Boston Children's to address the cleft. Not only is the family thankful for the care Caroline has received, Kaitie is also a NICU nurse at Children's. "We're running this year for our niece – she's the inspiration," says Olivia. "Every mile is a smile, that's what we're telling ourselves! And it feels good to do it for such a great cause."
The funds they raise goes to Miles for Miracles, to support the hospital's work caring for children.
"When we started fundraising in October, we told ourselves to fall in love with the process and savor every minute of it," says Olivia, who admitted that she and her sister were more intimidated by raising money than by the actual race. "We're both quiet by nature," says Olivia, "but it's crazy the connections you can find by telling just one person." Those include a local news segment, an event at their former high school, a yoga event at Simmons, and a hometown event for family and friends. "Even as hard as the fundraising has been, it's been a lot of fun in the end."
The Boston Children's team has supported Kaitie and Olivia with coaches and a training plan, which began in December with two long runs every week. "We like to train together as much as possible," says Olivia. "Long runs are done at an easier pace, so we fall into stride together and talk."
Runners have some great options in Boston. "We run around the Charles River, following it all the way to Newton. It's beautiful." Though she lives in the city, Olivia has limited her exposure to the marathon route. "We both like to be surprised on a course, to look around and take in your surroundings, try to distract yourself by taking in the scenery."
Olivia is currently in her senior practicum, or preceptorship, working one-on-one with a nurse, one shift per week, as well as working on another floor as a Patient Care Technician (PCT). She has already accepted a job in adult medicine at Beth Israel Hospital, to begin after graduation.
"Balancing school with training and everything else has been tough, but the energy of the crowd that day will be worth it." And her Simmons friends will be there to cheer her on, too.
As for choosing to study Nursing, Olivia was influenced by more than just her sisters. "I grew up around nursing. My aunt is a nurse, and Boston is a medical hub! It seemed a no-brainer to come to Simmons if I wanted to pursue nursing."
To support the Panagiotou sisters' Boston Marathon run, you can contribute via Olivia's or Kaitie's fundraising pages.