Student Story
Erin Fraser DSW '25, LCSW, CRAADC Becomes First Female Executive Director of Benilde Hall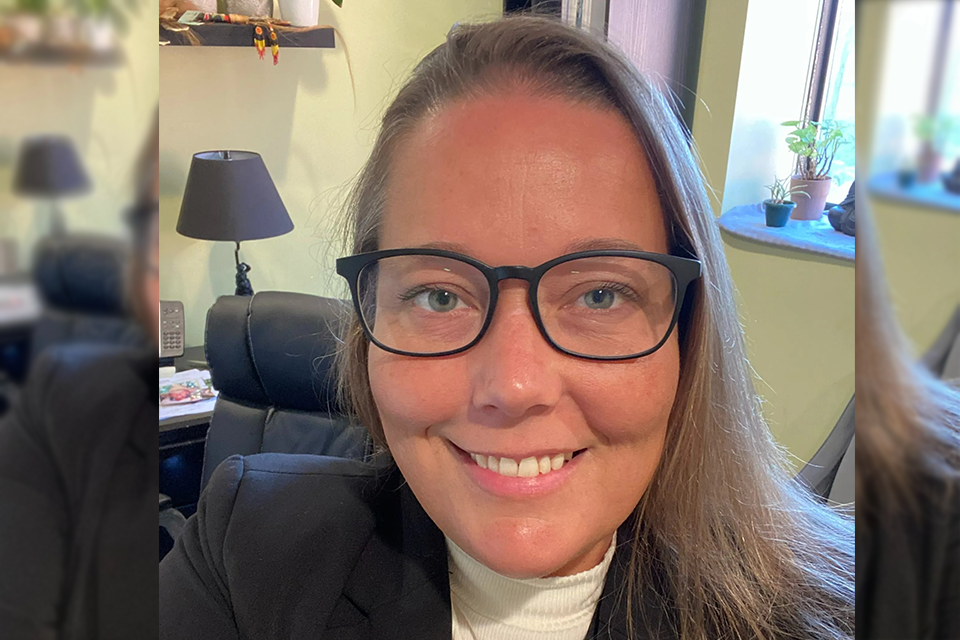 On October 1, 2023, Simmons School of Social Work doctoral candidate Erin Fraser became the first female Executive Director of Benilde Hall, a recovery center in Kansas City, Missouri. Fraser spoke with us about her reaction to this historic appointment, her enthusiasm for supporting underserved individuals, and her conception of leadership.
---
DSW student Erin Fraser is the first woman to hold the position of Executive Director of Benilde Hall, a recovery center in Kansas City, Missouri that was established in 1993.
"When I received this news in late September," recalls Fraser, "I felt a deep sense of responsibility — not only to Benilde Hall, which I am now leading, but also to the broader community, and especially to women aspiring to be in leadership positions. It is an honor to pave the way for the next generation, and women should no longer face barriers to achieving their goals."
Benilde Hall is named after St. Benilde (1805–1862), a French schoolteacher and member of the De La Salle Brotherhood, a Catholic lay order devoted to teaching youth. "St. Benilde had a genuine love for his students, having insight into their challenges and needs," says Fraser.
Benilde Hall's mission is to provide services for treating substance use, mental health, and homelessness so that individuals may return to the community as responsible, employed, and permanently housed contributing members of society. As Fraser elaborates, "we embrace a holistic approach with our residents here. . . We meet them where they are in their recovery, and we foster hope, empowerment, and skill-building so that they can return to their homes, families, and work. We have a 70% success rate, which is quite high for this kind of intervention."
Benilde Hall offers two programs under the same roof. The treatment program is for men, but, as Fraser remarks, "we are adapting and embracing inclusivity and diversity, so we now welcome transgender and non-binary individuals." Moreover, the organization also offers a harm-reduction program called Safe Haven, which is designed for veterans. Safe Haven has 18 beds for men and two for women.
Historically, the executive leadership at Benilde Hall has been comprised of men. "Being able to bring my feminine energy into this space is instrumental to the work that I do. I practice an empathetic approach and holistic treatment that emanate from genuine care and concern," says Fraser. Fraser has been affiliated with Benilde Hall since 2011, when she worked as an intern. At the time, she was also enrolled in an addiction counseling program at Kansas City Community College, where one of her instructors, the late Kent Jewell, was also the Executive Director at Benilde Hall. "Seeing his commitment and dedication was contagious," recalls Fraser. "I was drawn to the population that Benilde serves, including veterans, the unhoused, and the underserved. I felt compelled to help this population."
Fraser's desire to help marginalized individuals also stems from her personal journey. As someone who has experienced substance use disorder and incarceration, she is deeply invested in providing inspiration and guidance for others on their journey to recovery. Becoming Executive Director, therefore, is no mere professional accomplishment; it exemplifies her resilience and resolve. In her new role, one of Fraser's principal duties will be fundraising. "My goal is to create an awareness of the life-saving and life-changing work that is done here," she says. "I also want to focus on new partnerships in the Kansas City community. . . We are located in the inner city, so we aim to give back to our neighborhood."
For Fraser, leadership demands collaboration and communication. "To be an effective leader, one must provide a clear vision and directive to your team and colleagues. You need to articulate your goals and direction. Good leaders practice clear communication that inspires and motivates their team toward a common purpose and collective success. Good leaders foster collaboration and value everyone's contributions. Moreover, with my background in social work, I believe that leadership demands empathy, integrity, and a steadfast commitment to inclusive and equitable practices and policies."
As a lifelong learner, Fraser desired to continue her studies in social work at the doctoral level. She was drawn to the Simmons School of Social Work for its outstanding faculty, commitment to social justice, and intersectional approach. As a full-time professional who resides out of state, the online option provides the necessary flexibility for her lifestyle. Fraser is grateful for the digital resources that enable her to research offsite. "The online library is so comprehensive that I have not had to look beyond it."
Fraser offers words of wisdom to impart to aspiring social workers. "Identify and utilize your support system, which includes your fellow students. You must also find ways to identify any biases you may have. Practice self-reflection, which nurtures growth, curiosity, and decision-making."