Alumnae/i Feature
Elissa Gershowitz '00MA, Editor in Chief of The Horn Book, Offers Titles to Add to Your Reading List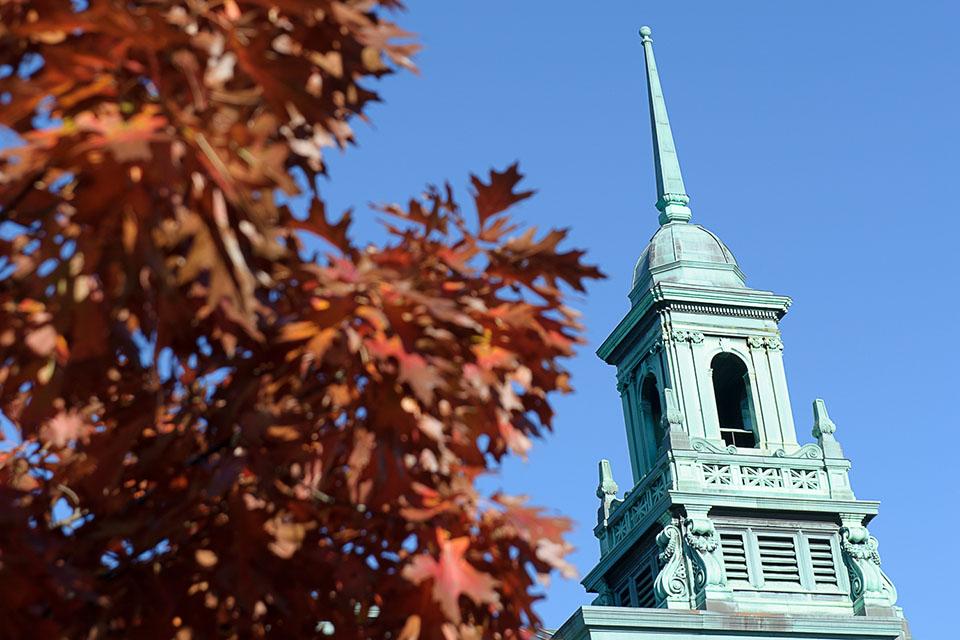 This October, Elissa Gershowitz '00MA was officially named Editor in Chief of The Horn Book, Inc., publisher of a review journal of children's and young adult literature. We caught up with her about her role at the Horn Book, and the organization's relationship to the Department of Children's Literature at Simmons.
Tell us about your role at the Horn Book.
Soon after finishing at Simmons, in 2001, I became one of many freelance reviewers for the Horn Book Guide, when it was a print publication. I started working there full-time in 2006 as managing editor of the Guide. The Horn Book has a small staff, so there is room for people to do a lot of different things. The previous Editor in Chief, Roger Sutton, was good at giving people opportunities to do what interested them. I was online content editor, then senior editor for the magazine, then executive editor, acting editor in chief, and now editor in chief.
What's going on at Horn Book these days?
We kicked off a virtual Boston Globe – Horn Book Award celebration this month. The award started in 1967, and we used to hold an awards ceremony at the Boston Athenaeum, an independent library in downtown Boston. When the Horn Book offices moved to the Simmons campus in 2014, we started holding the awards ceremony at Simmons. It was a nice connection, as so many people have ties to both Simmons and the Horn Book.
In 2020 the ceremony was transformed into a month-long virtual celebration, and this is our third year doing that. Every day in October we post an interview, acceptance speech, article, review, fun-fact trivia, and more about the award winners. We knew we couldn't replicate the in-person event, so we decided to give people more content in a different format.
We're also involved in the Boston Book Festival (BBF) on October 29. Two of our editors serve on advisory committees for the BBF, and I'm moderating a panel on early chapter books. Last year the event was virtual, but this year it's in person and the Horn Book will have a booth, as we have in the past.
How did your studies at Simmons prepare you for your work at the Horn Book?
The idea that most stuck with me was being able to work with people who take children's literature seriously. At Simmons, children's literature is a serious discipline of study along with having a practical application out in the world. I was used to reading for pleasure but also with a critical eye, and Simmons gave me more of a language for that, offering critical studies that you would expect from any literature department, applied to children's literature.
I studied English and French at Oberlin for my undergraduate degree, and did my thesis on French feminist fairytales and folklore. My entry into children's literature was through folklore, and I didn't know a lot about contemporary children's books when I started at Simmons. I'm still passionate about folklore, but it's such a small piece of what the world of children's literature has to offer, and all of that opened up for me at Simmons. The professors had such a deep and broad understanding of who children's literature is for, its history, and where the field is going and where it could go. That's also what we try to apply at the Horn Book.
And then when our offices moved to campus, it was wonderful to be able to talk about children's books with people I'd bump into at our giveaway book cart in the hall. People from children's lit, the library school, the social work department, nursing – it's a great point of entry.
How did Simmons prepare you to be a leader in your field?
I came to the program straight from college, one of only a few people who did that at the time. Most of the people in the program were older, either in careers in the field, switching careers, or looking to supplement their learning. Being able to study with people from different places in their lives and careers offered a rich perspective. And the usage differs, too: teachers might read a book one way, and librarians read it a different way, and parents read it yet another way. It was a fairly small program at the time, and the professional and personal approaches joined together in that setting. I've always kept in mind the importance of thinking beyond your own perspective, and to have as many perspectives in a conversation as possible.
The late Susan Bloom was the director at the time, and she and Cathie Mercier acted as mentors to all of the students. Susan's warmth, creativity, and intelligence made you feel part of something. She baked or decorated for events, always on the theme, and that personal touch made it such a special place to be.
What are some trends in children's books?
"Trends" isn't the right word for this, but the We Need Diverse Books movement has hugely opened up the conversation about whose stories are being told and by whom, and with tangible results. Books that cross form and genre are big — for example, a very sophisticated picture book with appeal to middle schoolers, say; or a historical biography about a person from a marginalized group whose life may be less well documented than strictly nonfiction but whose story is vital to hear. And graphic novels and graphic memoirs continue to be very popular.
Upcoming or recent book recommendations?
We just announced the starred books for November/December, and there are a lot of them! We're seeing so many really great books. I've also reread some BGHB Award books and some chapter-book series books in preparation for my talk at the BBF.