Campus & Community
Dynamic, Disruptive Diversity with Classical Pianist Jade Simmons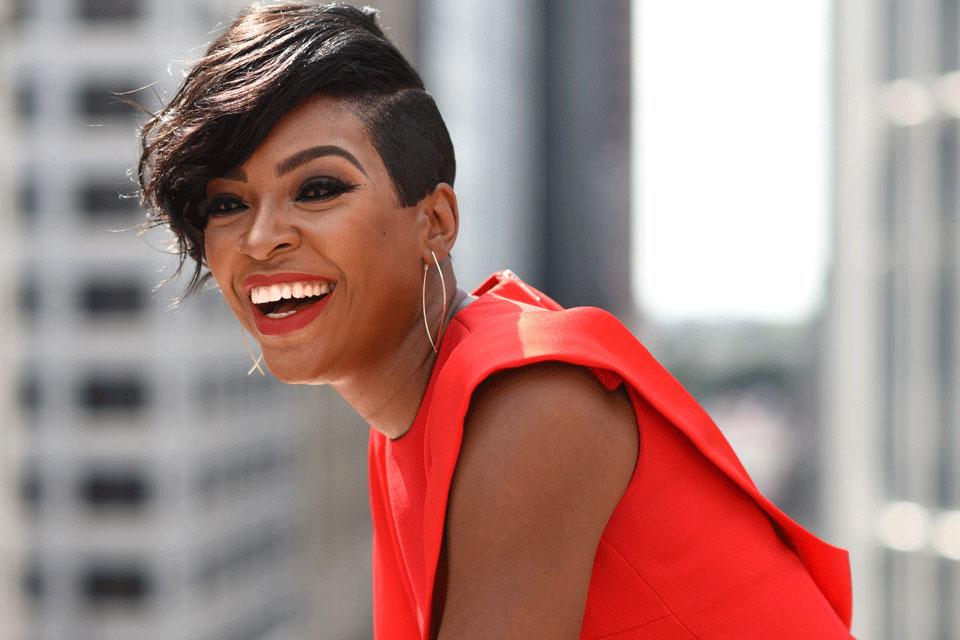 I support people in being the biggest, boldest version of themselves
On February 15, the Simmons University community, in conjunction with Bunker Hill Community College, Emmanuel College, Suffolk University, and UMass Boston, sponsored a virtual keynote presentation, "On a New Note," from world-class concert pianist and "activational speaker" Jade Simmons.
Rachel Deleveaux, Associate Vice President of Organizational Culture, Inclusion, and Equity at Simmons University, started the event by introducing Richelle K. Smith '21MSW, the moderator for the event.  Smith welcomed Simmons to share her unique blend of inspirational speaking and classical piano infused with jazz and rap. 
"I support people in being the biggest, boldest version of themselves," said Simmons, seated beside her piano. Her goal is to make diversity something everyone will embrace. "If we are not careful, diversity, equity, and inclusion devolves into a discussion we are obligated to have," she warned, encouraging an open mindset of exploration. Simmons strives to elevate DEI discussions from mere acceptance of others, to valuing and honoring what everyone brings to the table, regardless of race, gender, or any other identifying labels. 
"If we want to dismantle unconscious bias, we need genuine, conscious curiosity," said Simmons. "We need to break our internal belief that we know everything about everybody and keep a curious state of mind. Expect power and value in the stories of people around you. Be excited about what other people can offer."
Simmons' career is a lesson in bold experimentation. Trained as a classical musician, she was taught to play music the way the composers wanted it played. "I was told that classical music is dying," she recalled. "But I love this music, so I thought, there must be something wrong with how we are presenting it." Once her skill was established, she allowed herself to experiment, letting  other types of music influence her performance. "I stopped saying I was giving piano recitals — that was too limited. I took audiences on concert adventures, from Rachmaninov to rap, opening audiences up to experiences they didn't know they needed." Five years later, this approach has transformed her career. "Evolution is the order of the day."
And so it is with DEI work, as well. "We don't have to change, we get to change. We should always be evolving, but change scares people." Simmons wants everyone to be empowered to share their talents in every area of their lives, and embracing change is the way to achieve that goal. "Opportunity is giving us permission to lay down a new baseline and offer our own creation," said Simmons, before performing "The Flight," her own interpretation of "Flight of the Bumblebee," composed in 1900 by Nikolai Rimsky-Korsakov. 
To help elevate DEI, Jade Simmons recommends everyone make these five assumptions: 
Assume that your scope is limited. I'm not the same person I was two years ago, and neither are you. Assume that everyone is evolving.
Assume that no one wants to be invited to the table solely because of the quotas they fill. Everyone wants to be valued for their viewpoint and experiences.
Assume that who you are, where you come from, and your stories are absolutely necessary. Before we can all be comfortable with the diversity around us, we must be comfortable with diversity within us. 
Assume diversification is not enough. Empowerment must be the goal. Not everyone will be in a position of power, but everyone needs to be empowered to do more than fill the expected roles.
Bring your full self to the table at all times. People who shake themselves up intentionally are most likely to shake up their industries in the best way possible.