Alumnae/i Feature
Dr. Rita Drummond Olans '95 SNP is Selected as Fellow by the American of Academy of Nursing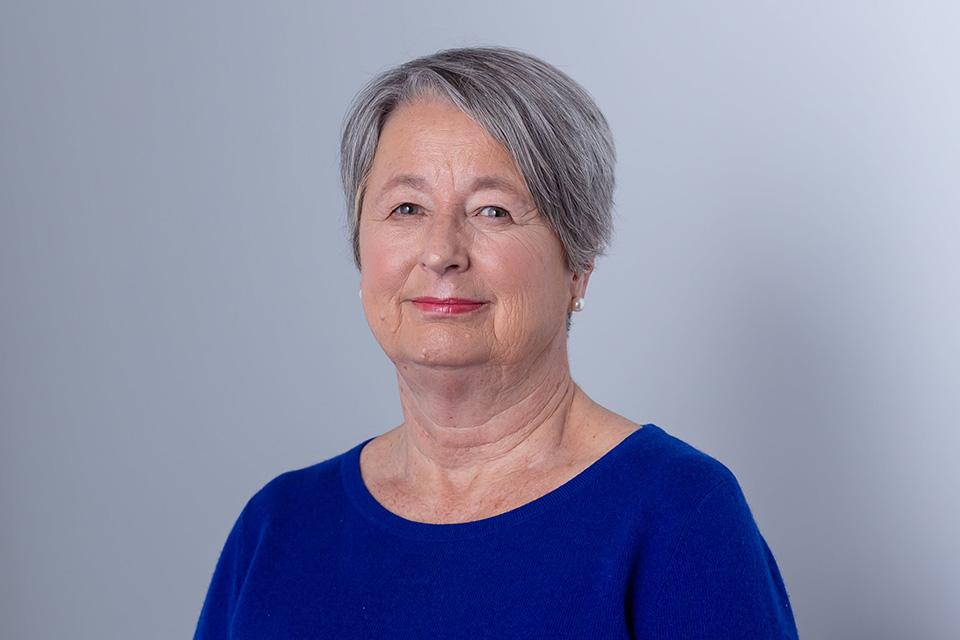 Dr. Rita Olans, DNP, RN, CPNP-PC, SNP-BC, FAAN, FNAP, an Associate Professor of Nursing at MGH Institute of Health Professions, has been inducted into an elite society of Fellows within the American Academy of Nursing (AAN). This honor is reserved for practitioners and researchers who have made a remarkable impact on the nursing profession.
AAN Fellows stand out for their accomplished and well-established careers. Dr. Rita Olans, who has co-authored dozens of peer-reviewed articles and book chapters on antimicrobial stewardship and delivers national and international guest talks on a regular basis, is an ideal candidate.
However, Olans was surprised and humbled by this recognition. "I never thought I was going to have this honor, but people I greatly admire encouraged me to apply." For their supportive sponsorship, Olans credits Dr. Janice Bellack, President Emerita of IHP, and Columbia University Professor Emerita of Nursing Elaine Larson, a leading antimicrobial researcher.
As a Fellow, Olans will peer review the latest research in her field. But the principal reason that she wanted to become a Fellow concerns policy-making. "I am on the Emerging Infections Committee, and we are going to be addressing issues that all nurses are facing with antibiotics and emerging infections," says Olans. "This is my niche within the AAN. There are 2,800 of us in the Academy, and together we hope to make an impact. We want to support nurses and we want to change the trajectory of multi-drug resistance in this country."
Olans believes that she picked the right specialty at the right time. From 2007 to 2011, she was a Nurse Practitioner and Coordinator for the US Virgin Islands Department of Health's Infertility Prevention Project and the HIV/STD/TB Departments. At this time, Olans became aware of the emerging, extreme resistance to gonorrhea.
As Olans explains, unlike diabetes, stroke, heart disease, and cancer, infectious diseases are very different in terms of pathology and treatment. Infectious diseases are unique in that they are a communal illness. Infections in one person can spread to others, and the treatment of one infected patient with antibiotics can have consequences for others around them as well as in society.
"When we take an antibiotic, we hopefully target that to the right microbe, at the right dose and duration," says Olans. "However, in some cases, antibiotics can actually make a condition worse, and set up a circumstance under which bacteria has a better chance of spreading and mutating. When antibiotics were first introduced, they were miraculous. But the problem is they began to be used inappropriately, resulting in drug resistance. My goal as a professor is to try to build learning opportunities for students to understand the benefits of using antibiotics, but also the limitations and how to handle these drugs carefully."
In 2016, Olans and her husband, infectious disease expert Dr. Richard Olans, and epidemiologist Dr. Alfred DeMaria co-authored the seminal article in Clinical Infectious Diseases that addresses the critical contribution that nurses make to antimicrobial stewardship. "We also discuss how healthcare providers have made the problem of antibiotic resistance worse, but we ultimately argue that nurses have a crucial role to play in fixing this problem," says Olans. Antimicrobial stewardship, simply put, is the optimal use of antibiotics both to treat individual patients with their infections, while minimizing the overuse of antibiotics and spread of resistance.
As someone who researches infectious diseases, Olans observed how the COVID-19 pandemic impacted the phenomenon of drug resistance. "People in the infectious disease community were working tirelessly to help patients," recalls Olans. "We were throwing everything we could at COVID, including antibiotics, especially when patients developed secondary infections. Thus, the pandemic was jarring to the world of antimicrobial stewardship."
Before becoming a leading researcher and professor, Olans was a school nurse practitioner (SNP). This is an unusual certification, with few programs for this specialty in the country. These NPs are employed at school-based health centers, community health centers, and hospital systems, where they typically practice primary care. Until recently, Olans also worked as an NP hospitalist at the Spaulding Rehabilitation Hospital in Boston.
Olans' passion for nursing was ignited at the tender age of seven, when she was a patient in a New York hospital for a few months. She developed fond memories of her nurses, and remembers one nurse saying to her, "this is where you are going to get better, and we are going to take care of your parents for you." As Olans reminisces, "I loved the nurses and thought they were fabulous. I wanted to be one of them."
Olans was drawn to Simmons School of Nursing for its excellent reputation. "I was also excited by the idea of a women's-centered institution. I felt very comfortable in this environment," she says. Olans and her husband call Boston "the medical mecca," and realize that many healthcare workers are drawn to this area. Moreover, Simmons accepted Olans without a traditional bachelor's degree in Nursing. She obtained an MSN from Simmons, in pediatrics and a school nurse practitioner (SNP).
Years later Olans obtained a DNP from the MGH Institute of Health Professions, where she is now a faculty member. "I realized that I really love school, and if you become a professor you get to continue learning all of the time. Your students are always challenging you. That's why I became a professor," remarks Olans.
Being a professor of nursing has been incredibly rewarding for her. "It was tough for me to give up the clinical work, but at this moment of my life, I feel privileged to generate the next population of nurses and nursing professors. When I leave this earth, I will have left it better by being a professor and teaching these students."
For students who aspire to become professors, Olans suggests looking into the Nurse Faculty Loan, which can help doctoral students cover their tuition and other research-related expenditures. She encourages all aspiring nurses to keep their options open. "Say yes to every opportunity. You never know where it will take you. When people ask me to do something, I believe I need to pay attention to that. I have had some really wonderful people in my life who have inspired me to take on new ideas and opportunities, and I always said yes."