Alumnae/i Feature
Dr. Deborah (Cheetham) Mattheus '90 MSN Receives Edge Runners Award from the American Academy of Nursing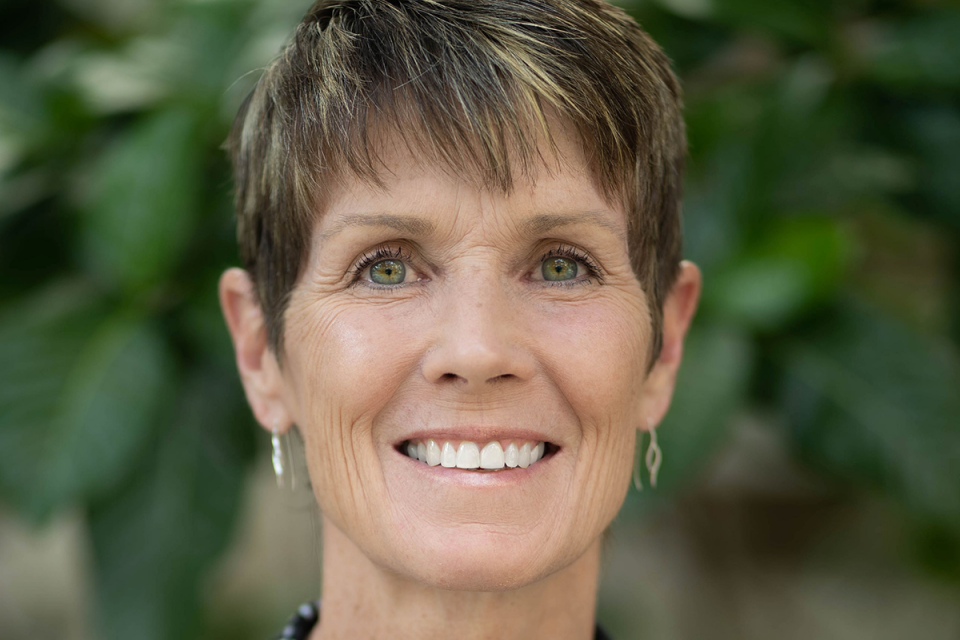 I am proud to be a Simmons alum, and the education I received there helped me to be a nurse leader in the work I do today.
Deborah (Cheetham) Mattheus, MSN, PhD, APRN-Rx, CPNP, FAAN, is the Nancy Atmospera-Walch Endowed Professor in School Health at the University of Hawaii at Manoa. She has over 30 years of experience as a certified pediatric nurse practitioner and over 10 years of experience as a nursing educator. Under her leadership, the Hawaii Keiki (child): Healthy and Ready to Learn program has expanded healthcare access to hundreds of K–12 public schools throughout the state. In 2023, the American Academy of Nursing recognized Mattheus' leadership in nurse-led healthcare and her program's significant and sustainable outcomes.
---
When Dr. Deborah Mattheus '90 MSN found out that she received the prestigious Edge Runners Award from the American Academy of Nursing, she was extremely proud of the nursing profession's ability to democratize healthcare. The Edge Runners initiative, as stated by the Academy, "recognizes nurse-designed models of care that reduce cost, improve healthcare quality, advance health equity, and enhance consumer satisfaction. . . . Edge Runner models demonstrate significant clinical, financial, community, and policy outcomes that are sustained and replicated."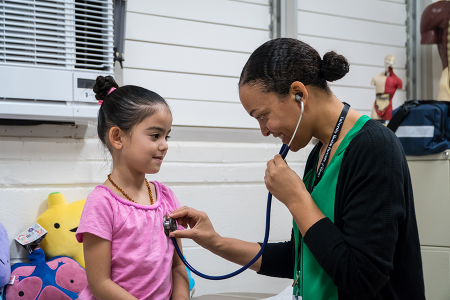 The Academy recognized Mattheus' key role in Hawaii Keiki: Healthy and Ready to Learn, a nurse-led and state-funded program that began in 2014. Through a partnership with the Hawaii Department of Education and the University of Hawaii at Manoa's School of Nursing, this program has brought nurses to K–12 schools (particularly Title 1 schools) throughout the islands to address the impact of health on student attendance, learning, and achievement. "This national recognition is a testament to the dedication of our nurses and so many people behind the scenes who are committed to ensuring that public school students in Hawaii have equitable access to healthcare," says Mattheus.
"The essence of the program is if kids are sick and stay home or they come to school unhealthy, they cannot learn, which means that they will not succeed academically. If we improve health equity, we can also improve the educational outcomes for these students," explains Mattheus. "By providing nursing services at school (both on-site and virtual), vision and hearing screenings, and dental/oral care, we are helping students stay healthy and ready to learn."
Although the program has existed for less than a decade, its outcomes are astonishing. The program started in 2014 with 4 nurses providing service to 59 schools. The program now has over 160 healthcare professionals and provides nursing services to all 258 public schools across the state and starting this year to 11 public Charter schools. Last academic year, 75% of students who visited a Hawaii Keiki clinic returned to class instead of being sent home. During the pandemic, the program began to offer telehealth services (including mental health services) and a nurse-led health hotline. In 2020, the program expanded to include dental services.
"School nursing is not just about Band-aids and Tylenol," notes Mattheus. "Students can suffer an accidental injury, be the victim of a school fight, or go into labor. Our nurses are very skilled and well-trained to deal with these situations."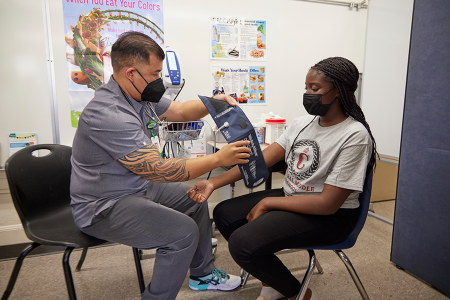 Many Hawaii public school students face significant socioeconomic and geographic barriers. Hawaii has the highest cost of living in the nation and most of the state is rural and difficult to navigate. The state has one public school system for all islands. Moreover, Hawaii has the worst oral health outcomes for children in the nation. "We look at which schools have the greatest needs," says Mattheus. "For example, many children have difficulty accessing oral health/dental services, so Hawaii Keiki provides sealants at no cost to help prevent future cavity formation in their molars. Having these types of preventative screening programs embedded in the schools is a win-win for everyone." Mattheus and her colleagues exemplify how nurses are instrumental in promoting health equity. "Nurses are trusted within their communities. We are also great at building partnerships, so we can bring in community stakeholders to provide additional support," she says. Mattheus and the school nurses embrace and transcend the Edge Runners' core principles; together they have worked to advance health equity as well as educational equity.
After witnessing the astonishing success of the program, Mary G. Boland, DrPH, RN, FAAN, Dean Emerita, University of Hawaii at Manoa Nursing, encouraged Mattheus to apply for the Edge Runners Award. Mattheus worked to submit the application collaboratively with Boland and Laura Reichhardt, Director of the Hawaii State Center for Nursing.
Mattheus, a first-generation college graduate, was drawn to the nursing profession to support and advocate for individuals whose voices are not always heard. She began her nursing career in an adult intensive care unit, then transitioned to a pediatric intensive care unit, where she worked for a decade. "Children are vulnerable and rely on adults to see that they are cared for, loved, and nurtured. Unfortunately, many children suffer daily and are not able to achieve their goals and reach their full potential due to barriers, in particular those that affect their health and access to basic health services," explains Mattheus.
While working in pediatrics, a doctor recommended Mattheus further her education at the Simmons School of Nursing. As a Massachusetts native, she was attracted to the Boston location, as well as Simmons' stellar training and accelerated programs.
"I received 100% dedication from the faculty," says Mattheus of her time at Simmons. "I particularly enjoyed being taught by one of the greatest nurse practitioner educators, Margaret Fitzgerald. [Former Dean of Nursing] Judy Beal was also a great mentor to me — she was always available and inspirational throughout my education and career. I am proud to be a Simmons alum, and the education I received there helped me to be a nurse leader in the work I do today."
Beyond academics, Mattheus is passionate about athletics. As a competitive runner, she has participated and placed in various 50-mile championships and ultramarathons. Now in her 60s, she continues to run approximately 100 miles a week. "My experience of being an athlete helped shape my leadership style," says Mattheus. "Being an athlete helped me to be highly disciplined in my activities, learn from my mistakes, and achieve my goals. Having a hobby outside of work and family is also essential for work-life balance."
With her years of experience as a runner and a nurse, Mattheus offers Simmons students these words of advice: "Life is a marathon, not a sprint. Take each step in stride and pivot if necessary. Support your team [or, in the nursing profession, your fellow nurses]. That's how you will achieve your aspirations."