Alumnae/i Feature
Divya Kumar '19MSW Supports Perinatal Mental Health for People of Color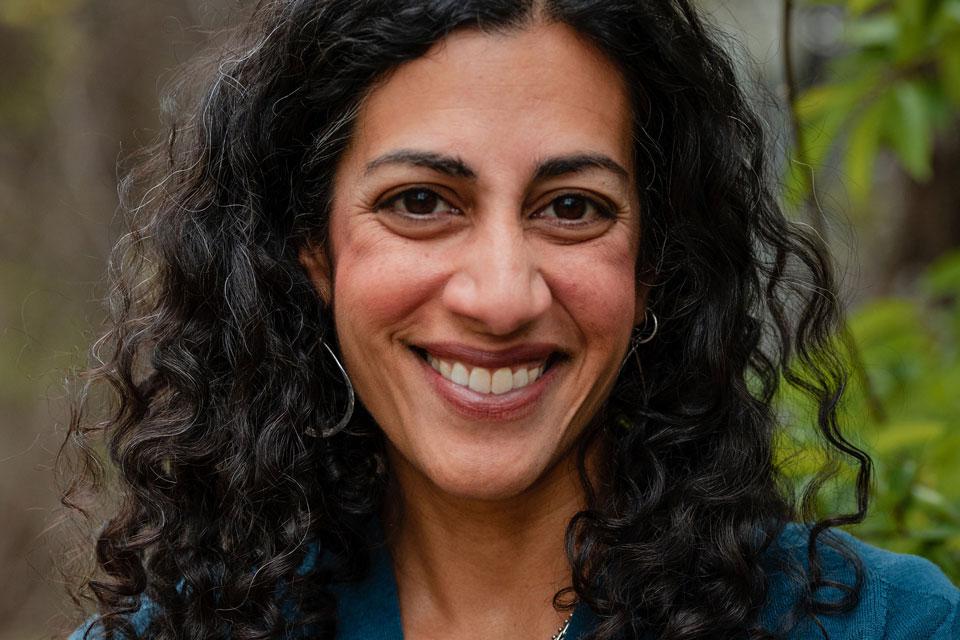 I chose to pursue the Trauma Practice Certificate because everything I had seen in my life had trauma as a common denominator: racial trauma, violence, sexual assault, attachment trauma.
Divya Kumar '19MSW is a psychotherapist at And Still We Rise therapy practice in Boston, and a co-founder of the Perinatal Mental Health Alliance for People of Color. She writes about the intersections of race, trauma, and perinatal mental health.
What led you to Simmons for your Master of Social Work and certificate in Trauma Practice?
In the early 2000s I got a graduate degree in Public Health. Since then, I have worked in the fields of reproductive justice and sexual health, and also violence prevention and response. After my kids were born, I ran a new parents' group in Jamaica Plain, became a postpartum doula, and created a pilot program integrating prenatal support into existing systems of care, which included referring people with perinatal mood & anxiety disorders to perinatal therapists. It occurred to me that I spent a lot of my time referring people to therapists, maybe I should just become a therapist?
I went back to school at 40. I wanted to enroll in a clinical program, and Simmons has an emphasis on clinical work. I chose to pursue the Trauma Practice Certificate because everything I had seen in my life had trauma as a common denominator: racial trauma, violence, sexual assault, attachment trauma.
The faculty at Simmons was amazing. I enjoyed my classes with Associate Professor of Practice Kelly Pratt, Professor Hugo Kamya, and Associate Professor Lydia Ogden. The Trauma Practice program was the most impactful part of my time at Simmons — I use tools from those classes every day, without fail. I learned how to sit with clients and build a therapeutic relationship, and I learned that at Simmons during my second year placement at the Simmons Counseling Center.
Can you tell us about your work with the Perinatal Mental Health Alliance for People of Color?
I went to the Postpartum Support International (PSI) annual conference for the first time in 2016, and there were only a handful of folks of color there. People talked about race, racism, marginalization and oppression, but it was often represented as one slide [in a presentation] and not fully integrated into larger conversations about perinatal mental health. We [people of color] can't separate race and racism from our experience with perinatal mental health.
My colleagues and I created the Perinatal Mental Health Alliance for People of Color in March 2017 as a way to integrate race, racism, and oppression into how we understand perinatal health for people of color, and to create more visibility and representation of people of color in the perinatal mental health field. In 2017 we planned a meetup [for clinicians of color] during the PSI conference in Philadelphia, which about 30 people attended. In 2018, there were over 100 people at our meet up in Houston. It's important to show people who are struggling, there are people out there who do this work who look like you and understand how you walk through the world. I'm much more likely to tell the hard things to someone who looks like me, understands my culture, and understands the lived experience of racism.
The Alliance provides scholarships for perinatal mental health training offered through PSI. The Alliance also provides training opportunities and facilitates connections among professionals of color in the field to create community and foster collaboration with others. Now there is a much larger presence of professionals of color at PSI Conferences!
The Boston-based therapy practice, And Still We Rise seeks to decolonize mental health and support BIPOC, women, queer and trans folks. Can you share why this work is vital, and how resources are limited for these groups?
The practice was created by Natasha Holmes, with a mission to center the experience of folks who are marginalized. The practice focuses on the decolonization of mental health, and therapy is seen in a context of lives that have experienced struggle and oppression and joy. Everything is seen in this very deep, layered context. Why do people have internalized self-hatred, racism, and colonialism? Evidence-based practice is the gold standard of care, but a more decolonized approach will ask, how did we get this evidence? Who was in this study, how was the data acquired, and is it generalizable? Which stories and experiences are unheard?
From my own professional experience, what certain people would call a distorted thought is [in some cases with people of color] not a thought distortion but rather a product of a cultural narrative of the lived experience of trauma. So much of the work of therapy is being heard, validated, and understood without judgment, and it can be a huge relief for clients to sit with therapists who understand the lived experience that has informed their world views, sense of self, sense of safety, and what they see as feasible options for their lives. I worked with many people of color during the pandemic, and the effects of seeing video of George Floyd's murder, as well as other anti-Black violence and anti-East Asian violence, can't be separated from mental health. If a Black person said, I feel like I can't go outside without being afraid of police violence, I would say, of course you feel that way; that makes a lot of sense! Much of my work during the pandemic was to validate and bear witness to the trauma that people were experiencing — rather than attempting to change the way that people were thinking about themselves or the events that were unfolding.
As therapists, we're taught about being careful of self-disclosure and not putting ourselves in the room - the work is about the client and not about us. But so many clients have never worked with a therapist, let alone a therapist who shares their racial and cultural identity, and it can be very validating to say "yeah, I get it, my mom did that, too." Having somebody who understands all of that [cultural background] can be really powerful. While we may not be able to make [the anxiety] go away, we can validate someone's experience and explore tools and coping skills.
How do microaggressions impact perinatal mental health (or mental health in general)?
What we do know from research is that having to deal with microaggressions causes adrenal fatigue. The word micro implies that it's small, but in fact, the cumulative effect of a lifetime of microaggressions is large. This is the weathering effect, which is the physiological process of wearing down the body. The lifelong burden of experiencing microaggressions can cause many negative health outcomes, including pain, increased heart rate, and increased blood pressure. It is exhausting and can contribute to hypervigilance and heightened reactivity. This is another reason why we need clinicians of color. When you have experienced racial trauma, you want to see someone who understands that lived experience and to whom you don't need to justify why something was traumatic and why you are reacting in a certain way.