Alumnae/i Feature
Daughter of Rebecca Cohan '72MSW Helps Immortalize her Mother's Legacy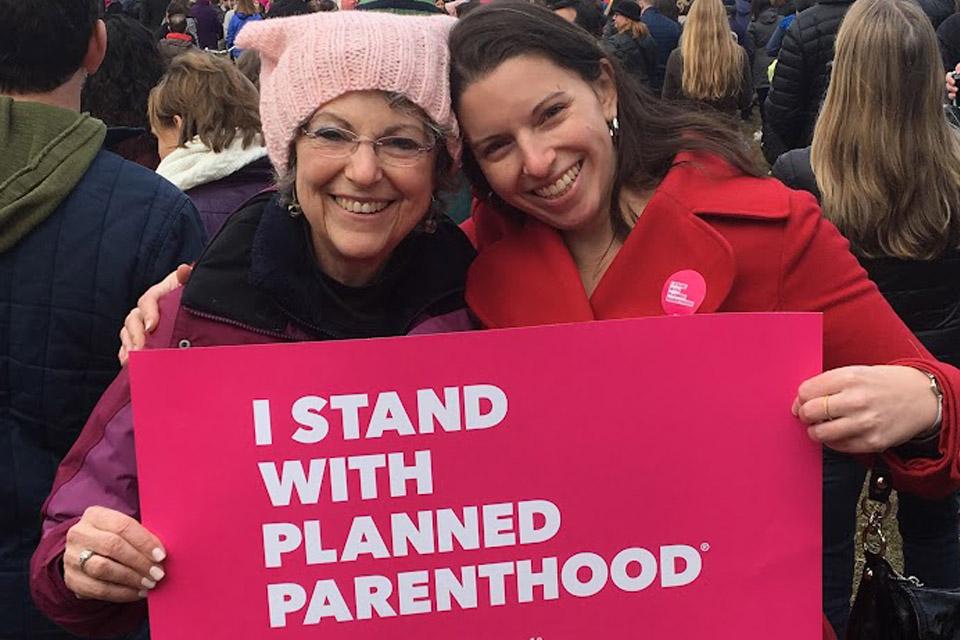 The late Rebecca Cohan, '72MSW and LICSW, led a remarkable career as a clinical therapist and court-appointed parenting coordinator. She was also a highly skilled baker. We spoke with her daughter, Sarah Cohan, about her mother's passion for social work and baking, as well as a new cookbook and scholarship fund that honor Rebecca Cohan's legacy.
How did your mother end up pursuing a social work degree at Simmons?
This profession ran in the family. My maternal grandmother, Tikvah Portnoi, was also a social worker. She founded the children's unit at McLean Hospital and was also a senior social worker at Beth Israel Deaconess Medical Center. My grandmother was a Simmons alumna, class of 1958, and she received a lifetime achievement award from the National Association of Social Workers (NASW). I imagine this influenced the course of her career and encouraged her to attend Simmons.
Moreover, my sister-in-law Annie LaRochelle completed her social work degree at Simmons in 2020. In this way, my mother's legacy continues.
How did your mother Rebecca Cohan become known as "the queen of the bake sale?"
A friend of hers shared with me that she started the bake sale at my elementary school [Mason-Rice in Newton], which was held on Election Day. I hadn't known that she started that tradition, but I knew that she ran the show. My mother organized that event every year when my brother and I were in elementary school. She took orders for entire cakes, and would make them, box them up, and take them to the bake sale for pick-up. I recently found old recipes from these bake sales, and some of the items my mother baked included a lemon amaretto bundt cake, a pumpkin chocolate chip bundt cake, and a cherry almond pound cake. All of the money that the bake sale raised would go to the school.
We are a large Jewish family, so food is a big part of our family life and cultural traditions. Like the typical Jewish mother, my mother loved feeding people. As a clinical therapist, she always said that baking was her therapy. She could easily spend all day in the kitchen.
My mother also had a very analytic mind, and loved the nuances of baking and the specific requirements of recipes. She really liked testing and comparing different recipes, ratios, and techniques. For instance, she was constantly on the quest for the best sticky bun recipe, which is why the cover of the cookbook is a picture of her sticky buns. The last time she made sticky buns was for my first Mother's Day in 2020.
How did the idea of creating the cookbook Rebecca's Kitchen come about?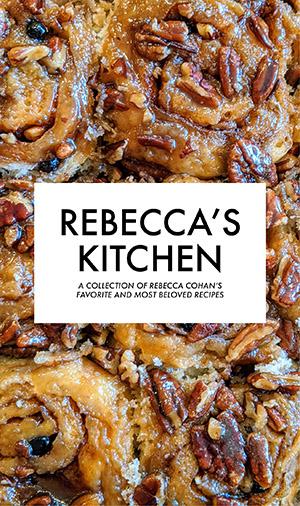 One of her colleagues from MAGAL [Massachusetts Association of Guardians ad Litem] suggested the idea to me. My mother was a parenting coordinator and member of MAGAL and had a great group of interdisciplinary colleagues there. Among her professional circles, my mother was almost as famous for her baking as she was for her clinical expertise. She worked for Human Relations Service in Wellesley for the majority of her career, and would essentially do the catering for their bi-annual retreats.
I designed and self-published a book of her most beloved recipes, entitled Rebecca's Kitchen, using a website called CreateMyCookbook, and then people started buying the book.
Tell us about the scholarship fund you are establishing in your mother's name.
We had the idea for the Simmons scholarship before the idea for the cookbook. In December 2020, our mother died very suddenly and unexpectedly. She was so well known in the community, and was such a passionate advocate for mental health and for supporting increased representation in all fields. She was also an activist who was very committed to social justice.
My brother and I want to create a legacy for her. People aren't remembered unless people remember them. Eventually, the people who knew her will all be gone. We wanted something lasting that was representative of her passion for clinical work, teaching [she supervised graduate students for many years], and social justice. We thought establishing a scholarship fund in her name would be the best way to do that.
The Rebecca M. Cohan '72 MSW Endowed Scholarship is designed for underrepresented students who wish to obtain a graduate degree from the Simmons School of Social Work. The scholarship resonates with my mother's commitment to anti-racism, representation, and mental health. Profits from the cookbook, as well as individual contributions, are donated to the scholarship fund. So far, we have raised over $27,000.
What are your favorite recipes from the book?
One of my mother's signature cakes was a white chocolate lemon lattice cake. This was one of my mother's favorite recipes, and it became my favorite, too. Her raspberry bars are also amazing — super fudgy brownies with raspberry filling.
My mother was a great cook as well. Another recipe I love is her chicken marbella, made with chicken thighs, red wine vinegar, olive oil, capers, garlic, oregano, prunes, apricots, green olives, brown sugar, and white wine. It's absolutely delicious. Chicken marbella is a classic dish from the Silver Palate Cookbook. I always requested my mother prepare this dish for my birthday.