Alumnae/i Feature
Engaging in Community as an Online Student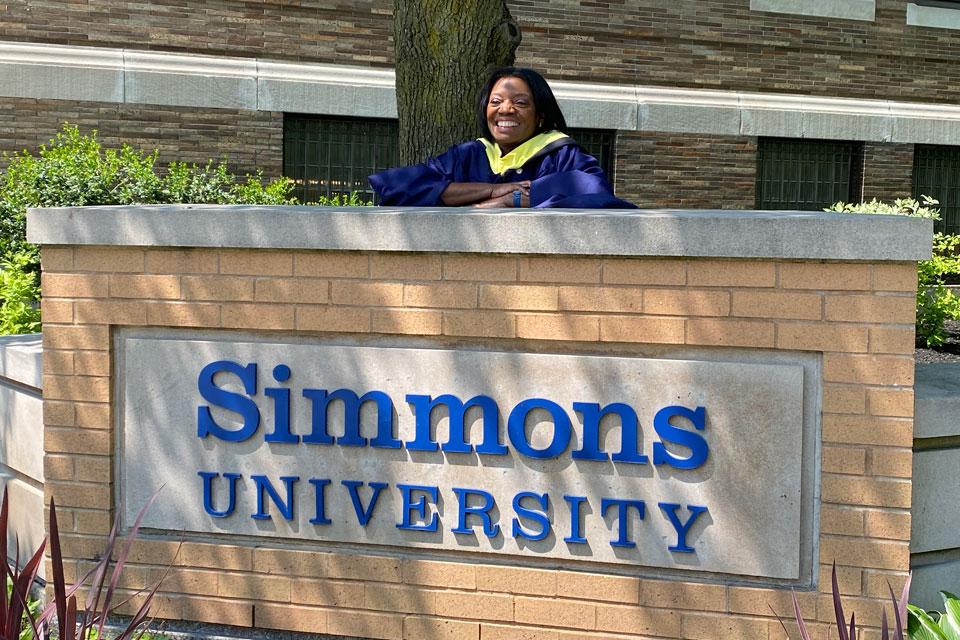 Recent SLIS graduate Danita Callender '23MS was selected by faculty to receive the Kenneth R. Shaffer Outstanding Student Award, which acknowledges a student with impressive scholarship and leadership potential. We caught up with Callender for her thoughts on her time at Simmons, how she felt about online learning, and her leadership experiences.
Why did you choose Simmons SLIS?
I knew about Simmons because of its reputation, and from local word of mouth, that it is the school to go to for libraries and archives. Also, I respected Simmons' history as a school for women.
I went to an in-person Open House before the pandemic and was impressed with what I saw. One person discussed archives, which caught my attention. Still, I dragged my heels. When I was ready, [the pandemic was underway] I attended another Open House, which was virtual. I was very impressed, and that was what made me apply.
My idea was to start the program online, as there was a lot of hubbub and confusion at the start of the pandemic. After I was accepted as an online student, [the University mandated that] everyone had to go online. A year or so later the policy was lifted, but I decided to remain an online student.
Tell us about your online learning experience.
I'm an older student. At first I thought, online learning, what is that? When the year began, it was a solitary experience. It was during the pandemic, when I wasn't leaving my house, so I felt like I was in this little box. Once I had my online orientation, I met a few friends. We initiated a group email, and I call them the Simmons trio - altogether there are four of us. Two of us graduated last year, I graduated this year, and one will graduate next year. We're still friends. I feel like we formed a sisterhood, and that was special to me. That's why I was drawn to Simmons in the first place, as a school for women.
Once I joined LISSA (Library and Information Science Student Association), I met more people and formed bonds with faculty and students alike. I was first appointed co-chair for SCOSAA (Simmons University Student Chapter of the Society of American Archivists) and was eventually voted in as co-chair. I worked with faculty, SLIS administration, student leaders and other students who joined SCOSAA. I found a community there, which was great.
One of the best ways to foster that feeling of a community [in an online program] was through the discussion forums. All of my courses offered this space to share your ideas and engage in conversations, and that's where a lot of exchange happens.
Tell us about your internships.
I had two internships while at Simmons. The first was at Belmont HIll School, and it was required for LIS 438 Introduction to Archival Theory and Practice. There, I processed the Henry Hixon Meyers Papers Collection. The second internship was at Houghton Library at Harvard, which I did for LIS 512 Advanced Field Study later in the program.
At Houghton Library, I worked on the Albert Murray Papers Collection. Albert Murray (1916-2013) was a Black American literary and jazz critic, essayist, and novelist. My job was to update the description and arrangement of the papers to improve access and boost awareness of the materials collected.
The collection includes Murray's correspondence with his wife, the military, and with friend and fellow writer, Ralph Ellison, author of Invisible Man (Random House, 1952). It also includes handwritten and typewritten drafts of novels, teaching materials, research files, newspaper clippings, audiovisual materials, and personal materials related to him and his wife. There are also a lot of photographs, including photos of Louis Armstrong, Duke Ellington, and Count Basie.
In my work I drew consistently on what I learned in LIS 438 Introduction to Archival Theory and Practice, LIS 440 Archival Access and Use, and LIS 415 Information Organization. This was my chance to take the theory and put it into practice. First, you have to remember what the theory is, even if you took the course a while back! I was fortunate, as Houghton has documentation of their procedures, standards, practices, and protocols.
How has Simmons prepared you to be a leader in LIS?
Simmons certainly prepared me with archival theory and practical hands-on experience. I think my leadership skills developed once I joined LISSA and SCOSAA. I coordinated meetings for the student body, joined other meetings as a representative for SCOSAA, and planned student events.
I was the co-chair of SCOSAA for three semesters, a lot of it during the pandemic, so we held virtual meetings, including meet & greets to welcome incoming students, even if they weren't sure archives was the right track for them. Once the restrictions were lifted, we were able to coordinate in-person tours of the Distinctive Collections at MIT and of the archives for GBH in Brighton.
Being local, I was able to come to campus for in-person tours and for the student organization fair at the beginning of the year. My co-chair of SCOSAA, Savannah Etzler, lives in Virginia, but she was able to coordinate a virtual tour of a local organization. You don't have to be local to participate, and you can bond with people online.
Want to get involved and meet your peers beyond the classroom? Learn more about SLIS Student Associations.