Campus & Community
Congratulations to the Class of 2023!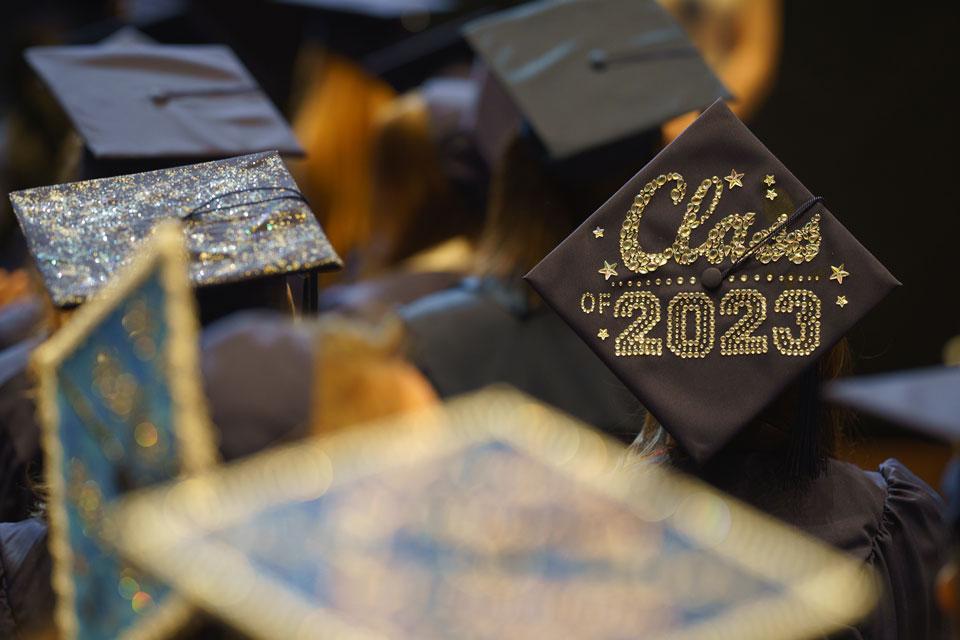 On Friday, May 19, 2023, Simmons University celebrated the 118th Commencement Ceremony at the MGM Music Hall at Fenway. The many accomplishments of the Class of 2023 were celebrated at the annual undergraduate and graduate ceremonies. Simmons awarded 400 baccalaureate degrees and will have awarded nearly 2500 graduate and undergraduate degrees during this academic year.
Undergraduates waved to family and friends as they processed into the Pavilion, many wearing mortar boards wreathed with flowers and decorated with messages: "Psyched for GRad School!" and "Hip Hip Hooray DPT," with pictures of pelvic bones. They were followed by the faculty, in robes of black, blue, red, and maroon.
Regina Pisa, Chair of the Simmons University Board of Trustees, initiated the ceremony and recognized Simmons students' ability to thrive in challenging times. Pisa invited the Class of 2023 to stand and applaud their family and friends, and faculty and staff of Simmons, in gratitude for their support.
In her second in-person commencement ceremony with Simmons, and the first Commencement to take place at MGM Music Hall, University President Lynn Wooten praised the graduating class for navigating a global pandemic and social reckoning while pursuing their studies.
"During your time at Simmons, you have elevated your voice and formed lifelong connections and friendships," said Wooten. "Simmons has also challenged you to think critically, to take risks academically, and to explore your interests and passions. And I am so proud of how you have risen to that challenge through your scholarship, service, and many contributions to our community."
After an invocation delivered by Dr. Gary Bailey, Simmons' Assistant Dean for Community Engagement and Social Justice, the Simmons Sirens a cappella performance of "Forward, Ever Forward." Vice President of Student Affairs Renique Kersh introduced the Class of 2023 student speaker, Abigayle Post.
A dual major in sociology and philosophy, Post delivered an insightful speech about what she has learned and unlearned while at Simmons. In addition to developing patience, perseverance, and hope, Post shared what she has unlearned while at Simmons. "I have unlearned the shame that comes from a society that demands women be humble," said Post, to raucous applause. "I know that I am smart and confident and loud, and that makes me absolutely phenomenal. And I will not allow the world to shrink me into acting as though I'm not."
The honorary Doctor of Humane Letters was awarded to New York Times bestselling and award-winning author, Andrea Davis Pinkney, who delivered the commencement address. Starting with a chorus of "Ain't Gonna Let Nobody Turn Me 'Round," by the Freedom Singers, Pinkney launched into a rousing address drawing on her own personal history as a young person who did not want to learn to read or write, because she did not see her own experience reflected in the books included in her school's curriculum. She warned against the myth of genius, "the false belief that one must be a genius to speak up. To stand up. To be seen. To make an impact. And to access one's God-given talents, skills, gifts, and abilities. Even when there are few literary mirrors that reflect your experience."
Thanks to the strong oral tradition of her mother, grandmother, and great-grandmother, Pinkney learned about the strength of women, and learned how to respond to her own negative "doom chorus." In time, she learned that "a genius is someone who is smart enough to gather all the folks who comprise your own affirmation choir. And to look up, up, up, and forward. To push ahead with affirmation deep within you. A genius is someone who embraces the community that lifts her. A genius leans on that village like the mighty life-force it is."
During the graduate commencement ceremony, an honorary degree was awarded to Tamar Evangelestia-Dougherty '03MS, inaugural director of the Smithsonian Libraries and Archives, which is the largest museum library system in the world. In her address, she told graduates, "The degree you have earned today has already paid for itself, and then some, though you may not realize it yet." Sharing a quote from author Bernard Iddings Bell, "A good education is not so much one which prepares a man to succeed in the world, as one which enables him to sustain a failure," Evangelestia-Doughtery instructed the graduates, "Remind yourself that not only did you master success, you are all badasses who rocked it."