Alumnae/i Feature
Class of 1967 Scholarship Fund for First Generation Students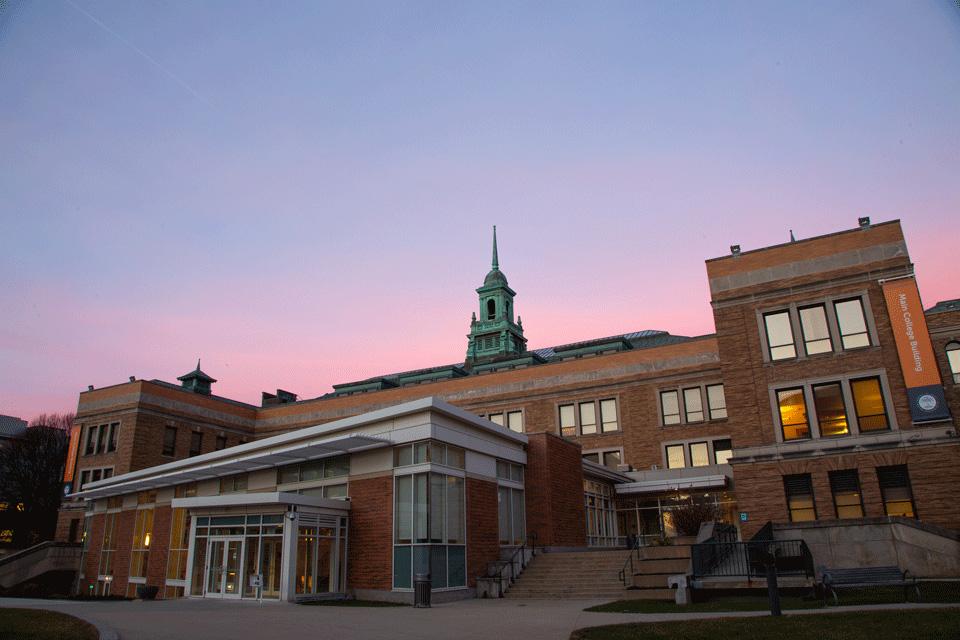 "Simmons offered me a scholarship covering my room and board, and my world was changed forever," says Lynne Devnew '67, Co-President of the Alumnae/i Association and honorary officer of the Class of 1967. She had anticipated living at home and commuting to a local teachers college. "My high school guidance counselor encouraged me to dream bigger, suggesting that I apply to women's colleges as they were the most likely to award scholarships to women. Fortunately, Simmons was one of them."
Devnew, and other alumnae/i, are excited to offer their own support to students. The Class of 1967 launched an effort in late spring of 2021 to establish an Endowed Scholarship Fund for first generation students for their four years at Simmons. "I am excited to focus my current giving and my legacy gift on the Class of '67 Scholarship Fund," says Devnew, who also has a Master's degree from Columbia and a doctorate from Boston University. "It has the potential to change the lives of future young women." The scholarship is part of the Class of 1967's giving efforts in celebration of their 55th reunion.
Laura Monin '67 also feels grateful to Simmons, and eager to help new students. "The catalog hooked me," she recalls. "The part about being an independent woman, being able to support yourself — I thought, that is for me!" Living in New York City in a three-generation household, she describes her upbringing as sheltered. "My parents had no money to pay for private tuition. If not for Simmons, I would have been a commuter student at a local school, still living at home." Simmons offered Monin a full scholarship. "That was my window to the world, the beginning of my advocacy, which to this day is a very big part of my life."
"I don't know where I would be if Simmons hadn't rescued me," says Judy Walker Weber '67. She was eager to leave an unhealthy home situation but couldn't afford tuition. She received a full scholarship from Simmons and found the nurturing environment she needed. "The small classes, the relationships with professors — it was just amazing." She went on to get her doctorate in Clinical Psychology at the University of Southern California, and was grateful to Simmons throughout her academic career.
"I assume that just going to college is going to be difficult for many of these women. I know how scary it was for me," recalls Walker. "If they also have to worry about money and how they will continue their studies, that would make it impossible. So I want to help them." Monin is also eager to help students from disadvantaged backgrounds, "to not be saddled with a huge amount of debt after graduation could help jumpstart their careers," she says.
Monin and Walker became involved in the anti-war movement while at Simmons, co-presidents of Students for a Democratic Society. "We wanted participatory democracy, people making decisions for their lives," recalls Monin. "A classmate asked how I could be against our country, but I wasn't against our country — we just didn't know where we were going with the war." That same classmate approached her at their tenth reunion. "She said, you know, you were right about the Vietnam War."
Walker was involved in peace marches and civil rights demonstrations, along with her classmates. "We were in college during similarly rough times," she reflects. "Our class has that awareness of what it's like to be in a time of turmoil. I think this feels familiar to us in many ways."
Monin encourages students to get involved with the social issues of the day. "Sometimes you have to step out of your comfort zone a bit. Join a group — that's how you learn to be a leader. There are a whole spectrum of ways to get involved, to improve the future for our country."
Walker is enthusiastic about the developments on the Simmons campus. "What they're doing with the residence campus is so sophisticated. It shows creativity, and that it's a college that will endure where many others haven't. Simmons is changing with the times and that inspires me." Monin is thankful that Simmons is still an institution for women, when other women-only schools have become co-ed or closed their doors. "It's a sisterhood," she says.
As students continue to identify as first generation, Simmons is eager to support them. The University is grateful to alumni who have shared their treasures, talents, and time to create this scholarship for students, and hopes to inspire more alumni to contribute to the fund.