Alumnae/i Feature
Christina Thompson Shutt '10MS, '11MA Organizes Virtual Juneteenth Celebration Viewed by 20,000 Worldwide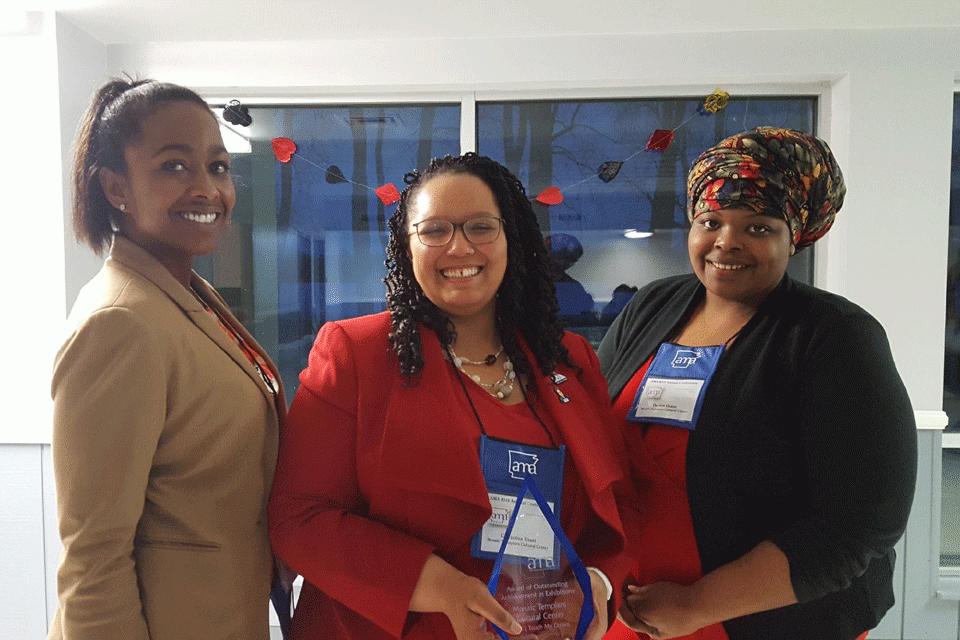 We caught up with Christina on her work at the Mosaic Templars Cultural Center and how she's shifted programming to a virtual format.
Christina Thompson Shutt '10MS, '11MA is the Executive Director of the Mosaic Templars Cultural Center, which is dedicated to preserving, interpreting, and celebrating African American history and culture in Arkansas. Shutt oversees all aspects of the museum, including exhibition development, community collaborations, and strategic visioning for the future.
Since the pandemic, her team has had to be even more creative with their vision. The museum closed briefly, and the staff, accustomed to working highly collaboratively in the same space, had to shift to working from their homes. During this time, they've been planning and envisioning digital programming and exhibitions that will allow them to connect with their visitors remotely.
Limitations lead to innovations
Often, limitations lead to the most remarkable innovations, and this proved true for Shutt's team as they transitioned their Juneteenth celebration to an online event.
"Last year, 5,000 people attended the event and street festival," Shutt says. "This year, it was a completely virtual celebration streaming live on Facebook."
Local artists and musicians performed for a virtual audience. The celebration also featured a performance from Grammy Award-winning artists, the legendary Clark Sisters.
"The event proved to be our biggest celebration yet, with 20,000 people from 23 countries watching the live stream!" Shutt says. "We're already thinking about and planning for ways to engage with this new audience and provide more digital content to this diverse constituency." A recording of the full event is available online.
The importance of teamwork
Schutt's time at the Simmons School of Library and Information Science (SLIS) gave her the knowledge, skills, and an aptitude for teamwork, all of which are integral to her role at the Mosaic Templars Cultural Center.
"So much of the SLIS program's work is centered around collaboration and understanding how to accomplish your goal in a team setting," recalls Shutt. "My coursework with professors Dr. Jeanette Bastian and Dr. Tywanna Whorley helped me understand the importance of collective memory and the ways in which the public grapples with historical events."
Shutt also urges current students to work with their peers. "Some of the best opportunities and experiences that I had at SLIS came from relationships I developed with my fellow students," she says. " I still have relationships with most of the people in my graduating cohort, and many of us continue to meet up at conferences and stay connected."
Connecting art and history
Before directing the museum, Shutt has worked in higher education, archives, and special collections. "The part of those jobs I most enjoyed was working with the public, helping them make sense of and contextualize historical records," she says.
Shutt draws on this past experience as a reference librarian in her current role, noting that as a museum director, she can continue to help people understand complex topics, but now in a visual medium.
The connection between art and history is invaluable. Shutt frequently revisits one piece of artwork by Kevin Cole, a Georgia-based professor and artist. The 3D mixed media art piece is titled, "Hope with Opportunities I," and depicts colorful pieces of wood knotted together.
"Most visitors walk by the artwork, and all they see is a brightly colored sculpture work — but they miss the deeper meaning," explains Shutt. "To quote Kevin: 'When I turned 18 years old, my grandfather stressed the importance of voting by taking me to a tree where he was told that African Americans were lynched by their neckties on their way to vote. The experience left a profound impression in my mind.'"