Alumnae/i Feature
Christina Thompson Shutt '10MS, '11MA Inspires Positive Change as Executive Director of the Abraham Lincoln Presidential Library and Museum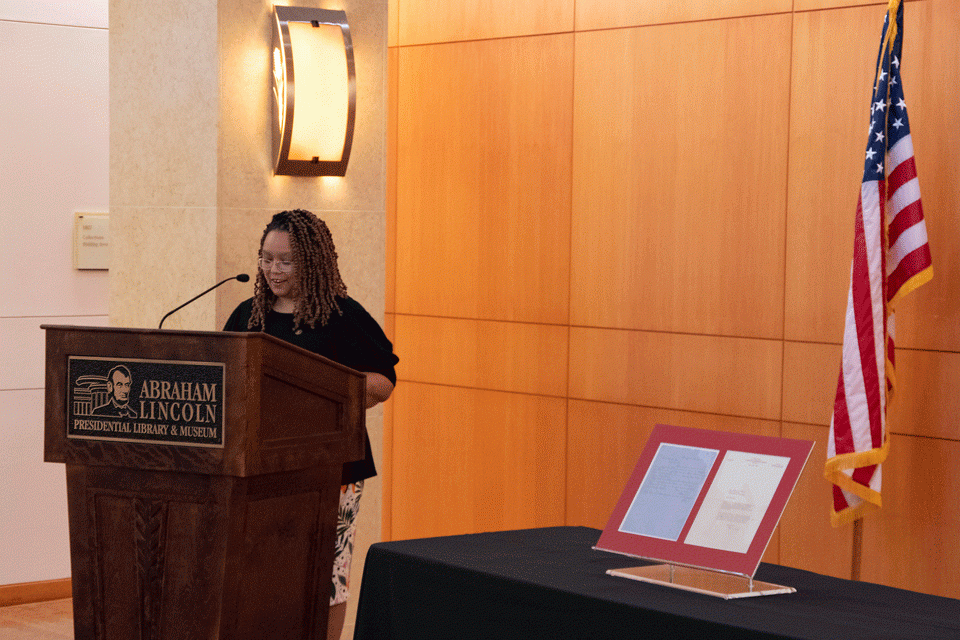 It's so rewarding to meet all of the people who love Lincoln and Illinois history. I've worked around libraries and museums my entire career, and it's always amazing to see how passionate people are.
Since joining the Abraham Lincoln Presidential Library and Museum as Executive Director in March 2021, Christina Thompson Shutt '10MS, '11MA has been eager to create positive change. "My role is to lead and provide vision for the Library and Museum," says Shutt. As an organization, "our mission is to understand Lincoln and his relevance for the modern era."
Over the past year, Shutt has been serving this mission by building awareness and visibility in the community"I've been meeting with local folks to build trust and strengthen relationships within central Illinois and throughout the state," she says. "We are currently planning to remodel the children's exhibit, as the existing space isn't meeting the goals we want to accomplish. We want to engage kids and families around the theme of citizenship."
While planning is in the early stages, Shutt is taking note of what visitors enjoy doing at the museum, and is looking forward to getting feedback on her plans. "We have an incredible programming committee, and we're looking to develop diverse, engaging programs," she says. "We have a beautiful park space outside, and we want to leverage that park and our role as the anchor of the Springfield community."
Shutt's enthusiasm for her work is palpable. "It's so rewarding to meet all of the people who love Lincoln and Illinois history. I've worked around libraries and museums my entire career, and it's always amazing to see how passionate people are." Recently, on a walk through the museum, volunteers introduced her to a visiting high school student. "He was visiting all of the Lincoln sites in Springfield as his senior trip, and he had made a whole artistic piece out of Lincoln memorabilia. It's wonderful to talk about a president who is still so well-loved, regardless of politics and things that tend to divide us as Americans." 
Having begun her leadership of the institution in the later stages of a pandemic, Shutt was aware of the challenges the Library and Museum was facing. "We are in a position to lead the state in the arts community, as one of the first tourism and cultural attractions to re-open [since the pandemic began] in Illinois," she says. "What does it look like to open, to have a hybrid workplace, to welcome visitors back on site? We've connected with colleagues in the museum field, sharing how we provide a safe environment for our visitors and how we work remotely with researchers. We hope it will encourage other institutions to do the same."
As for current programming, Shutt's favorite exhibit has been a part of the museum for the past 16 years. "The Ghosts of the Library Holavision experience is a ghostly historian talking about why we preserve historical materials. As an archives student, it's pretty cool," she says. "As a director I get to see behind the scenes, and I can appreciate the technology and work and training that makes it all possible. The actors do an intensive training for two to three months, and some of our actors have been here since the beginning. It's an aspect of the museum that people still love."
For students looking toward future leadership positions in Library and Information Science, Shutt advises taking advantage of applicable courses and internship opportunities. "I wish that I had taken more classes from the management program while at Simmons," she says. "I had to learn a lot on the job. Simmons gave me the tools to do that — to learn and read and supplement my knowledge — but I wish I had taken advantage of those courses, to hone more of my leadership skills."
Also, leverage your internship experience. "We are one of the few programs in the country that requires you to complete an internship — take advantage of the opportunity to get skills that you need." These skills have served Shutt well in her career. Recently, she was preparing to give a guest lecture on Dr. Martin Luther King, Jr. and the Civil Rights Movement to students at the University of Illinois Springfield. "It was research I did for my master's thesis at Simmons," she says.
Photos courtesy of Christina Shutt.