Alumnae/i Feature
Christina Pascucci-Ciampa '08, '14MS Makes Space for Intersectionality and Inclusivity at All She Wrote Books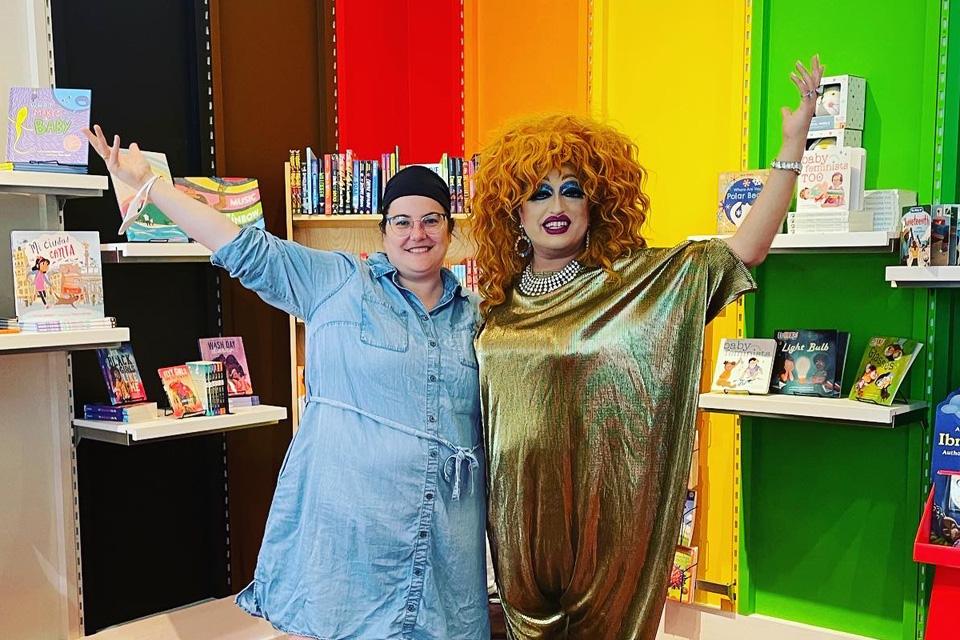 Christina Pascucci-Ciampa '08, '14MS (left) is the founder of All She Wrote Books in Somerville, MA, an inclusive feminist and queer bookstore that amplifies marginalized and intersectional voices.
Why did you decide to attend Simmons for college and graduate school?
As a neurodivergent person, Simmons was attractive for its small classroom sizes. I also missed Boston, so the location was ideal. Unfortunately, I was in an abusive relationship when I came to Simmons, which made my undergraduate studies a struggle. I created a lot of strong, supportive relationships at Simmons — as a student, and working in the financial aid office — but it was a difficult time. My undergraduate experience could have been different if my life choices had been different.
I graduated in 2008, during a recession, and in 2009 I got out of that toxic relationship. I kind of wanted a "redo" of my time at Simmons, and graduate courses were the way to do that.
What inspired you to open All She Wrote Books, and what convinced you that you could, or should, do it?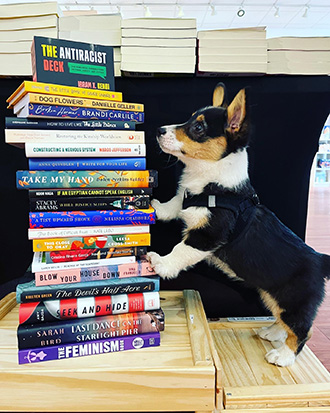 I was working in Marketing, but was looking for something more. I realized that I didn't see myself going up that trajectory to be a VP in Marketing. I wanted to be my own boss and create a work environment where people were empowered. I read The Feminist Bookstore Movement: Lesbian Antiracism and Feminist Accountability by Kristen Hogan, and it gave me a lot to think about. I was a huge reader, working at a great job that afforded me enough money to buy books. I would go to local independent bookstores, but it annoyed me to see the same five feminist texts available at every store, and the same six titles for queer/gender studies. In queer romance, only the top sellers were displayed face out. I thought, why can't we have more dedicated sections and take more chances to connect people with different types of books? Why aren't we doing this all the time, instead of just one month per year? Why aren't we talking more about books written by authors of color? That was the driving piece of it for me.
After I got out of my abusive relationship, I needed to understand what I had gone through. Aside from working with a therapist, I wanted to hear stories from other survivors. I was fortunate enough that I didn't have to fear for my life, but I know that's not a reality for everybody. There are so many different types of domestic abuse. There are queer people being abused, but we don't talk about it. But reading stories from others offers a way to connect.
Where did you start?
I wanted to share those stories, but I wasn't sure if anyone would care. I thought, how can I do this without putting too much money into it? I started with a three-tiered book cart filled with feminist and queer-authored books from my shelves and from friends. I focused on some bestsellers, and titles people may not know about. I collected twenty books, had a designer logo that I placed on the front of my cart, and went to the Canopy Room at Bow Market [former event venue in Somerville, Massachusetts]. I sold five books that day. Two weeks later, I sold seven books. For my third event, I asked friends for books in specific categories, and I sold 75% of my inventory that day. I was interviewed in Scout Somerville [local biweekly magazine], and once that article was published then I was asked to attend markets with different nonprofits, or at restaurants or local businesses.
I planned to leave my full time job in the fall of 2020, but when I was laid off in October 2019 my original timeline was thrown out the window. I was crowdfunding through iFundWomen, but was nowhere near my goal needed for opening a brick and mortar store. My dad was a big proponent of side-hustling, so I channeled his energy and hit every market that November and December. I'm very fortunate that I was able to do that. I built and launched my own website after Christmas of 2019, thanks to my education and work experience!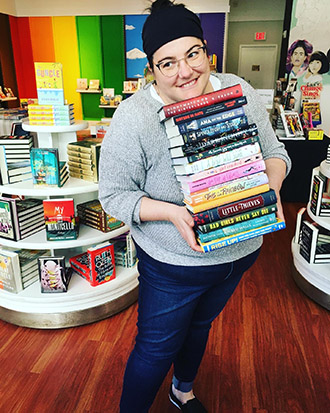 In January 2020, a friend of mine from Simmons — Vanessa Martinez '14MS — reached out to me about renting a storefront at Assembly Row in Somerville. I toured the space that day, and later presented my proposal to Federal Realty, offering my vision and financial projections for the next six months. By the end of the month they had accepted the proposal. I collected the keys in mid-March of 2020, but because of the pandemic, I wasn't able to open the store. For the next two and a half months, I ran everything out of my 200 square foot second bedroom, shipping ten orders per day and receiving 20 boxes of inventory every week that I had to catalog in that space. I offered affordable shipping rates and local delivery. I knew people were struggling during the pandemic, and I wanted to offer them a chance to buy books without breaking the bank.
When we finally opened the store in July of 2020 it was by appointment only. We also offered curbside pickup and pickup at an outdoor market in partnership with East Somerville Main Streets. I didn't want anyone getting sick on my watch. Plus, as the sole employee, if I went down, then we would have to close the store for two weeks. It was a lot of pressure. Still, it was important for us to stay open and continue the work we were doing, in the store and online. I have amazing friends and family who showed up to help.
How is the store now?
We're continuing to build the business, still growing and figuring things out. I brought on several employees last year, and started hosting events in our space. We hosted adult queer story hour, which is just a semicircle for all of us to share our stories. We also have comedy nights on Saturdays and a Drag Queen Story Hour at least once a month.

In July of this year, we celebrated two years in this space, which is wild! I feel more connected to the community, even during the pandemic. As an extrovert, the pandemic would have been hard for me if I hadn't had daily interactions with people that came into our bookstore. At times, these were often heavy conversations, but ones that could be had because people felt comfortable enough to share and open themselves up, and that is the greatest gift of what I do. That's what I'm continuing to do today.
It's been a very humbling, fun, interesting experience! I'm not afraid of the hard stuff and struggles because I've already lived through a couple things. Sometimes our experiences truly shape us into being able to handle harder punches down the line. What I survived earlier in my life has allowed me to stand up and stay strong while opening a brick and mortar bookstore during a pandemic, when so many independent stores were shuttered or didn't get off the ground.
Christina recommends:
Pictured: shop dog, Ruby, poses with recent titles; Pascucci-Ciampa poses with author/drag queen Lil Miss Hot Mess, who serves on the board of the non-profit Drag Queen Story Hour.