Campus & Community
Celebrate Indigenous Peoples' Day with Native Literature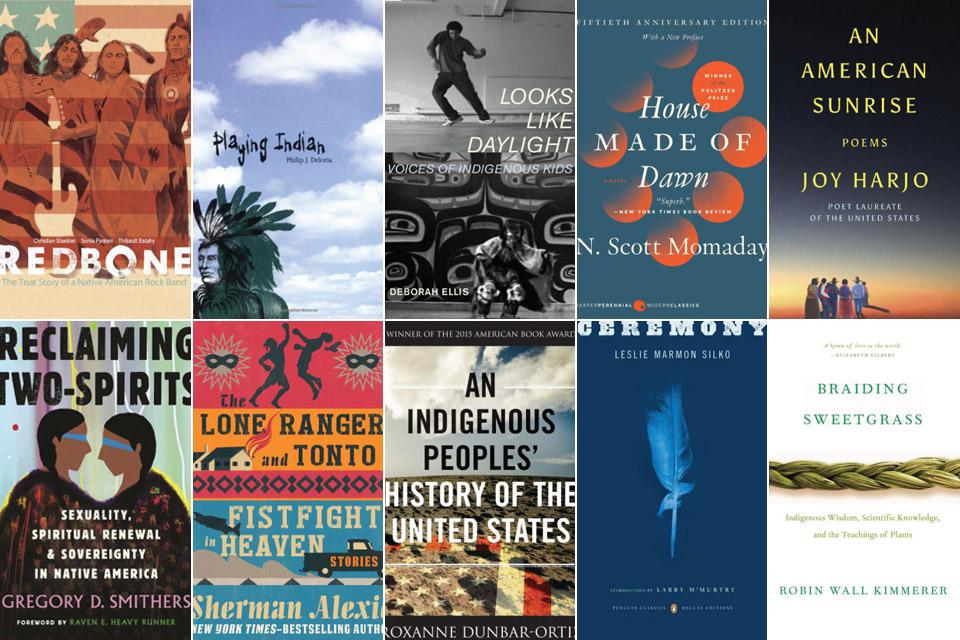 Celebrated on October 10 this year, Indigenous Peoples' Day honors the culture and history of Native Americans. This history is marked by tragedy and colonization, but also remarkable strength and resilience. Here is some recommended reading by Indigenous authors and Native Americanists.
Gregory D. Smithers, Reclaiming Two-Spirits: Sexuality, Spiritual Renewal, and Sovereignty in Native America (2022). Smithers' new book takes a decolonial approach to gender and sexuality within the Native American community. The text engages source material that illuminates how gender is often experienced as fluid or non-binary in Indigenous cultures.
Christian Staebler and Sonia Paoloni, with illustrations by Thibault Balahy, Redbone: The True Story of a Native American Rockband (2020). Co-founded in 1969 by brothers Pat and Lolly Vegas (Yaqui and Shoshone), Redbone became the first Native rock band to reach the top five of the Billboard Hot 100, and sold millions of records. In 2021, this book received the Best Graphic Novels for Adults award by the American Library Association.
Roxanne Dunbar-Ortiz, An Indigenous Peoples' History of the United States (2014). In this book, Dunbar-Ortiz deconstructs the master narrative of U.S. history by highlighting Indigenous voices. This is a must-read for students of American history.
Robin Wall Kimmerer (Citizen Potawatomi Nation), Braiding Sweetgrass: Indigenous Wisdom, Scientific Knowledge, and the Teaching of Plants (2013). In this New York Times and Washington Post bestseller, Kimmerer takes us on a journey that is both sacred and scientific. She draws upon her knowledge as an Indigenous individual and a scientist to heighten our ecological consciousness.
Deborah Ellis, Looks Like Daylight: Voices of Indigenous Kids (2013). Over a period of two years, Ellis interviewed Native children in the United States and Canada. This book is a collection of her exchanges with children ages nine through eighteen. Although many of these children have faced hardships, Ellis highlights their narratives of perseverance.
Joy Harjo (Muscogee Creek), An American Sunrise (2019). The first Native American Poet Laureate of the United States, Harjo has published numerous collections of poetry and memoirs. This collection of poems confronts the trauma of her ancestors along the Trail of Tears but also paves a path to renewal.
Philip J. Deloria (Standing Rock Sioux), Playing Indian (1998). Deloria is a specialist of Native American and environmental history. This nonfiction book explores the fraught relationship between Native and white Americans. Deloria shows how white settlers often appropriate "Indianness" in their quest for national identity, yet at the same time denigrate Indigenous cultures.
Sherman Alexie (Spokane and Coeur d'Alene), The Lone Ranger and Tonto Fistfight in Heaven (1993). Alexie is a prominent Indigenous writer who has published volumes of poetry and short stories, as well as several novels and screenplays. His writings often capture the brute realities of life on the reservation. This collection of short stories was the basis for the 1998 film Smoke Signals.
Leslie Marmon Silko (Laguna Pueblo), Ceremony (1977). Silko's novel sheds light on the oral traditions and ceremonial culture of the Navajo and Pueblo people. The author combines prose and poetic form. Themes of storytelling, creation, and transformation infuse the text.
N. Scott Momaday (Kiowa), House Made of Dawn (1968). This novel, which won a Pulitzer Prize for Fiction in 1969, is a breakthrough book in Native American literature. The text is closely related to Momaday's own experiences at the Jemez Pueblo in New Mexico.