Student Story
BSO President Kara Walsh '20 Speaks at Gwen Ifill Stamp Celebration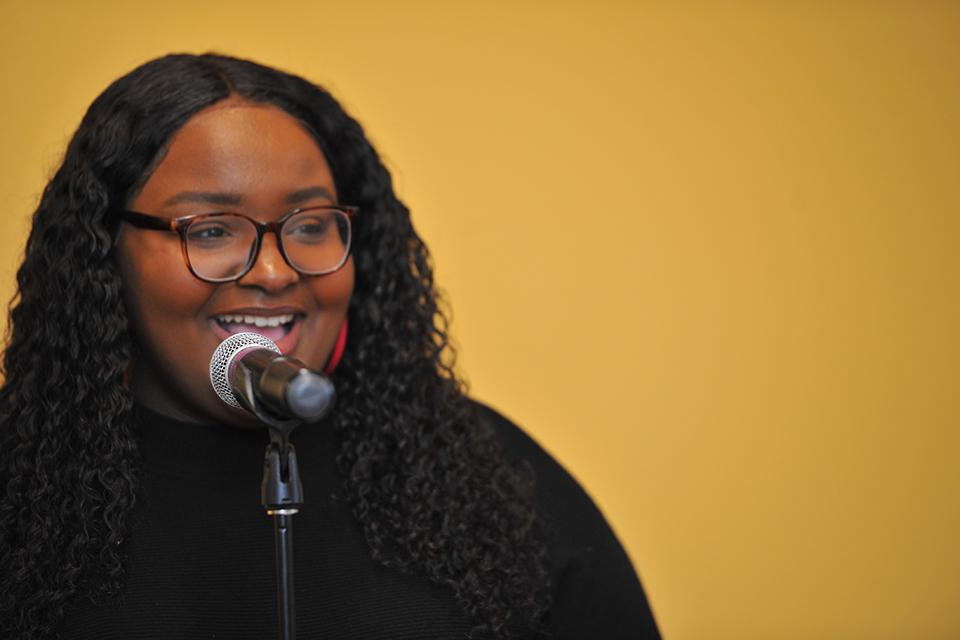 Simmons gives Black women, like Gwen and me, the space and opportunity to express ourselves and lead in multiple ways. Our experience here gives us the chance to be trailblazers and inspire others after us. 
Tell us about the speech you presented at the Gwen Ifill Stamp Celebration.
Gwen Ifill was a remarkable person. To see such a notable alum's face on this new stamp is inspiring to all. Although I never had the chance to meet Gwen, she is a role model to myself and others. Gwen Ifill never let anyone or anything get in her way. Here at Simmons, she navigated her college experience through one of the most difficult times in society.
Then she went on to strive through her life's work, overcoming barrier after barrier. Despite the adversity she faced, Gwen Ifill took the time to mentor young individuals. Last year, I had the chance to meet Gwen's brother, Roberto — he spoke on how mentorship was very important to Gwen. He stated that Gwen took on as many mentees as she could and almost never said no. Guiding other young Black women to success was important to her. Gwen's journey reminds us that Black women are strong and resilient.
For me, Gwen's stamp serves as a reminder of how much we have in common. She was also a part of the Black Student Organization (BSO) and was a resident advisor. People often described her as a serious person dedicated to achieving her goals. Some would say the same about me as well. In her words, Simmons gave her the opportunity to be a leader, to take charge and express herself. More than 40 years later, that statement still remains the same. Simmons gives Black women, like Gwen and me, the space and opportunity to express ourselves and lead in multiple ways. Our experience here gives us the chance to be trailblazers and inspire others after us. 
How did it feel to speak at this event?
I am so honored and humbled to be chosen to speak at the Gwen Ifill Stamp Celebration. Gwen Ifill loved to mentor young individuals and to make sure they were on the right track. I felt that I fulfilled part of her legacy by speaking at the event. Many people came up to me after my speech and said they were touched by my words. Gwen Ifill would have been proud to see a young Black woman like me speaking at this event. I am truly honored. 
What is it like being the BSO President?
I decide to become BSO President because I knew that I had the chance to impact the students of color on campus. I always find myself talking to first years and making sure they have a community here and are not alone. 
Being president is lots of fun. Alongside my executive boards, we get to plan many fun events for ourselves and the Simmons community. At the beginning of February, I planned a trip for the executive board to attend the Black Solidarity Conference at Yale University in New Haven, CT. The conference was amazing and we had the opportunity to meet hundreds of other students that are a part of Black student organizations across the U.S.
Why should students join the BSO?
The BSO is one of the longest standing student organizations on campus. We have weekly meetings where we have hot topic discussions, make t-shirts, host workshops, have giveaways and many more traditional events. BSO is a community where we share our wins and losses and we make sure everyone is succeeding. Also, we have so many alums that still want to be involved with the organization and want to be a resource. Through BSO, I've met so many alums who have offered job opportunities and internship opportunities. 
Do you have a favorite Simmons memory?
My favorite Simmons memory happens to be spring semester, sophomore year. There was one day in May, three days before finals and my friends and I were coming back from clinical. Recently my friend's aunt had brought her a large box of Chapati bread.
As we were walking back to campus, we saw a large group of our friends sitting on the lawn chairs. I remember everyone screaming, "Where's the Chapati"? My friend then went inside her dorm and got the Chapati bread to share. There were about 15 of us on the lawn, talking, laughing and playing games. I remember thinking to myself, this scene looks like one from the movies. That day, I made some of my closest friends and a best friend that I still have today.