Alumnae/i Feature
Brand Manager Abby Koss '19 Talks Retail Incubation and Conscious Consumerism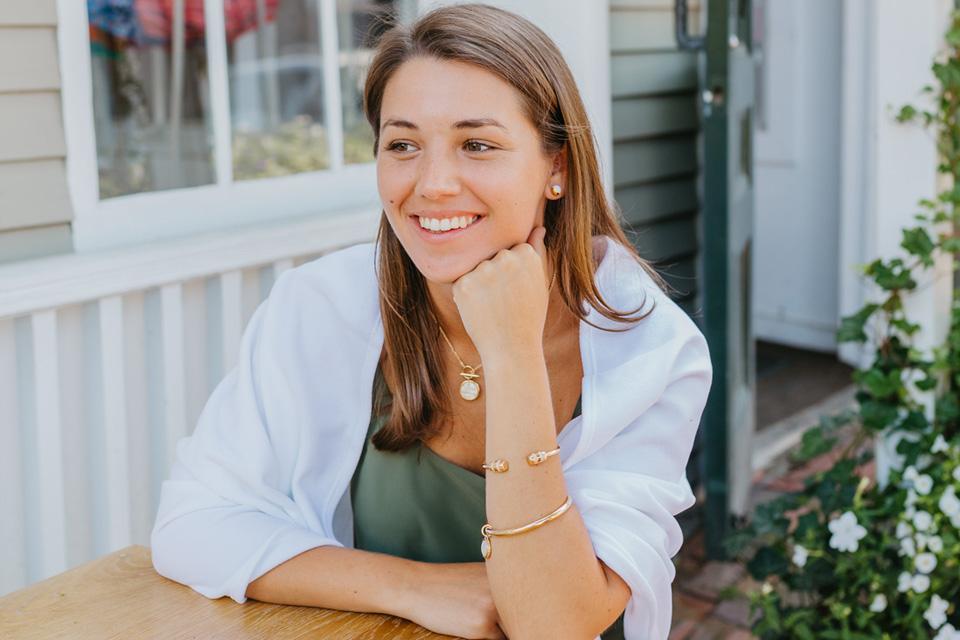 I'm so grateful for my experiences at Simmons! I gained so much confidence in speaking, writing, and negotiating. Those are all skills I use daily in my job at For Now.
Abby Koss '19 can pinpoint the exact moment when her interest in retail developed into a passion. While in high school and recovering from a knee injury, Koss worked as a sales associate in a local shop she had grown up visiting. "I ended up learning a lot about merchandising, social media, and buying. I fell in love with retail at my first buying show. It was definitely a pinch-me moment!"
Koss has been working for the retail incubation company For Now since 2019. "Retail incubation can mean a lot of different things," says Koss. "At For Now, we work closely with emerging e-commerce brands and founders to help them grow." For Now has two storefronts: their "flagship" store in the Boston seaport, and a seasonal location on the island of Nantucket.
"Our Founders, Kaity and Katharine, opened a brick-and-mortar storefront just over three years ago when they noticed a gap in the market," says Koss. "There were incredible brands out there but they weren't connecting with the right customers. There are so many young entrepreneurs who hope to create a Direct to Consumer (DTC) brand, which is easier said than done. Sometimes you need to get in front of your customers in a more meaningful, physical way."
That is where For Now comes in. "We curate a collection of rotating emerging e-commerce brands — usually anywhere from 20-25 ish brands at a time. We focus on sales but, more importantly, storytelling."
We focus on sales but, more importantly, storytelling.
As Brand Manager, Koss discovers new brands, onboards them, and manages their For Now experience. Once onboarded, Koss shifts to brand growth. She analyzes customer feedback and insights with sales data to ultimately make recommendations on how For Now brands can grow their businesses. "It's incredibly rewarding to see brands take our advice and actually see results almost immediately!
While at Simmons, Koss built her professional skills in the Business Liaison group. "It was a great leadership experience to be a part of the E-Board," she says. "I worked closely with Professor Vieira to start the American Marketing Association (AMA). I am so grateful for his guidance. I also learned so much from attending conferences at Harvard and networking events with the Network of Executive Women (NEW)."
She recommends that students take advantage of all leadership and networking opportunities while at Simmons. "I'm so grateful for my experiences at Simmons! I gained so much confidence in speaking, writing, and negotiating. Those are all skills I use daily in my job at For Now."
Koss also encourages business students to work at a start-up. "You get the opportunity to dip your toes into so many different things! I started out in a marketing role but really did whatever it took to keep the business going. It took a year or so to realize that what I loved was building connections with founders. I also really enjoyed brand discovery and planning, which is exactly what I get to do as Brand Manager."
Koss is currently brand-planning the Nantucket store. "This is our third summer, so it's exciting taking what I've learned from the past couple of years to make this summer the best one yet! Nantucket is also my favorite place in the world, so it's exciting to get to go visit and be so involved with the community."
Koss anticipated a busy summer. "I imagine retailers are going to see a significant uptick in foot traffic, post-pandemic. I believe shoppers have already started to crave the basic human interaction and community from local stores. You just can't replicate that online."
We want our customers to invest in brands with a purpose, and For Now makes it easy to be a conscious consumer.
As retail incubation becomes more widespread, large brands will begin to focus on experiential retail. "It takes more to motivate a customer to come in-store nowadays, but it's not impossible. I think brands will continue to adapt and innovate to create meaningful experiences that drive customers to more stores. It's been interesting to watch large retailers like Nordstrom start to invest in emerging brands as people become more conscious consumers. I think many consumers want to buy products from brands that care about the impact they are making."
For Now has launched a new website feature called "Shop By Impact," which enables customers to consciously shop mission-driven brands. The "Shop By Impact" feature allows consumers to see which brands identify as "Female Founded," "BIPOC Owned," "Made in the USA," or "Local to Boston," among other specifications.
"Behind the scenes, we've been curating our collection with brands in these impactful categories for years," says Koss. "We created this new feature because our customers truly care about the impact that brands have. We've seen customers come in and say, 'I'm only shopping from Female Founded brands,' or 'I'm only interested in supporting BIPOC founders.' It happens all the time, and now we have an easy way to share these collections. We want our customers to invest in brands with a purpose, and For Now makes it easy to be a conscious consumer."