Alumnae/i Feature
Autumn Allen '18MA-MFA on Inclusivity Children's Literature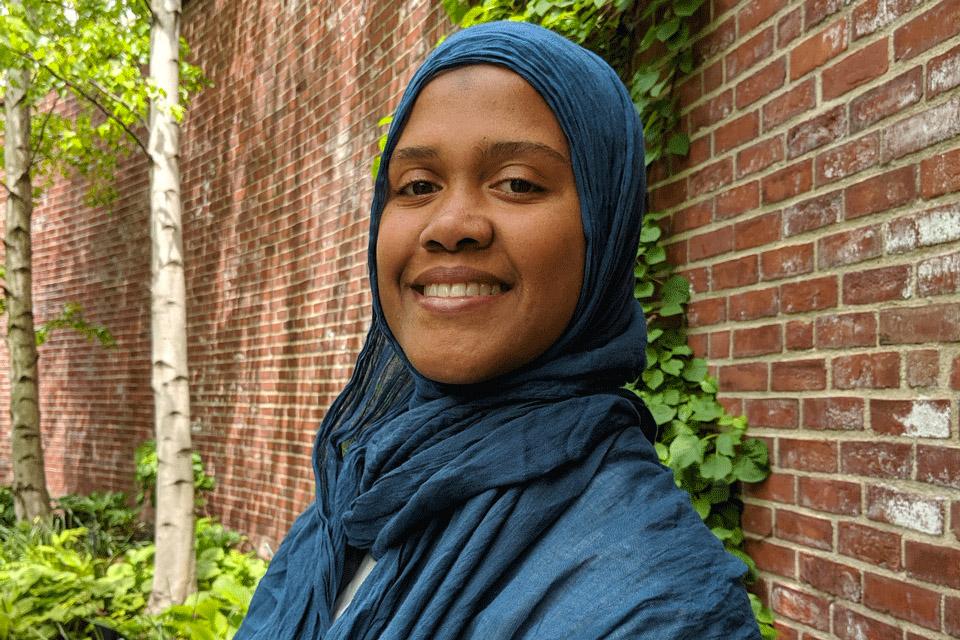 What led you to study children's literature at Simmons?
When I started homeschooling my kids, I let them have free access to all books. When I followed the standard recommended reading lists, the books people called "classics" often had a negative impact on my kid's identity development. They would tell me that they wished they were blond, they wished they were Christian. I realized that TV and magazines are not the only media that affect how you feel about yourself. That's how I got interested in the impact of children's literature and the need for more diverse books — books that would help my kids read not just for intellectual stimulation, but to feel like they are good and normal and can do anything.
When I learned about the Children's Literature programs at Simmons, I knew it was what I needed, but I wasn't sure if I was ready for the MFA in Writing for Children. I had always loved to write, but I hadn't sat down to do it in so many years. That fall, a friend of mine convinced me to do Nanowrimo (National Novel Writing Month). After that, I thought, if I can write a novel, I can do my MFA!
In your role as Senior Editor at Barefoot Books, what do you look for in a book?
I'm acquiring picture books and board books, and I'm looking for books that teach me something. I learn a lot through reading books for kids, and I'm excited when I get a book that offers a window into an experience that I haven't had, or that hasn't been represented in children's literature before. I also love picture books about science and STEAM.
The Highlights Foundation got funding through the Doris Duke Foundation for Islamic Art's Building Bridges Program to create this two-year fellowship program for Muslim storytellers at all stages of their careers. . They chose 16 Muslim creatives — mostly writers and a few illustrators — out of hundreds of applications. I was thrilled to find out there are hundreds of us interested in writing for children! I've found it hard to find other Muslim writers, but now I have this affinity group within the writing community, and a mentor to talk with about my work and my writing career. We take classes at Highlights and meet amongst ourselves for support. It's all about building connections and community and nurturing our work, in order to increase Muslim representation in children's literature.
Tell us about your debut picture book, Step on Board: Sculpting a Memorial to Harriet Tubman.
The book is about my Mom, Fern Cunningham-Terry, who was a sculptor in Boston who created the Harriet Tubman Memorial in the South End. It's told from the perspective of a girl (me) watching her artist mother figure out how to represent this larger-than-life figure in one work of art. The fun part is that I got to help on a part of the sculpture, so I include that in the book.
My mom was friends with Ekua Holmes, so she suggested we ask her to illustrate. Thankfully we were able to make that happen, and Ekua is really excited about the project. The book will be published in 2025 by Knopf.
My mother was determined to do what she loved. She knew from the time she was a child that she loved art. She kept building her career: she loved to teach and to sculpt, and eventually got commissions for sculptures around Boston and beyond. Looking back, it was a great example for me to see that you can do what you love if you put in the work. She told me: find something you love to do so much that you would do it for free, and then figure out how to get paid to do it. I've often thought of that. I re-entered the workforce while raising young kids, so I've tried to use that advice as a guide and only take on work that I love, that I would do anyway.
How did Simmons prepare you to be a leader in your field?
In every way. Everything that I'm doing now, I practiced in the program: approaching manuscripts from an editorial perspective, writing book reviews, writing critically about books, drafting manuscripts, all of it. Also, it's about the connections that you make in the program, with professors and mentors and professionals who come to offer guest lectures, or speak at the Summer Institute. All of that helped bring my goals closer to reality.
I encourage students in the program to meet everyone, get to know your peers and stay in touch with them — they will be future booksellers, agents, writers, and publishers. Much of my freelance work has resulted from connections I made at Simmons. I met a fellow Barefoot editor when she was a student at Simmons. Two of my agent offers were from people I met through Simmons. I even reconnected with Ekua Holmes at a guest lecture at Simmons! She recognized me because of her history with my mom. Those connections are vital for developing your professional and creative community.