Alumnae/i Feature
Author Marivi Soliven '95 Shares Stories and Language to Support the Immigrant Community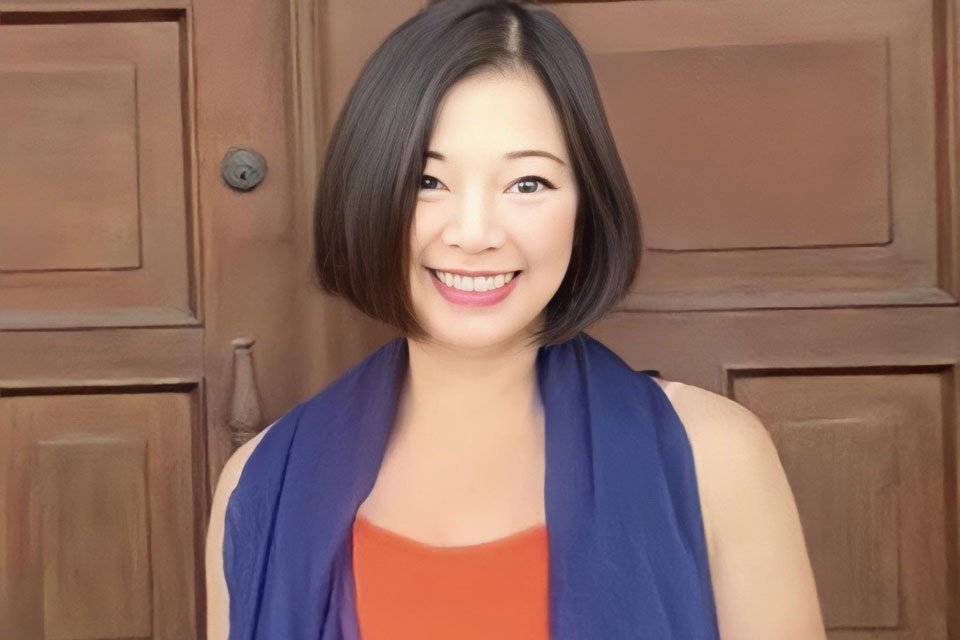 Some months after the novel was published, a former student from the University of the Philippines where I'd taught two decades earlier told me, "This is my story, I'm glad you told this." I thought, this must be a sign.
Marivi Soliven has authored 17 books and taught creative writing at the University of the Philippines, Diliman and at the University of California San Diego. Her award-winning novel, The Mango Bride is currently being adapted for film. Her short story, "Pandemic Bread," inspired by her work as a Filipino interpreter, was also made into an independent film of the same name.
---
Tell us about your experience as a Filipino interpreter, and your short story, "Pandemic Bread."
I work for several companies offering interpretation over the phone and in person. It's a day job that allows me the flexibility to write in between phone calls, and I can work from home. At the height of the pandemic, I was [interpreting] end of life calls at least once a month. I was so stressed out, I cracked a molar. Like many people, I started baking [to relieve stress], using a headset so I could move around while on the phone. I was rolling out dough for bread when a call came in, and that was the inspiration for "Pandemic Bread."
For many people when they sense the end is near, they would rather go home and die amongst family members instead of in a hospital room with doctors and nurses wearing masks. Older Filipinos have a feeling of, 'what will be, will be.' These were really messy end of life calls, with a patient and doctor in one room and [family members] out of state or out of the country. Some older people say, I'm dying anyway, send me home to the Philippines. They don't understand that they are on a respirator and it's not logically possible. In our culture, there is an idea of negotiation — you ask a question ten times, hoping the answer will change. The [family members] would make a connection with me, call me older sister, and ask, "what do you think I should do?" [Interpreters] aren't supposed to offer our own advice.
How was your story chosen to be made into a short film?
The San Diego Public Library put together the San Diego Decameron Project, an anthology of stories about the pandemic [the project's title inspired by Giovanni Boccaccio's "The Decameron," which was written in the 14th century as the plague devastated Florence, Italy], all from San Diego residents. Mine was selected among the top ten, and my friend Mark Cherry, whose wife is an independent filmmaker, asked if he could make it into a film.
The budget was under $20,000, using undergraduate students and film majors, including my daughter, and other industry professionals. They borrowed cameras from the Communications Department at the University of California San Diego, and filmed in the School of Medicine. They hired two actresses, one who had a day job as a hospice nurse, and another who had almost died of COVID. It's a very authentic film. The premier took place at the Asian Pacific Film Festival, and we hope to get into more festivals. The film may eventually be used as a teaching tool at the School of Medicine, as it shows doctors vulnerable and afraid for their own lives.
Tell us about your novel, The Mango Bride, and how it launched your advocacy work for survivors of domestic violence.
In 2008, when the subprime mortgage crisis was beginning to unfurl, I was interpreting calls through a National Domestic Violence hotline. During a huge crisis, there are men who will take out their frustrations on their domestic partner, usually a woman.
The Mango Bride (Berkley, 2013) is the story of a mail-order bride who suffers domestic violence by her husband. When I was researching the story, online dating hadn't yet exploded, and I found a pen pal service in the classified section of a free newspaper. There were photos of women, and the mission statement of the website was to pair Filipino women with American men. For $5, you could get a dozen addresses and write to these women. If you put a dollar bill in the envelope with your letter it would encourage them to write back. It was a whole business.
In the ten years since, you would have thought human trafficking regulations would diminish this service, but it's still there — featuring not just Filipino women but also Thai, Vietnamese, Eastern European women. Online matchmaking victims aren't usually seen as victims of human trafficking because these women have agency and choose to marry their matches. The Immigration and Naturalization Service (INS) grants a foreign-born wife a conditional green card that lasts two years. If the couple are still married at this point, and can present proof via shared utility bills and such, the conditional green card is upgraded to a "permanent" card that lasts for ten years. If you don't speak the language or understand the process, then you must rely on your husband to guarantee your stay here. There were men bringing in their fiancees on three month visas, and then sending them home. Oregon finally passed a bill that you need to marry the person you'd brought in on a fiancee visa within three months of their arrival.
The mail-order [system] is hard to police. I interpret for courts, so I see at all levels how things come undone. An immigration judge is not going to look kindly at a woman who abandons her husband after receiving her green card, even if she left for the sake of her own life. In the eyes of the law, it looks like she married him for a green card.
Some months after the novel was published, a former student from the University of the Philippines where I'd taught two decades earlier told me, "This is my story, I'm glad you told this." I thought, this must be a sign. I have to do something. I connected with local nonprofits and we held a fundraiser at the University of San Diego's Joan B. Kroc Institute for Peace and Justice in 2014, which raised enough money to save nine survivors of domestic violence.
What can you tell us about the film adaptation of The Mango Bride?
When my former agent forwarded me an email from a film producer, saying they wanted to turn my book into a film, I didn't believe them. Over the course of several meetings, I realized they were legit! They're in the process of finalizing the script and have cast most of the primary actors. They are securing financing and hope to start filming in the Philippines in January. Scenes set in San Francisco will probably be filmed in Canada. I wasn't involved in the script, but they do listen to my input.
In your writing, what do you hope to share about the Filipino experience?
I moved [to the U.S.] at 32 when I married my husband. The whole immigration experience changes you on a granular level. You are not the person you were in the old country. I have 15 pairs of aunts and uncles on both sides of my family and 60 first cousins. In the Philippines, we are a family of bankers, lawyers, and my grandfather was a congressman. Once I moved to the U.S. my only connection was my husband, and I was suddenly a person of color. It was a paradigm shift for me.
Do you have a favorite Simmons memory?
I'm really fond of Simmons. During my last year of student teaching, I broke my ankle, and everyone was wonderful. I was on the fifth floor of the student dorm, and they moved me to the second floor and outfitted an ADA-compliant (Americans with Disabilities Act) bathtub. I was in a cast for the last six weeks of grad school, but I got my degree. The University went all out to help me get to the finish line!