Alumnae/i Feature
At 94, Mildred Kagan Greenbaum '22MS Receives Her Degree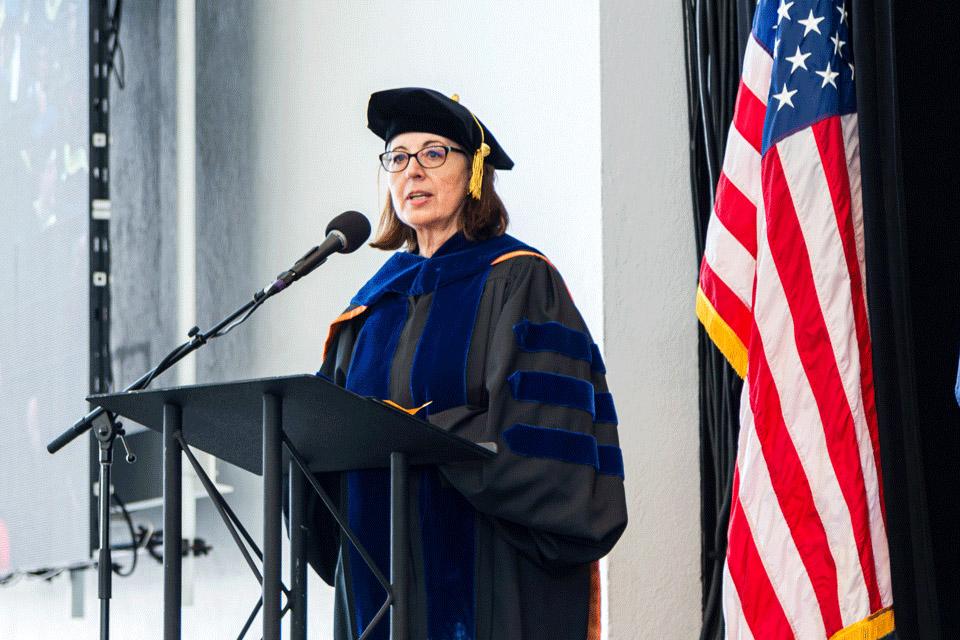 At Simmons University's 117th Commencement, President Lynn Wooten officially conferred a Master's of Science degree in Library and Information Science to Mildred Kagan Greenbaum '22MS.
This degree was fifty years in the making. 
"Education is an important subject in our family," said Kagan Greenbaum's granddaughter, Kathryn Greenbaum. "My grandmother always jokingly lamented that she did her Master's, but didn't have the degree." 
Upon completion of her coursework in 1951, Simmons provided Kagan Greenbaum a letter stating that she would receive credit for her completed coursework, but as she didn't have a bachelor's degree, they couldn't award her the official master's. Though she later went to Salem State University (then College) and completed her undergraduate degree in the 1970s, her master's degree wasn't made official. 
When her granddaughter found that letter and her hand-written transcript from Simmons, she knew it was time to act.  "I wanted to see if I could make this happen. I adore my grandmother, and I knew it would make her really happy." 
Kagan Greenbaum started working at Harvard in her early twenties, as the Yiddish and Hebrew cataloger. At Harvard, the Head of the Cataloging department allowed her to take the summers off so she could pursue the library and information science degree at Simmons. "I come from a Simmons family," says Kagan Greenbaum, now 94. Her younger sister had graduated from Simmons by that time; since then, her eldest daughter has also graduated from Simmons. 
After finishing her coursework at Simmons, she moved to the regular cataloging department at Harvard's Widener Library. "It was eye opening. Each book was new and different, covering different subjects and it was really great just to handle all of those new books and catalog them. In a library the size of Widener there was a tremendous variety of books." 
In 1953, Kagan Greenbaum married and moved to the North Shore. Once her three children were school-age, she returned to work as a part-time librarian in the Swampscott Public School system, while attending undergraduate evening courses at Salem State. "The idea of working in a public school appealed to me," she says. "My children were in public school and we had the same holidays. I couldn't afford daycare for them, so it was perfect for me to work in the school. We had the same schedule and that was very important to me." 
In 1972, she became a full-time librarian at Eastern Junior High in Lynn, Massachusetts. "I enjoyed the kids and selecting books for them," she recalls. "I had a record player and would have my children listen to the records. It was great. At that time, Lynn wasn't doing much in the way of activities in the library, very few of the teachers were giving assignments that required library use. It was a place for kids to come to study and chill out." 
Kathryn Greenbaum recalls her grandmother's enthusiasm for working in the school library. "She loved selecting stories she thought would resonate with them," she recalls. "She helped kids who weren't readers become readers." Though she wishes her grandmother had been able to claim the full degree earlier, as it would likely have impacted her income, she is grateful to SLIS Director Laura Saunders and Interim Dean of COCIS Sanda Erdelez for their support in making this happen. 
"The SLIS faculty were inspired by Mildred's story and enthusiastically supported granting her the degree," says Saunders, noting that the faculty vote was unanimous, and the recognition was long overdue. "I really appreciate that Kathryn Greenbaum reached out and brought Mildred's case to our attention. She did a lot of work to ensure that her grandmother was awarded the degree she had earned so long ago, and the bond between grandmother and granddaughter was really clear in all of our communications." Though Kagan Greenbaum was unable to attend Commencement in person, she did watch the livestream of the event. Saunders and Erdelez have made arrangements to hand-deliver her diploma in person. 
For Kathryn Greenbaum, her grandmother's pursuit of higher education continues to inspire. "She's kind of a powerhouse," she says, reflecting on her grandmother's perseverance to continue her studies, even while raising small children. "For me, she's been a guiding light. I'm going back to school in the fall to get my MBA while fully employed. I'll continue to work while building on my education, just like she did."
And the learning doesn't stop after school. "If you enjoy learning new things, it gives your life extra meaning. I still love reading and there's always something new to learn!" says Kagan Greenbaum. "In my later years I started reading historical romances, but they had to be historically correct, because I would know if they weren't!" She and her husband were married for 66 years; before he passed away in 2020, they were able to enjoy their retirement together. "Being able to read in the afternoon, with nobody to ask me questions, nobody to suggest otherwise — it was pure heaven."