Alumnae/i Feature
Ashley Berry McEdriss '09BSN on Her Journey to Becoming a Nurse Practitioner and Small Business Owner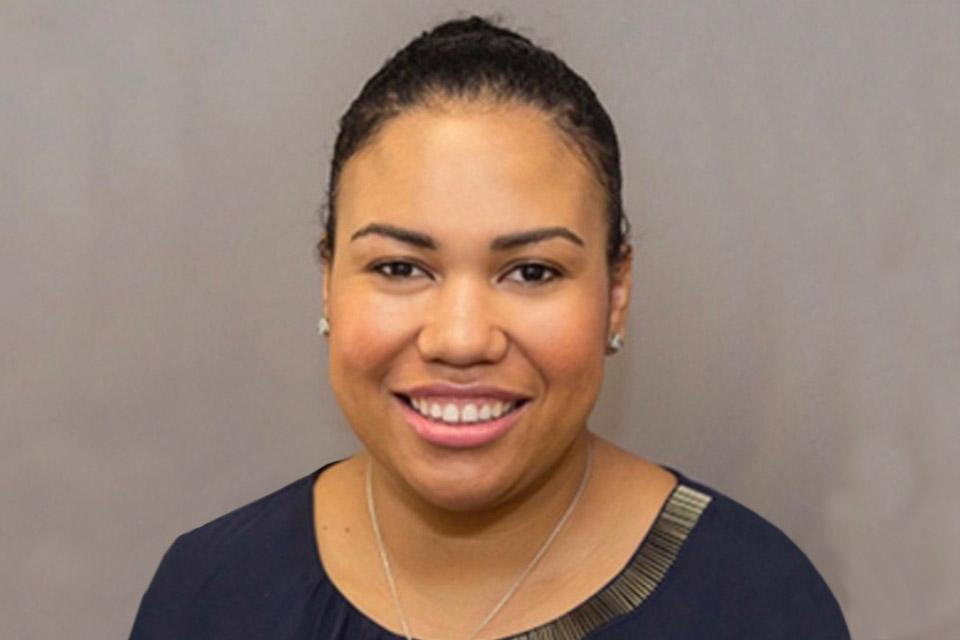 Ashley Berry McEdriss '09BSN is a Family Nurse Practitioner and a small business owner of Drive Safe Department of Transportation (DOT) Exams, an occupational health clinic in Wakefield, MA. She spoke to us about her journey to becoming a nurse at Simmons, her experience working in health care, and her business.
What made you choose to pursue your BSN at Simmons?
When I was a young child, I wanted to be a doctor. My older sister became a nurse. Every Sunday, we would have family dinner and she would always talk about the relationships that she had with her patients, and I was always fascinated with her stories.
In high school, I had to do an internship my senior year, and I ended up doing it at Brigham and Women's Hospital in their maternity department. There, I really got to assess the difference in relationships between a physician and a patient and between the nurses and a patient. I really admired the nursing role and the relationships that they fostered with the patients that they were caring for.
After that, I began to research what school would best prepare me to be a great nurse. My parents raised me to be a leader, to be the best I can be, and to never give up. They also instilled a good work ethic, so I was looking for a program that would prepare me in the best way possible for the profession.
Simmons fit what I was looking for. The location is excellent, as I got to do my clinicals at the best hospitals in the world in Longwood Medical Center. I really liked that it's an all-girls school. I could attend a college with a remarkable nursing program and training opportunities, while also being able to have fun outside of school time.
What do you find most rewarding about your work as a nurse practitioner?
As a nurse practitioner, I really enjoy the autonomy that I have. I can make clinical decisions, I can diagnose, and I can treat patients. I have a lot of freedom in really taking care of a patient, advising them, and educating them. I truly enjoy caring for people and empowering them to live healthier lifestyles.
In the nursing profession, we educate patients, but I enjoy educating nursing students as well. I teach nursing students at Salem State. As a nurse practitioner, I know the full scope of the nursing practice and I can use that knowledge to help nursing students and graduated nurses look at the bigger picture and help them to connect the dots on recognizing when a patient isn't doing too well, when to call for help, and so forth.
Tell me about your business, Drive Safe DOT Exams. What inspired you to establish it? How has it changed or grown?
Drive Safe DOT Exams is an occupational health clinic. We perform DOT physical exams, drug and alcohol testing, new hire physicals, police, and fire exams, and assess people when they're returning to work after injuries.
As a nurse practitioner, I worked in urgent care during the COVID-19 pandemic. With the increase in the volume of patients in urgent care, I got burned out. I began to look for something a bit different, but also wanted to continue to do urgent care work.
I came across an opportunity to take over the DOT practice. It was previously owned by a nurse practitioner who was retiring, and she was looking to give it to another nurse practitioner. Everything worked out and I really fell in love with occupational health and trying to create safe work environments. Under the previous owner, the clinic only offered DOT exams. Since I've taken over, I've expanded the services that we offer, so that we can fully encompass all occupational health services that companies need to implement a safe work environment.
I also work per diem in urgent care at Mass General Brigham and at the Lynn Community Health Center. Even though I am now a business owner, I still enjoy working in urgent care.
What do you find most rewarding in being a business owner?
It's exciting. It's a completely different path than what I've done before. I love that I can create my own schedule. I'm also able to help other businesses, offering consultations to help them provide good safety programs for their employees.
Having the opportunity to help others is the biggest reward. Since Drive Safe DOT Exams is growing, I will be able to offer job opportunities and possibly help others achieve their goals, and I'm happy to be a part of that. It's super empowering.
How did Simmons prepare you to become a leader in your field as a nurse practitioner and as a business owner?
Simmons University is all about empowering women. They have great resources and faculty who are leaders themselves. All my professors were practicing nurses; most were nurse practitioners in their own field. Being trained by leaders gave me a desire to also become a leader. Simmons empowered me to be the best that I could be. They taught me that just because you're a woman of color, there are no limitations. You can do whatever you want to do if you're willing to put in the hard work.
I am a biracial woman of color; I have a white mother and a Black father. When you grow up biracial, you don't truly fit in with the white race or the Black race, you're kind of in the middle. Sometimes, that might make you feel less worthy or like you don't belong. But if you have the drive, the resources, the mentors, and you utilize everything, there really is no limit to what you can do.
When I was little, I remember an adult woman of color asking me what I wanted to be when I grew up. And I remember saying, "I want to be a doctor." I remember her reply, "Oh, you'll never be a doctor. That's silly. You need to think of something else." That really hurt me as a young kid, because I didn't really understand why an adult woman of color would tell me something like that.
But here I am now: a nurse practitioner, a mom of four with a great husband and a great support system, and now I'm running my own medical clinic. If you listen to the negativity, and you let that hold you back, then that is going to stop you. But you're stronger than you think. If you have a drive, and you're willing to work hard and never give up, then you can achieve anything.