Alumnae/i Feature
Ariel Vanece MA '22 Imbues Children's Literature with Intergenerational Friendships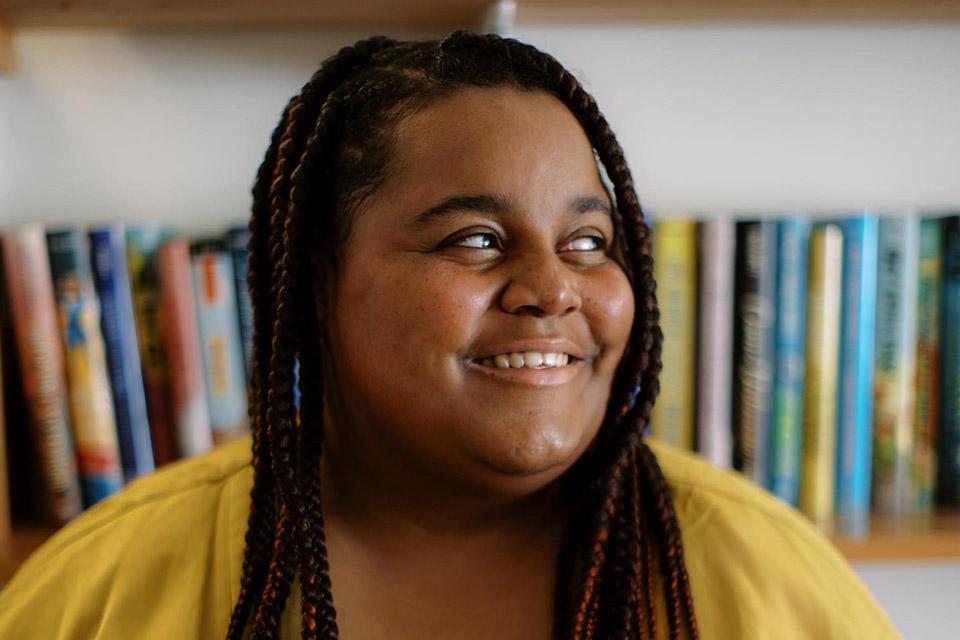 Ariel Vanece, who completed the dual Children's Literature MA and Writing for Children MFA program in 2022, recently secured a two-book deal with Penguin / Rocky Pond Books. They spoke with us about what motivates them to write and how Simmons prepared them to be a children's author.
Tell us about the genres in which you write.
I write fiction, and especially picture books and chapter books for young readers in elementary school, middle school, high school, and into early adulthood.
What inspires you to write literature?
I had an interesting upbringing. I was raised by a single mother and spent a lot of time with my grandparents and great-grandparents. As a kid, I did read some children's books, but more often I read books intended for an older readership. Now as an adult, I am exploring books that I did not read as a child. I also want to tell stories of things that I've done but in a more fun and fictionalized way.
A common thread in my writing is ancestry, elders, and intergenerational friendships, which are all very important to the Black community. I had the privilege of having grandparents and great-grandparents up through early adulthood. These relationships helped shape my values and the person I became.
Tell us about your current book projects.
I have a two-book deal with Penguin / Rocky Pond Books. The first picture book, Searching for Mr. Johnson's Song, will appear in 2025. My family provided inspiration for this book, as we are very musical on both sides. My great-grandfather and I formed a close bond through music, so it is very important to us. The book shows how music creates intergenerational friendships. So again, there is an ancestral, intergenerational aspect to my writing.
The second picture book is entitled Free Museum Day. Free Museum Day is an annual event in Sacramento, California where I grew up, and my grandfather and I attended it every year. During Free Museum Day, you can board public buses that will take you to any museum in the city. However, both the buses and museums have a lot of stairs. In the book, I explore this situation from a (dis)ability-related lens. The main character has multiple sclerosis (MS), and they express how hard it is to maneuver when you have MS or other mobility-related issues. In this book, I still explore intergenerational friendship, but from the perspective of ability, museums, and adventure.
What is it like to work with an illustrator?
The process was very interesting. Some writers may choose their own illustrator, but in my genre of writing and publishing, it does not usually happen that way. In my case, I write the story initially, and then I submit my manuscript to my agent, who, in turn, submits it to editors. From there, the editor is able to find and commission an illustrator. In my experience, the point of the illustrator is not necessarily to interpret what I am saying and make their pictures conform to my words on a literal level, but to delve into other aspects of meaning, and mine what they find interesting about my text. They may decide what to pull out more of the text and imbue those aspects into their imagery.
What I find really interesting is that illustrators can often tell another story that is not said aloud or transposed verbally. In this way, the artist helps uncover additional layers of meaning in the text. I also have observed that the colors themselves can tell a different story. Illustrators can leave "Easter eggs," – inserting random details into the illustration that can help readers unlock additional significance of the text, but in a playful way.
How did Simmons prepare you for your profession?
The Simmons' program exposed me to various aspects of publishing and helped me prepare for a career as a writer. The mentorship program was one of the best experiences that I ever had. In this program, I worked with someone [outside of the Simmons community] who specializes in children's books. My first mentor was a literary agent and my second mentor was a children's editor. This experience helped me set some benchmarks as to how I want to approach manuscripts and how I can make my goals attainable.
What advice do you have for aspiring writers?
Give yourself grace. A lot of the time, we try to produce and produce, maximizing our output and really pushing ourselves. But it is important to give yourself the space to not produce every single day. Take time to reflect on what you really want to craft, because if you put too much pressure on yourself, you will no longer want to do what you have set yourself up to do.