Alumnae/i Feature
Ariel Richardson '09MA Edits Sibert Medal-Winning Picture Book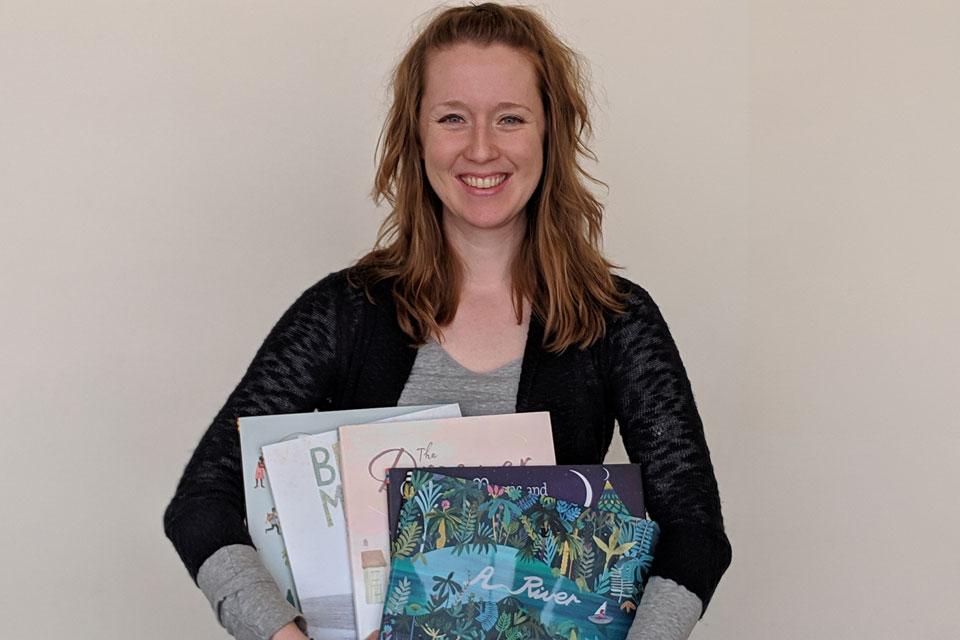 I'm particularly grateful for the community I got from Simmons.
Ariel Richardson '09MA is the Senior Editor in Children's at Chronicle Books, located in San Francisco. We caught up with Richardson about her role, her time at Simmons, and her recent award-winning picture book.
What made you choose to pursue a Master's degree in Children's Literature?
I was a Sociology major at UC Berkeley for my undergraduate degree, and I did a year-long thesis on children's literature — focused on how magazines, non-fiction, and graphic novels beloved by reluctant readers were undervalued by gatekeepers at the time (I'm so glad so much has changed since then!). For my thesis group at Berkeley, children's literature wasn't seen as a serious academic pursuit. But it was important to me. I was a big reader as a kid. I moved 16 times before I reached high school, so books were my constant companions and a big source of stability in my life.
After graduating [from undergrad], I worked as a bookseller and also landed two internships, one in Children's and one in adult publishing. It was the adult internship that turned in to a full-time position, but about nine months in, I confessed to my boss my dream of working with children's books. She told me to go and do what I loved! If not for her advice, my life would look very different. I had felt so lucky to find a full-time salaried editorial role in the Bay Area, where I was from, that I'm not sure I would have had the courage to make that leap if not for her encouragement. And that moment has forever highlighted for me the incredible importance of mentorship in publishing.
Around that time I learned about the Children's Literature program at Simmons, and I was so excited to be a part of a community that would take the study of children's literature seriously. And Simmons gave me exactly what I wanted: a robust community who cared about what I care about, and close friends also in the industry. I'm so grateful that I took the plunge.
Tell us about your role as Senior Editor. What does it entail?
I am an acquisitions and developmental editor. As an acquisitions editor, I reflect on holes in the current marketplace, think about how Chronicle Books spends its money, and read submissions and champion new books. As a developmental editor, I think about plot elements like character development, and whether an ending is satisfying enough. I consider the physical details of the finished book, from the trim size to the type of paper. I think about the visuals of the books, from illustrator selection to art direction. And I think about positioning in the marketplace, things like the title and subtitle, copy, and the pitch.
My favorite part of the job is when I get to look at the text and sketches for a picture book together for the first time. That moment of seeing them paired is really magical for me. I've always loved art, and in my final semester at Simmons I wrote and illustrated a picture book. I was never going to be a professional artist, but I'm a visual thinker and artist in my own way..
What did you learn from the process of creating your own picture book?
At the time, I was also taking a picture book course, which required me to read anywhere from 30-50 picture books per week, in addition to academic essays about what makes a good picture book. As I was engaging in creative work, I was also reading these essays that felt as though they were critiquing my work. It was an emotional roller coaster, but also an incredibly informative experience. From that experience I learned that it's challenging to create and edit at the same time. It's important to leave time for the creative process before you try to decide what the work is.
That project really shaped the way I approach my work with writers and illustrators. My role as an editor is to coach my artists through the creative process. For so many of us perfectionism can lead to avoidance, missed deadlines, and stalling out. I get to help coach writers through that emotional rollercoaster, and get them through to the finish line: a printed book they can share with others.
How did Simmons prepare you to become a leader in your field?
I started at Chronicle Books immediately after Simmons. After reading children's books for two years, I felt like an expert. Soon I learned that working in publishing is very different than pursuing an academic degree! You can't write flap copy [the descriptive text on the flaps of a dust jacket] as if it's an academic essay — it's about the consumer. I realized I had much more to learn!
Now, I'm aware of all the tools that Simmons gave me to do my job. I'm particularly grateful for the community I got from Simmons. During the pandemic, a group of alumnae/i from our program met once per week via Zoom. That community of people — designers, editors, writers, teachers — is my go-to for advice, troubleshooting, and mentorship. I also met one of my dearest friends at a Summer Institute; she's also an alum, but our time at Simmons didn't overlap. I'm not sure we would have found each other without the Simmons connection.
Tell us about the book you edited, Seen and Unseen: What Dorothea Lange, Toyo Miyatake, and Ansel Adams's Photographs Reveal About the Japanese American Incarceration, written by Elizabeth Partridge and illustrated by Lauren Tamaki
I read Elizabeth Partridge [author of Seen and Unseen] while at Simmons, and fell in love with her books. I was able to meet her in person at a bookseller's conference and establish a relationship with her. Several years later, I contacted her about writing a book.
Originally, I approached her to write a picture book about her godmother, photographer Dorothea Lange. She originally said no, she'd already done several books on Lange. But then she went on to say that actually there was one group of Lange's photos she was eager to explore further: Lange had photographed Japanese-Americans who had been incarcerated at Manzanar, California [from 1942-1945]. We wondered, what would a book about those photos look like?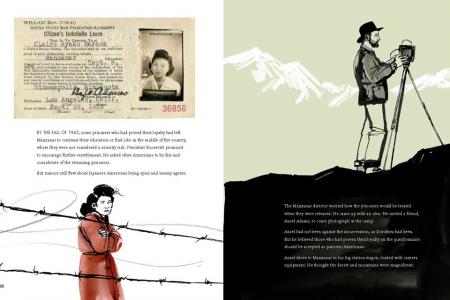 Lange had a friendship and rivalry with photographer Ansel Adams, who had also photographed Manzanar. When Lange was there, early in the incarceration, soldiers stood at her shoulder, and would not allow her to photograph barbed wire or guard towers or latrines. Adams, on the other hand, visited near the end of the incarceration with the goal of making the incarcerated look "American" and deserving of reintegration into American society. With this goal in mind, he took photos of children smiling at recess, while omitting the guard tower from the frame, or nuclear families posing together in front of their home, while omitting the rest of the barracks from the frame. Lange's photography was censored by the military both during and after the photograph was taken, and Adams chose to censor himself.
The third photographer featured, Toyo Miyatake, was incarcerated at Manzanar and built his own camera from scratch, smuggling in film. From the inside, he was able to photograph things no one else could have — yes, latrines and guard towers, but also illicit fishing trips outside of the barbed wire confines of the camp, a group of men working together to pound mochi in the kitchen, and so much more. When you put the work of these three photographers together, you get the lens through which we remember the incarceration. It's a lesson in media literacy, highlighting what is and isn't shown in a photo, and how we remember and record history.
Our fact checker and proofreader for the project was another Simmons alum, Marie Oishi '09MA. We took most of our classes together at Simmons, and later we were coworkers at Chronicle Books. Her father was born at an incarceration camp, so this project was close to her heart. I invited her to speak at the acquisition meeting, and though she has since moved to Abrams, she continued to freelance throughout the project.
I gave Cathryn Mercier, Professor and Graduate Program Director of Children's Literature and Acting Department Chair of Communications, an advanced copy of the book at the American Library Association (ALA) Conference in DC last summer [2022], and she fell in love with it. I'm so grateful to her for being an early champion of the book. Earlier this year, the book was awarded the 2023 Robert F. Sibert Medal, a recognition for non-fiction children's books. It was the first time a book I'd worked on had received a major ALA award.