Student Story
Anna Kelly '27 Wins Girl Scouts of USA's Gold Award Scholarship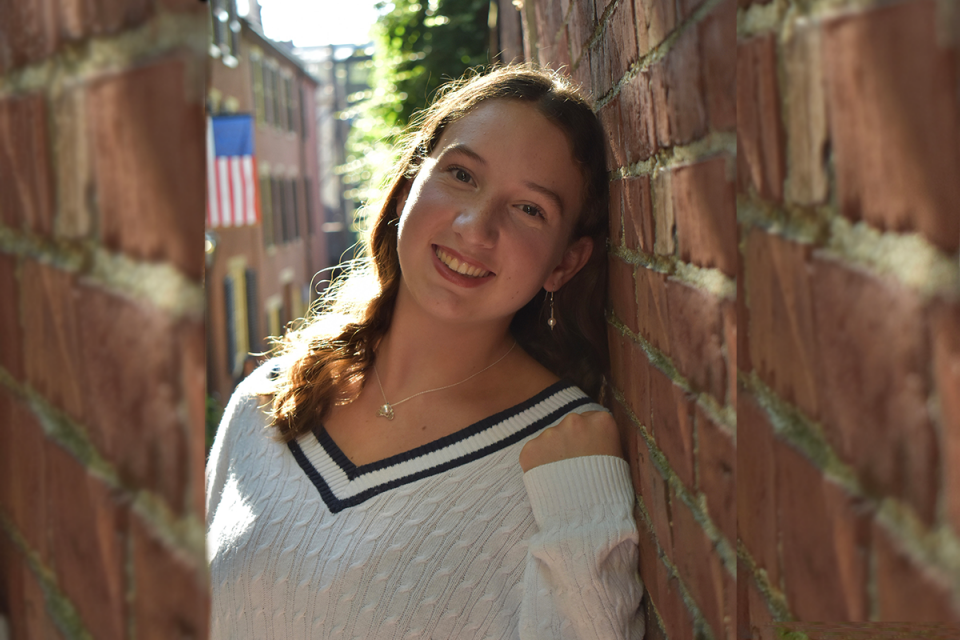 Simmons is truly a lovely place. The people I met during my tour and June orientation are friendly and seem to genuinely care. I find the Simmons community very open and warm.
Incoming student Anna Kelly from South Kingstown, Rhode Island, received a $10,000 Gold Award Scholarship from the Girl Scouts, a special recognition for members who have already received Gold Awards, the highest award you can achieve within the Girl Scouts. The scholarship is given in recognition of select awardees whose community service projects "demonstrate extraordinary leadership, measurable and sustainable impact, and address an issue of national and/or global significance." Kelly spoke with us about her passion for community service, mental health, and nursing.
How long have you been a Girl Scout?
I joined the Girl Scouts in Rhode Island when I was in kindergarten at age five, so I have been a part of this organization for 13 years. I was following in my sister's footsteps, and many of my friends were also joining. When I was little, we mostly just did arts and crafts and met friends our age.
Why is this organization meaningful to you?
As I continued with the Girl Scouts, I realized how it made a positive impact on our community. In past years, I planned a variety of community service projects. As a Girl Scout, I never feel like I am volunteering because it is always so fun. The work we do gives me a greater purpose, and I love working with this organization.
One of the main things Girl Scouts are known for is selling cookies [a practice that began in Muscogee, Oklahoma in 1917], and we use these funds to donate to charities. If people don't want to buy cookies, they can just make donations to the charity we are supporting that year. I was a very avid cookie seller in elementary school. Our chapter in South Kingstown, Rhode Island has worked with a variety of local organizations and institutions, including the Johnnycake Center [a food bank], South County Hospital, and domestic violence shelters. Being a Girl Scout is a great way to work with your community. We pick a different organization every year and raise donations and volunteer time to support them.
I have a lifetime membership, so I will always be a Girl Scout. One day, I can work as a Troop Leader and mentor other Scouts. We also have a robust alumnae community and some of us get jobs through these connections.
Tell us about your most recent Girl Scouts project, "Peer-to-Peer Program in Middle School."
Peer-to-Peer Program is a club that I began in Wakefield, Rhode Island at Curtis Corner Middle School in the fall of 2022. The club already existed at my own high school.
When I joined the Peer-to-Peer Program as a high school student, it was the first space I occupied in which I could openly talk about mental health with my peers. This happened during lockdown, so there were not many opportunities to socialize. Although our meetings were virtual, this club provided me with a safe, judgment-free context to explore issues of mental health and wellness. I loved it so much that I decided to develop it for a younger age group for my proposed Gold Award project with the Girl Scouts.
The Peer-to-Peer Program helps connect middle schoolers to mental health professionals. We also train students to look for signs of mental illnesses and educate them about available resources, like therapists and counselors. The students help promote this initiative by creating posters and t-shirts. Our main goals are to create a safe space for students to discuss and proactively address mental illness and to reduce the stigma surrounding it.
To get this project off the ground, I talked to numerous school administrators, as we required approval and staff chaperones. Last August, I offered outreach events to make students aware and excited about the club. Within a month of launching, participation more than tripled. The kids were really enthusiastic to learn about the impacts of mental health, especially since it was not a part of their school curriculum. That made this project even more rewarding for me. Another aspect of this project I really like is its sustainability — it will continue even after I start college this fall.
Why did you choose to attend Simmons?
I fell in love with Simmons when I first toured the campus. I like the architecture and was drawn to the Boston location, given the proximity to amazing hospitals. Simmons is truly a lovely place. The people I met during my tour and June orientation are friendly and seem to genuinely care. I really connected with my orientation leader, and the last time I saw her she gave me a big hug. I find the Simmons community very open and warm.
What are your professional aspirations?
At my high school, we took a series of medical classes. These courses were part of our career and technical education program, and I was on the biomedical track. Every year, I took a new kind of class — biology, anatomy, medical interventions, laboratory work, etc. These were my favorite courses in high school, and they helped me realize that I really wanted to work in healthcare. And to cultivate a different form of health-related knowledge and experience, I became a lifeguard, and have been doing this for three years now. For this position, we learned first-aid responses, which I loved.
I know a lot of nurses personally. They are so inspirational to me, so I want to be a nurse too. At Simmons, I will major in Nursing, and after graduation I want to work as a nurse in Boston, though my specialty has yet to be decided. I also envision returning to school after getting some work experience to become a nurse practitioner. I find it incredibly rewarding to know that I will be learning how to be a nurse who works to not only heal a person, but bond with a patient while providing care.