Alumnae/i Feature
Adrienne Beloin '04 MSW Becomes Director of Homelessness Initiatives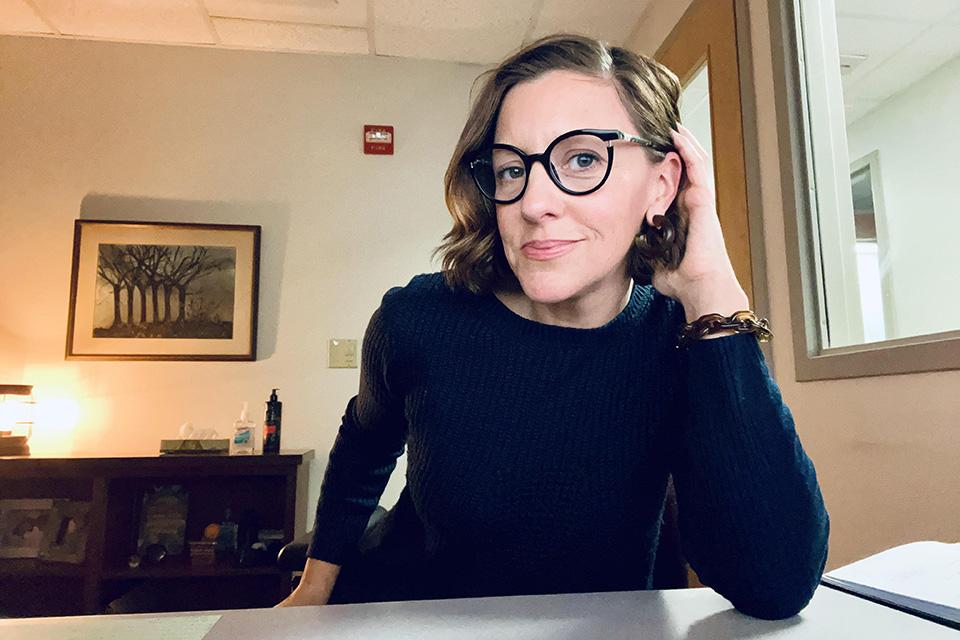 In her new role, Adrienne Beloin will work with city officials and the community to address homelessness in Manchester, New Hampshire. With her background in social work, she is uniquely positioned to advocate for this underserved population.
Last month, Adrienne Beloin stepped into a newly created position, Director of Homelessness Initiatives, for the city of Manchester. In conjunction with the opioid epidemic, Manchester has witnessed an increase in homelessness and overdose deaths, and this situation was exacerbated by the COVID-19 pandemic. According to Beloin, "there is a real sense of urgency to alleviate the problem. People are suffering so much and it is getting very cold."
Beloin has over twenty years of experience working with homeless populations. Prior to her current role, she was Director of Programs at the St. Francis House in Boston, which is the largest daytime shelter in New England. As a New Hampshire native, Beloin hopes that she can now tackle homelessness in her home state.
To accomplish this, Beloin will work closely with the Mayor and other department heads as she scrutinizes the phenomenon of homelessness. For instance, Beloin will review data concerning demographics and the causes of homelessness, and will investigate how homelessness may affect the community, businesses, and schools. She is developing key relationships with community partners, as they will be providing essential resources to the homeless population, including mental health services, substance abuse and recovery programs, and sheltering systems.
 "There are a lot of things we would do if we had the funding, so we need to develop strategies to secure funding," explains Beloin. "And I will be working with people to address access to resources."
 "We need intervention programs to support this population and move them out of homelessness," says Beloin. "We don't have the people on the ground to do this; there are a lot of vacancies and this puts a strain on existing staff."
Housing is in short supply, and Manchester rents have increased in recent years, which has only fueled more homelessness. "Educating the community about the reasons for homelessness and what the obstacles are will be a huge piece of my role, because there is a fair amount of misinformation and frustration out there," she says. "We can do a lot to reduce the stigma of homelessness."
Beloin credits Simmons with sparking her initial interest in advocating for the homeless. During her second-year internship as an MSW student, she worked at an infectious disease clinic at Beth Israel Deaconess Medical Center. "I fell in love with the public health aspect of social work," she says. "I was exposed to a vulnerable population with complex needs, including homelessness. I became interested in system problem solving and how to keep people safe."
Simmons' unique program in social work prepared Beloin for her current role. "Having the clinical focus from Simmons was an asset for me in my career," she says. "Learning how to be a provider, how to connect with people, and how to understand their stories has provided a wealth of education that allows me to do my work today."
Beloin encourages current social work students to seek out unconventional careers that can make a deep impact on people's lives. "I would encourage people who go into clinical social work at Simmons to think about the underserved populations who need non-traditional approaches to their behavioral healthcare. We should lean into that, because the need is so great. I would encourage people to go down that path."