Student Story
Abrielle Cunningham '23 Discusses Her Internship and Employment Experience at Wall Street Journal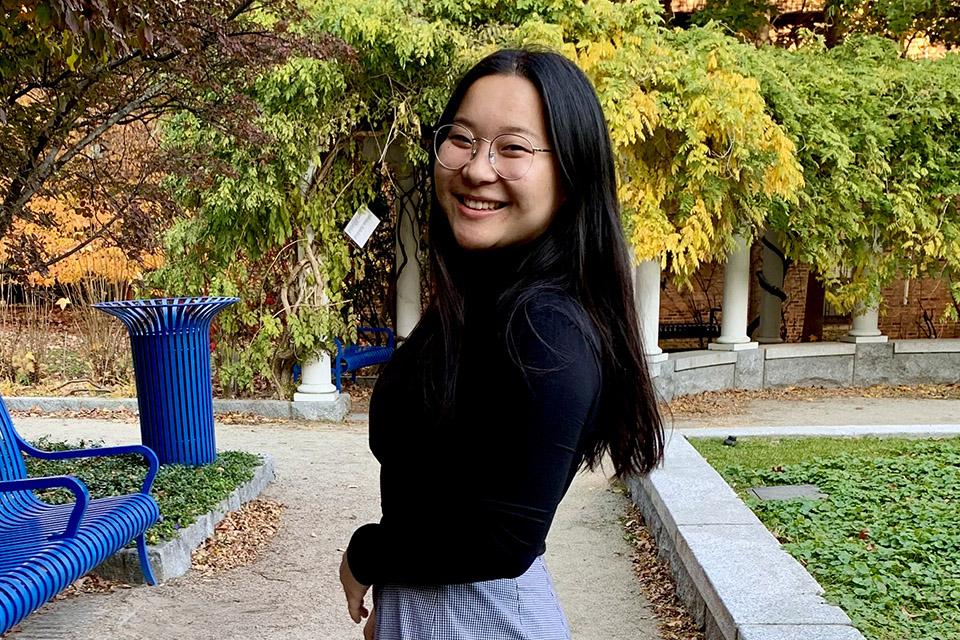 During the summer before her junior year as a Communications and Media Studies major at Simmons, Abrielle Cunningham '23 interned for The Wall Street Journal through the Dow Jones Internship Program. Since January 2022, she has been working part-time as a contract employee for WSJ as a Marketing Coordinator. In this role, Cunningham has used the marketing and communications skills she has learned from classes while also learning new aspects of the field on the job.
What motivated you to apply for the internship as a Marketing Coordinator at WSJ?
Last summer, I was applying to a lot of places for internships. I didn't expect to get an email back or an interview when I applied for the Dow Jones Internship Program; I had applied to so many positions that I completely forgot that I applied for WSJ. I initially interned for them last summer and I completed another internship with them this spring. Now, I'm working for them remotely as a part-time/contract employee.
I started out as just an intern, working 9 to 5 in the Dow Jones 10-week summer internship program. Now, I'm employed as a WSJ+ Coordinator, which is essentially a marketing coordinator. I do a lot of data analytics and analyze marketing performance, and I share these results with my team so they can have an idea of how marketing campaigns are performing so that they can adjust if needed.
How did Simmons prepare you for this opportunity?
When I found out that I was a Gwen Ifill scholar recipient last spring, it motivated me and gave me the confidence boost I needed to apply for more positions. At first, I was in shock and disbelief that I was chosen as an Ifill scholar, but when I got the WSJ position, I felt like I proved to myself that I had worked hard and merited it. An opportunity like this was something that I could have never imagined, and I am beyond grateful.
I feel like my communications classes at Simmons have prepared me a lot in terms of how to work professionally with people and be able to balance multiple tasks and priorities. It's interesting because a lot of the stuff that I do at WSJ are things I had to learn on the job because I didn't really know what marketing analytics was until I started here. I've received so much support and recognition from Simmons, my friends, and my family.
What are your professional aspirations after Simmons?
My aspiration after graduating is to get a job in Communications and one day work my way up to a manager or director position. I feel like I have a good start with my connections and the past internships that I've done. I love that communications is such a broad field because there are so many different opportunities and ways I could go in my career. I really like marketing analytics because I love analyzing data and supporting my teammates, and I also like coordinating roles because it allows me to work with a lot more people in different departments.
Do you have any advice for other Communications majors?
Apply to as many internships or jobs as you can. I always say that if you're 50% qualified for a position, just send in your resume anyway, because the worst thing that could happen is they say no or they don't get back to you. I would have never had the opportunities that I've had if I didn't just click 'apply'. Your confidence will develop in time and with great friends, family, mentors, and professors, you will slowly start to see that there is so much out there for you.