Student Story
Abby Stoller '23MSW Plays for Israel in the Women's World Lacrosse Championship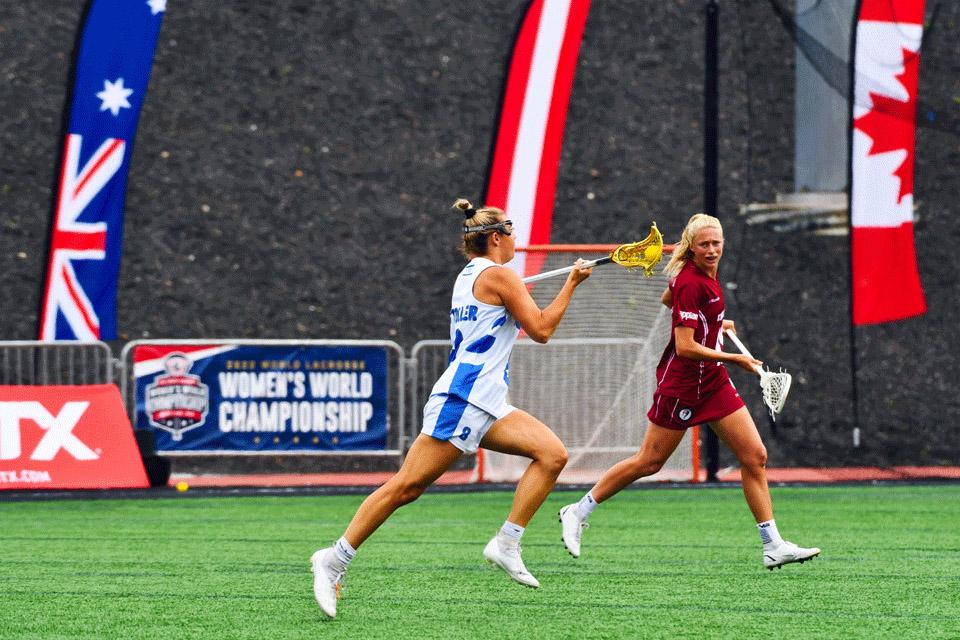 Abby Stoller is pursuing a master's in social work at Simmons and is an accomplished lacrosse player. After facing a recent challenge, her resilience is nothing short of remarkable.
Why Lacrosse?
My younger sister Jackie convinced me to switch from softball to lacrosse when I was in fourth grade. She ultimately brought me into the sport and we both play to this day. The tournament was the first time in several years that we had been able to be teammates again, as we played for different teams at our respective undergraduate colleges.
Tell me about your experience playing for Israel in the Women's World Lacrosse Championship in Baltimore.
It was the most amazing experience. There were 30 countries there with 18 players per team. It was wonderful to play with women from other countries with such different backgrounds. People spoke so many different languages on the field. It was very memorable and it was a different sense of pride to play for a country.
Why did you choose your path of graduate study at Simmons?
I am pursuing a master's in social work. I want to go into child therapy. I love working with kids.
I chose Simmons because I love Boston. I grew up here. The Simmons social work program is intense and has a very strong reputation in Boston. It's also very field-work heavy, so we spend a lot of time out in the field doing different kinds of internships and getting out in the community. My love for Boston paired with Simmons's strong school of social work and the opportunity to continue my lacrosse career made my decision a no brainier.
You have been called a "warrior" on the field, but you recently became a warrior in your personal life. Can you share your recent challenges?
In November 2021, I spent four weeks in different hospitals due to a very large lesion in my brain stem. It progressed very quickly and did not respond to the steroid treatments. After weeks of uncertainty, the entire left side of my body went numb, my balance and coordination diminished quickly, and my speech was affected. The doctors decided to perform 5 plasma exchange procedures/treatments. It was very scary and my life was turned upside-down in a matter of a few days. After 6 weeks of incertitude, and countless numbers of tests, MRIs, and procedures, my neurologist diagnosed me with multiple sclerosis in December.
While in the hospital, it was my goal to compete in the world championship. I was able to compete in all the games this spring (for Simmons) and ended up competing in the championship. Israel placed 6th in the world. After what I've been through, it was amazing to play against some of the best players in the world while also making friends and getting to know their different cultures. I want to prove to people that you can do more than you think you can with consistent hard work and dedication.
What advice do you have for those with similar challenges?
In graduate school, I've been studying how to help others going through difficult times, and then I suddenly found myself dealing with my own trauma. It's important to talk to people you care about and lean into your support systems. I could not have gotten through this without my friends and family. Also, take care of yourself and listen to your body.
My advice for student athletes is to recognize that being a student athlete is a challenge, and to be gentle on yourself. I try to remember that as a student athlete, my mental health is just as important as my physical health.
I want to be a voice for anyone struggling with a chronic illness (or any obstacle, including student-athletes). You can work hard and overcome obstacles that you think might be impossible to face.