Faculty Spotlight
A Balm in Gilead...2022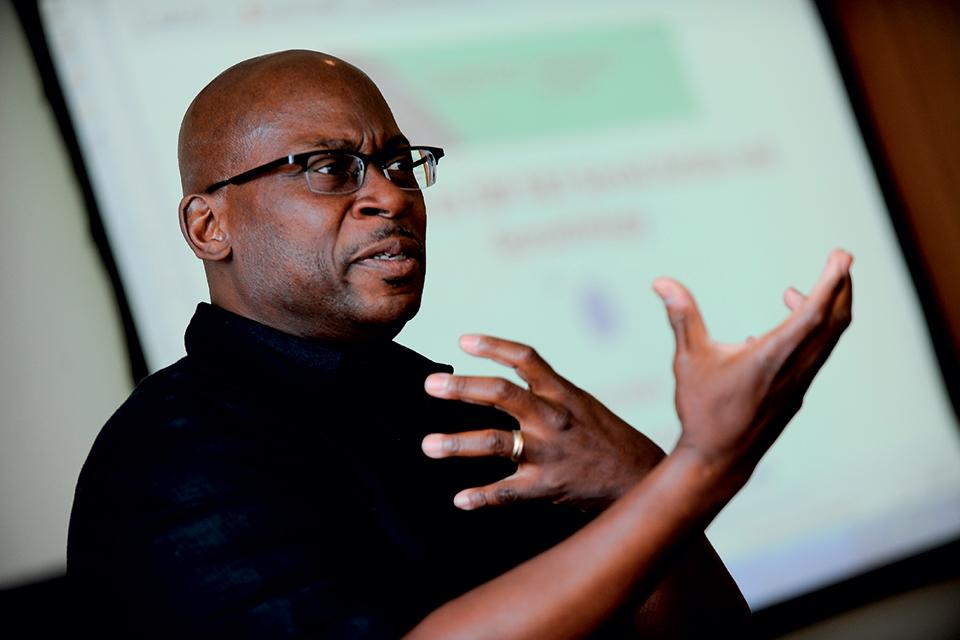 "Caring for myself is not self-indulgence. It is self-preservation, and that is an act of political warfare." -Audre Lorde
The past few days have not been easy for LGBTQ+ communities around the country
 As an openly gay man of color, the massacre at Colorado Springs Club has been disturbing on many levels. As a 'mature', Black openly gay man, the fact that I have survived to this point in my life is something which I do not take for granted. That, sadly, is not true for many others.
For the past few years, we have had to continually confront the reality of vitriolic anti-LGBTQ+ rhetoric and legislation which has contributed to the increasing instances of physical and emotional violence being perpetrated on the lives of LGBTQ individuals. Anti-Gay violence at clubs like Pulse in Orlando in 2016, and at Colorado Springs Club Q have reminded me of experiences in my youth that helped to shape me.
The sanctity of the gay club/bar was a refuge from an otherwise hostile world with its threat of physical violence and anti LGBTQ+ fear mongering, which changed the way that I thought about myself as a gay man. The club was a gateway to safety, and community. According to its website, Club Q features a "Drag Diva Drag Show" on Saturdays. Drag shows, and performers in particular, have been targeted by far-right extremists — including in Boston where a menacing neo-Nazi group forced cancellations of drag queen story hours for families in recent months.
The fact that the shootings at Club Q happened on the Transgender Day of Remembrance added a real sense of irony and frustration. The Human Rights Campaign announced in its annual report ahead of the Transgender Day of Remembrance that "at least 32 transgender and gender-nonconforming people have been killed in the United States in 2022. Transgender people of color account for 81 percent of known victims this year, and 59 percent were Black. Trans women are disproportionately represented, as they have been in years past, also comprising 81 percent of the deaths recorded at the time of publication."
Boston Globe columnist Renee Graham in a November 20 column wrote,
"Of course, it's not the drag queens or the young people who just want to live as their true selves who threaten America. It's the hate churned by phony, self-appointed moralists who want to decide who gets to thrive and exist in this nation. It's media outlets that undersell inciting rhetoric against the LGBTQ community as just another symbol of the nation's 'culture wars,' even as lives are put at risk and lost. When any group is dehumanized and falsely painted as a threat, brutality is the result. Antisemitic rhetoric leads to antisemitic violence. Anti-Asian hate leads to anti-Asian violence. Racist comments lead to anti-Black violence. All those bills and laws designed to demonize LGBTQ people have again come with a body count. But in a nation seared by gun violence — including the 2016 mass shooting at Pulse where a gunman killed 49 and left dozens injured at an LGBTQ nightclub in Orlando — Club Q patrons knew what to do. 'Club Q is devastated by the senseless attack on our community,' the club posted on Facebook. 'We thank the quick reactions of heroic customers that subdued the gunman and ended this hate attack.' Before police could arrive, queer people saved themselves. So here we sit in horror again as another sanctuary for the LGBTQ community is now a site of death. This is an act of terrorism to ensure that those targeted won't feel comfortable anywhere, even in their own spaces."
Writer Corrigan Vaughn in a 2016 article I referred to after the Pulse Nightclub shooting entitled 'White Discomfort Does Not Trump Black Lives' stated:
"We think it's perfectly normal and acceptable to live in a country that carries on like the Hunger Games, where the only way to avoid upsetting the power structure is to pit the people against one another and make them enemies. This country is not white vs. black, or police vs. black, or immigrant vs. citizen, or any other binary opposition we accept as part of the game of America. But it sure is convenient to frame it that way so that we pay no attention to that man behind the curtain."
I, for one, have no desire to play the part of a real life Katniss Everdeen.
In the words of the African American spiritual, as a people and a nation we truly need "A Balm in Gilead…"