Zinnia Mukherjee
Associate Professor and Program Director, Master of Public Policy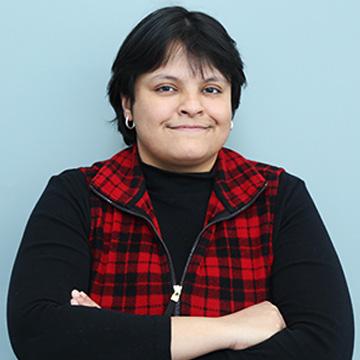 Education
PhD in Economics: University of Connecticut
MSc. In Economics: University of Calcutta
BSc. In Economics: University of Calcutta
About Me
Dr. Zinnia Mukherjee joined Simmons University in 2013 as an Assistant Professor of Economics. She received a BSc. in economics (1998 – 2001) and an MSc in economics (2001 – 2003) from the University of Calcutta, India. She holds a PhD in economics from the University of Connecticut (2004 – 2009). Prior to joining Simmons, she held a Visiting Assistant Professor of Economic position at Connecticut College (2009 – 2012) and a Research Fellow position at the American Institute for Economic Research in Great Barrington, MA (2011 – 2013).
Dr. Mukherjee's primary research interests lie in the area of environmental and resource economics with specific focus on marine economics, economics of climate change, and behavioral environmental economics. Her paper with Dr. Kathleen Segerson, "TED Regulation and Shrimp Harvest: The Role of Behavioral and Market Responses" published in Marine Resource Economics received the 2011 Dr. S.Y. Hong Award for Outstanding Article in Marine Resource Economics.
At Simmons, Dr. Mukherjee teaches microeconomic theory and a wide range of applied microeconomics courses at the undergraduate level. She also teaches a graduate course on Economics Policy Analysis in the university's Master of Public Policy program. Dr. Mukherjee is the recipient of the 2018 Professor of the Year award.
What I Teach
Economic Theory:
Principles of Microeconomics
Intermediate Microeconomics
Applied Microeconomic Courses:
Environmental Economics
Public Economics 
Business Competition and Antitrust Policy
Interdisciplinary Courses:
Economic Policy Analysis – MPP 503
Economics of Sustainability and Resource Use
Research/Creative Activities
An Economic Assessment of Connecticut's Nitrogen Credit Exchange Program
Professor Zinnia Mukherjee's research addresses the problem of understanding the economic and environmental impact of Connecticut's Nitrogen Credit Exchange Program (CT NCT program) – the nation's most significant water quality trading program so far.
Learn more about An Economic Assessment of Connecticut's Nitrogen Credit Exchange Program 
An Evaluation of the Digha Fishery in India
The Digha-Shankarpur fishery at the south of West Bengal, India, is the major fishery of the state and is the primary source of livelihood over 20,000 individuals. The fishing area, north Bay of Bengal bordering Bangladesh and the Indian states, West Bengal and Orissa, suffers from a number of problems that contribute to the rapidly deteriorating marine system. Through surveying the fishing community and analyzing the data, this project will identify the determinants of the Digha fishermen's labor supply behavior, and the socio-economic and environmental factors that prevent fishers from escaping the poverty trap and threaten the sustainability of the ecosystem.
Learn more about An Evaluation of the Digha Fishery in India