Dawna Thomas
Professor and Chair of Critical Race, Gender and Cultural Studies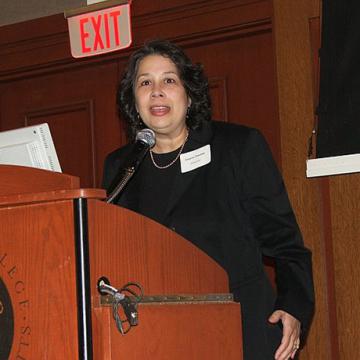 About Me
Dr. Dawna Marie Thomas is a Professor in the Sociology and Women's and Gender Studies Departments with an affiliation in Africana Studies at Simmons University. She is the chair of the Sociology Department as well as the Director of the Law and Justice Minor at Simmons University. Dr. Thomas' teaches a cross-section of courses that relate to women, culture, gender, race, culture, family violence, and health and disability. 
What I Teach
Dr. Thomas teaches a cross section of courses: 
SOCI 280 Sociology of the Law
SOCI 241 Health, Illness, and Society
SOCI/AST/WGST 232 Race, Gender and Health
SOCI/AST/WGST 365, WGST 565 Intimate Family Violence: A Multicultural Perspective
AST/WGST 210 Black Women, Gender, and Feminisms
WGST 100 Introduction to Multicultural Women's and Gender Studies
WGST 211 Gender and Society
Research/Creative Activities
Dr. Thomas' research interests include the intersection of disability, gender, race, ethnicity, and class. Her research spans the fields of healthcare policy, disability policy, community-based research, and grassroots coalition building. Her study Understanding Disability in the Cape Verdean Community: An Analysis of Race and Disability in Massachusetts was the first research conducted on disability in the Cape Verdean Community. The latest study The Cape Verdean Women's Project includes four generations of Cape Verdean women throughout New England where she explores their experiences with family life, marriage, domestic violence, healthcare and disability, and concepts of womanhood. Her upcoming recent article A Scholar's Reflection on Intimate Partner Violence in the Cape Verdean Community in the Violence Against Women Journal discusses the intersectionality of race, culture, and domestic violence and how mainstream agencies continue to fail the Cape Verdean community. Her new book Women's Health: Readings on Social, Economic, and Political Issues published by Kendall Hunt includes a collection of articles that provide a historical context about women, their environment, health needs, culture, and introduces innovative approaches around women's healthcare that is culturally relevant. Dr. Thomas's work and dedication are grounded in her Cape Verdean and African American cultural roots and in Boston's Roxbury neighborhood where she lives. Her work continues to show that the Cape Verdean community continues to be socially invisible, misrepresented, and misunderstood by mainstream society.