Assessment & Accreditation
The Simmons School of Library and Information Science (SLIS) is proud to have a degree in Library and Information Science accredited by the American Library Association (ALA)—the gold standard for library and information science (LIS) education in the United States, Canada and Puerto Rico.
ALA Accreditation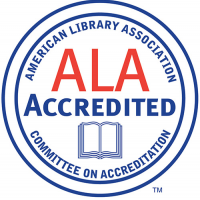 For prospective, current and graduated SLIS students, this accreditation is important because an ALA-accredited master's degree is essential to obtain most professional positions in the LIS field, and is required by many states for public and school librarians. For students as educational consumers, they can also be confident that SLIS has met the ALA Accreditation Standards, and that "accreditation serves as a mechanism for quality assessment and quality enhancement with quality defined as the effective utilization of resources to achieve appropriate educational objectives and student learning outcomes.(1)
These standards have been established "to foster excellence through the development of criteria for evaluating educational effectiveness. Throughout the Standards, the requirements for evaluation include assessments, not only of educational processes and resources, but also of the successful use of those processes and resources to achieve established objectives expressed as student learning outcomes. Further, institutions seeking accreditation of master's degree programs in library and information studies have an obligation to use the results of their evaluations for broad-based, continuous program planning, assessment, development, and improvement." (2)
Program Presentation to the Committee on Accreditation
You can review the Self-Studies Submitted to the Committee on Accreditation of the American Library Association.  
Assessment
The Program gathers and analyzes data to assess program outcomes and to serve as evidence that our program meets the Standards for Accreditation of Master's Programs in Library and Information Studies.
Alumni Survey Responses
Library Journal Employment Survey - SLIS data
Student Achievement: Retention, Time to Degree, Degrees Awarded 
---
(1) Gloria Chernay, Accreditation and the Role of the Council on Postsecondary Accreditation (Washington, DC: The Council on Postsecondary Accreditation, 1990), p. 3 ↩
(2) Standards for Accreditation of Master's Programs in Library & Information Studies (Chicago, IL: Office for Accreditation, American Library Association, 2008), p. 4 ↩