Uniting passion with lifelong purpose.
According to the U.S. Department of Labor, social work employment is expected to increase through 2029. The aging baby boom generation is driving the demand for social workers. Likewise, the need for social workers specializing in children and family, school social workers, substance abuse, mental health, and healthcare is projected to rise. Social Work jobs are projected to have an average 13% growth rate –faster than the average growth that is projected for all occupations from 2019 to 2029.
Graduates of the Simmons School of Social Work are among the most prepared and sought-after professionals ready to meet these needs.
Throughout the year, the School of Social Work and the Career Education Center host events to support student career planning and preparation. Career Connections in January features several workshops on writing a professional social work resume and creating a successful job search strategy. In mid-Winter the SSW hosts a recruitment fair attended by over 40 local employers; in early Spring we co-sponsor with the State registration board several workshops on the LCSW licensing process. Students can also access the career counseling services at the University's Career Education Center. Professional Social Work Job openings are posted on the School of Social Work job board and on the University's Handshake online career resource. Employers can submit new job listings through our online form.
First jobs for recent SSW graduates
Clinical Social Worker, Emergency Department of Boston Children's Hospital
Child and Family Social Worker, Home for Little Wanderers
Clinical Social Worker, Cardiovascular Medicine Division of Brigham and Women's Hospital · Clinical Social Worker, Fenway Health
Clinical Social Worker, Seasons Hospice, Norwood, Massachusetts
Clinical Social Worker, Neurology Unit of Massachusetts General Hospital
Clinical Social Worker, Veterans Administration Boston Health Care System
Clinical Social Worker and Intake Coordinator, Southern Jamaica Plain Community Health Center, Boston, Massachusetts
Emergency Services Clinician, BEST Team
Inpatient Psychiatry Social Worker, Worcester State Hospital
School Social Worker, Revere Public Schools
Sibling and Group Social Worker, Dana-Farber Cancer Institute
Social Work Supervisor at the Commonwealth of Massachusetts Department of Children and Families
Behavioral Health Integrated Therapist, Codman Square Health Center, Dorchester, Massachusetts
Child and Family Clinician, Whittier Street Health Center, Roxbury, Massachusetts
Clinician Care Coordinator, North Suffolk Mental Health
Bilingual Dual- Diagnosis Clinician, Casa Esperanza, Boston
Director of LGBTQ Services at Massachusetts Institute of Technology's Division of Student Life
Fellow, Ruderman Fellowship in Gerontological Social Work at Boston's Beth Israel Deaconess Medical Center
Clinical Social Worker, Smart Team, South End Community Health Center
Clinical Social Worker, The Boston Center for Refugee Health and Human Rights
School Social Worker, Victor School, Justice Resource Center
Counselors in the Simmons Counseling Center
Medical Social Worker in Cardiology at Boston's Massachusetts General Hospital
Addictions Specialist at the North Charles Institute for the Addictions in Somerville, Massachusetts
Social Worker and Family Services Manager, City of Somerville, Massachusetts
Social Work Career Resources
Check out our job board for job opportunities.
Do you have a job to post? Employers can submit new job listings through our online form.
What the job entails Siobhan is the clinical director for the Division of Digital Psychiatry at Beth Israel Deaconess Medical Center in Boston. Collaborating with a psychiatrist and research team, she conducts weekly virtual therapy sessions with a wide range...
What the job entails Robert is a clinical social worker at Home Base, a nationally recognized clinic run by the Red Sox Foundation and Massachusetts General Hospital that treats the "invisible wounds" of military service. He works in the Intensive...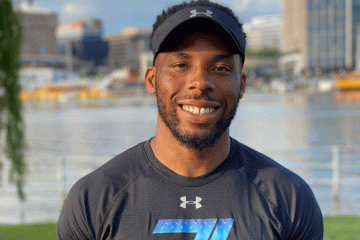 Fellonte Misher '23MSW was playing professional football in Poland when COVID-19 cut the season short. Back home in Columbia Heights, Washington D.C. he saw people struggling with the effects of gun violence and gentrification, who also lacked the resources to...
As METCO Program Director for Arlington Public Schools, Richelle Smith thanks Simmons for helping her get there. Learn more about Richelle's passion for the youth community and why Simmons stood out to her as the "total package."
Dwan Cannon '21MSW is an SRO case manager at the New England Center and Home for Veterans, a care and service provider for former military service men and women at risk for homelessness.
Dwan Cannon '21MSW is an SRO case manager at the New England Center and Home for Veterans, a care and service provider for former military service men and women at risk for homelessness.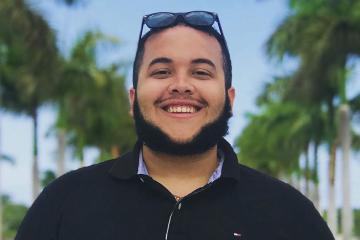 As assistant program director of Adult Community Clinical Services at Aspire Health Alliance, Justin Cancel is able to directly apply lessons from Simmons' masters of social work program to his work with clients and coworkers.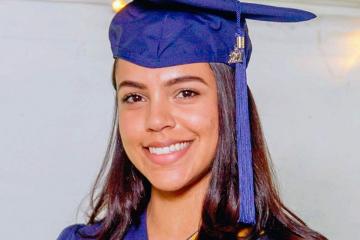 Angelica is a clinical social worker in the pediatric clinic at the Center of Excellence in Sickle Cell Disease at Boston Medical Center. Working closely with families of children dealing with this complex disorder, Angelica tells us how Simmons prepared her.