Nursing Simulation Lab
Simmons University's Dotson Simulation and Clinical Learning Lab is currently located in the Park Science Building on the 4th Flr. in S-410. It is approx. 400 square feet and consists of  two simulator rooms, a main debriefing room, a control room between the two simulator rooms.
Gain real-world experience in a controlled clinical setting with Simmons University's Nursing Simulation Lab
Students in Simmons University's nursing degree programs participate in providing patient care at some of the country's finest healthcare facilities. In addition to their real-life patient care experiences, students also participate in simulated patient care experiences. These simulated experiences replicate a patient care activity or event using high-fidelity manikins and technology to provide students an opportunity to safely develop clinical skills and critical thinking.
The goal of simulation is for nursing students to experience realistic patient care situations, without the fear of causing harm. This provides the opportunity to make mistakes, learn from them, and try again, under the guidance of experts in the field. 
Simulation provides opportunities for diverse simulated experiences with individuals across the lifespan (infants to older adults) to dealing with families in more complex situations.
The simulation program will be scaffolded with early program scenarios starting with the basics of nursing practice progressing to complex patient situations and advanced skills. The focus is on patient safety, physical assessment, and how to best communicate with the patient. Practicing the simulated scenarios will help students to develop, refine, and apply nursing theory into a realistic clinical situation. It will also include the importance of team-based, interdisciplinary care.
New Nursing Simulation Lab - Coming Fall 2022
Our plan to expand in the future will result in educational partnerships, curriculum consultations, and simulation research.  As the center of excellence grows, we envision being a place to provide interprofessional simulation health professions education. This center will be a hub for simulation in nursing education in the Longwood area. The center will provide pedagogical development and expertise to incorporate simulation into curricula and will serve as a gathering place for interprofessional health care planning for simulation.
The new science building will house a state of the art 11,000 square foot, 30 bed simulation center to include 16 skills lab beds, 8 health assessment beds, 5 high fidelity suites, and one home health loft apartment.  
High Fidelity Rooms
OB/GYN Suite 
Emergency Room 
Intensive Critical Care Unit
Med/Surg suites
Home Health Suite
Each high-fidelity suite has a control and debriefing room.  The video recording software Learning Space has integrated with Zoom allowing us to incorporate our online students into the simulation experience.  
The home health loft apartment has been designed to facilitate telehealth and home health simulations.  All areas will have video and audio capability with the student's ability to access his/her recorded scenarios on campus or remotely allowing faculty to give timely feedback.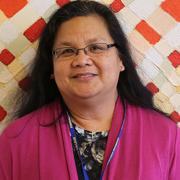 Josephine Atinaja-Faller
Associate Professor of Practice and Director of Simulation Lab
Vonetta Brown
Simulation Lab Instructor
Hannah Chapman
Simulation Lab Instructor
Nadine Couza-Polin
Simulation Lab Instructor
Caroline Ferzoco
Simulation Lab Instructor
Danielle Fleming
Simulation Lab Instructor
Sharon Harrison
Simulation Lab Instructor
Augustina Idahor
Simulation Lab Instructor
Sowaya Lerebour
Simulation Lab Instructor
Julia Mullins
Simulation Lab Instructor
Gloria Oreste
Simulation Lab Instructor