Nursing Simulation Center
Simmons University's 11,000 square foot Nursing Simulation Center will help you gain real-world experience in a controlled clinical setting, allowing you the opportunity to get comfortable with your nursing skills before being expected to perform them off-site.
Students in Simmons University's nursing degree programs participate in providing patient care at some of the country's finest healthcare facilities. In addition to their real-life patient care experiences, students also participate in simulated patient care experiences. These simulated experiences replicate a patient care activity or event using high-fidelity manikins and technology to provide students an opportunity to safely develop clinical skills and critical thinking.
Rooms and Lab Areas in the Simulation Center
Five high fidelity simulation rooms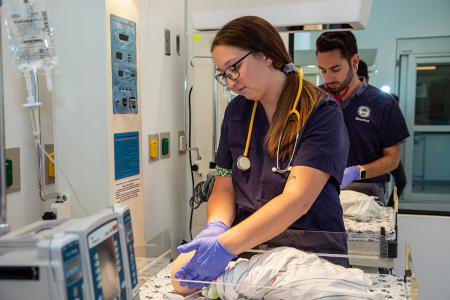 The high fidelity rooms are equipped with high technology simulation manikins that mimic human body functions such as lung, heart, and bowel sounds. There is a child manikin programmed for students doing a pediatric rotation, adult manikins for medical surgical scenarios, ICU and urgent care scenarios, and an OB/GYN simulator for obstetrical simulation.
High fidelity rooms include
an obstetrician/gynecologist office (OB/GYN),
a pediatric office,
a medical/surgical suite,
an Intensive Care Unit, and
an Emergency Room.
Each high fidelity suite has a control and a debriefing room. After the simulation, students join the faculty in the debriefing room to watch the recording of the interaction and gather feedback. The video recording software Learning Space has integrated with Zoom allowing us to incorporate our online students into the simulation experience.
A home health and hospice room
Set up like the room of a private apartment, the home health and hospice room allows students to practice interdisciplinary care for people aging in place, hospice-related care, or caring for people with disabilities.
Two fundamentals skills labs
The fundamental skills labs are equipped with eight hospital beds with IV pumps, feeding pumps, and hoyer lifts [a harness for lifting a patient in bed].
One health assessment skills lab 
In the health assessment skills lab, students take part in scenarios that simulate what students will see in outpatient clinics, complete with the same type of exam tables, lamps, headboards, and blood pressure cuffs used in out-patient clinics.
The Goal of Nursing Simulation
Simulation gives nursing students the opportunity to experience realistic patient care situations, without the fear of causing harm. This provides the opportunity to make mistakes, learn from them, and try again, under the guidance of experts in the field. 
Simulation provides opportunities for diverse simulated experiences with individuals across the lifespan (infants to older adults) to dealing with families in more complex situations.
The simulation program starts with the basics of nursing practice progressing to complex patient situations and advanced skills. The focus is on patient safety, physical assessment, and how to best communicate with the patient. Practicing the simulated scenarios helps students to develop, refine, and apply nursing theory into a realistic clinical situation. It also includes the importance of team-based, interdisciplinary care.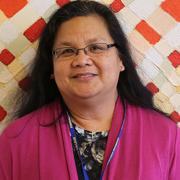 Josephine Atinaja-Faller
Associate Professor of Practice and Director of Simulation Lab
Vonetta Brown
Simulation Lab Instructor
Hannah Chapman
Simulation Lab Instructor
Nadine Couza-Polin
Simulation Lab Instructor
Caroline Ferzoco
Simulation Lab Instructor
Danielle Fleming
Simulation Lab Instructor
Sharon Harrison
Simulation Lab Instructor
Augustina Idahor
Simulation Lab Instructor
Sowaya Lerebour
Simulation Lab Instructor
Julia Mullins
Simulation Lab Instructor
Gloria Oreste
Simulation Lab Instructor