Important Employee COVID-19 Testing Update - September 8, 2021
Dear Faculty and Staff, 
 
We hope this message finds you well, and thank you for your continued partnership as we work to ensure a safe campus community for students, faculty, and staff. We write today with an important update regarding a delay in our COVID-19 testing for faculty and staff. As you know, Simmons announced last week that it will require weekly COVID testing for all faculty and staff who are on the Boston Simmons campus at least one day a week – regardless of vaccination status, until further notice.  
 
While our goal was to begin testing faculty and staff this week, adding all students, faculty, and staff to our testing protocols has proven more challenging than anticipated and we are still finalizing logistics and staffing for the launch of this effort. As a result, we are postponing the start of our testing requirement for faculty and staff until next week, in order to prioritize student testing, which will continue as planned.  
 
The health and safety of our community is our top priority, and we want to ensure our testing process is as accessible and convenient as possible. We will share additional details about COVID-19 testing and logistics for faculty and staff once they are finalized.  
 
If you have COVID-19 symptoms or are a close contact of someone who has tested positive, we encourage you to utilize one of the many free COVID testing sites around the Commonwealth. To find a convenient testing site near you, please visit the state's COVID testing website.  
 
Thank you for your patience. Our goal is to have the COVID-19 testing site on the Academic Campus ready to launch by early next week.
Submit Your COVID-19 Vaccination Information
Please submit your vaccine information into Workday, as this information is vital to ensure the safety of our community. The new form for employees to enter COVID vaccination data is now live.
 
To access it:
Click on your profile photo in the upper right corner of the Workday homepage.
Click "View Profile" in the dropdown menu that appears.
On the left blue menu area, select "Overview."
On the "Overview" screen, select "Additional Data."
Enter your COVID-19 vaccination date (date of shots and type of vaccine) and save.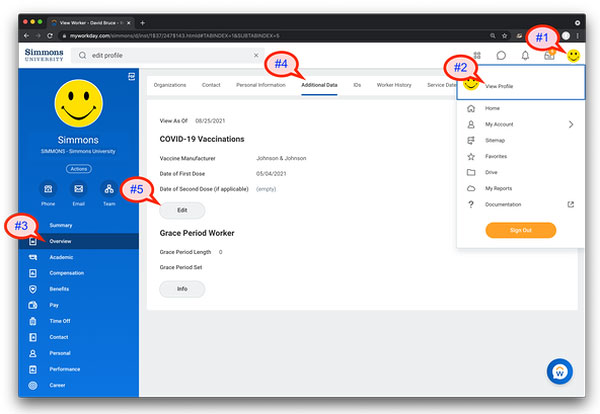 Vaccination Rate
We are pleased to announce that 96 percent of our campus-based student population is vaccinated, including 99 percent of undergraduate students and 93 percent of graduate students. We as faculty and staff need to do our part to show our support for the student experience.
Other Resources
During the past several weeks, we have outlined a variety of new COVID-19 policies and protocols designed to ensure the safety of our community. We know you have received a lot of information, and to streamline the process, we are providing a summary of key resources.
The Simmons University Return to Campus site has detailed information related to undergraduate and graduate students, faculty and staff, campus enhancements and health and safety guidelines. It also includes a list of recent COVID-related communications to the community. Once we have finalized testing logistics, faculty and staff will also receive a detailed handbook with details on Simmons COVID policies.
The Simmons COVID-19 Data Dashboard has regularly updated information on community vaccination rates, COVID-19 tests conducted, number of positive tests, and percent positive rate. Please find a comprehensive list of COVID-19 Frequently Asked Questions for faculty and staff. You can also read related FAQs for students.
As you know, the one constant of this pandemic has been its continually evolving nature. We appreciate your patience and flexibility as we continue to meet changing conditions. And we are also grateful for your patience in the face of ongoing campus construction and the reopening of buildings that have been closed for more than a year. As always, please continue to submit questions to [email protected].
Thank you,
The Simmons University COVID-19 Recovery Task Force