COVID-19 Vaccine Update - May 13, 2021
As we plan for a vibrant reopening of campus this fall with our ongoing effort to work towards full community vaccination against COVID-19, we have a few important updates to share with you.
Vaccine Community Information Session & Town Hall
The Colleges of the Fenway is hosting a Vaccine Community Information Session & Town Hall for current COF students, admitted students, family members, staff, and faculty. During the event, a panel of medical and public health experts from the COF community and the Massachusetts Department of Public Health (DPH) will provide information on COVID-19 vaccines, address frequently asked questions on vaccine efficacy and safety, and discuss the latest guidance from the Centers for Disease Control and Massachusetts DPH. 
The information session takes place on Thursday, May 20 at 12pm.
Getting Your Vaccine
Throughout the pandemic, our top priority has been the health and safety of our community. As such, Simmons has established target vaccination rate goals. We hope to have 70 percent of our community vaccinated by July 1, 80 percent by August 1, and 90 percent by September 1.
We encourage everyone to get their COVID vaccine as soon as possible. To make the process easier, the Commonwealth's mass vaccination sites and 389 CVS locations are offering walk-in vaccinations that do not require appointments. Children's Hospital is also offering COVID-19 vaccines to Simmons students, faculty, and staff.
Individuals can register for an appointment by calling (617) 919-7102. Individuals can also schedule an appointment through vaxfinder.mass.gov or MaCovidVaccines.com (617) 919-7102. In a new effort to increase vaccination rates nationally, Uber and Lyft will make all rides to and from COVID-19 vaccination sites free to anyone in the U.S. through July 4.
Submitting Your COVID-19 Vaccination Information
All Simmons students who are enrolled in classes on campus must be vaccinated before they arrive for the fall semester. For current students, please enter and upload your COVID-19 vaccine documentation to the patient portal by visiting myhealth.simmons.edu.
We are finalizing the process for incoming students to submit their information and will share additional information on that in the coming weeks. Please email or call the Health Center at (617) 521-1020 with questions. You can also review these vaccine FAQs. International students who have questions can email or call the Center for Global Education at (617) 521-2206.
In addition, we are working on a process for employees to submit their COVID-19 vaccination information via Workday.
"Why I Got Vaccinated" Campaign
Simmons is launching a new "Why I Got Vaccinated" campaign featuring students, faculty, and staff. We'd love to hear from you! Please share why you got a COVID-19 vaccine and what you're most looking forward to upon your return to campus. Send your response and a photo of yourself to [email protected].
Your submissions could be shared on social media, and with other members of our community. In addition, search "@SimmonsUniversity" in the GIF search on Snapchat and Instagram to add the fully-vaccinated Stormy sticker to your stories. You can also find us on GIPHY.
To kick off the campaign, President Lynn Perry Wooten, Simmons student and Woman on Campus Saloni Kumar '23, and Stormy are sharing their responses: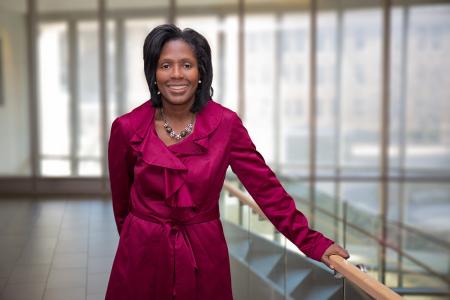 President Wooten
I got vaccinated because I am excited to return to campus and to be able to see my family safely. I'm looking forward to having the opportunity to greet students, faculty, and staff in person on campus this fall!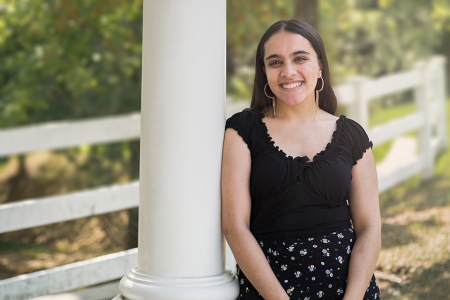 Saloni Kumar '23
As COVID-19 rages all over the world, including my family's home in India, I chose to get vaccinated to protect myself and work towards ending the pandemic. On campus this fall, I'm excited to get to know more members of the community and catch up with friends!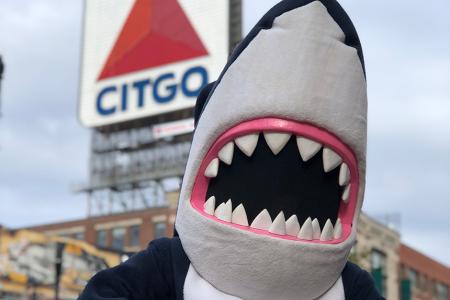 Stormy the Shark
I couldn't wait to get vaccinated! I'm so excited to swim back to Boston this fall and dive into all the action! With the return to campus, I am looking forward to seeing all our fin-tastic students!