Alumnae/i Feature
Making a Lasting Impact with Rural Librarians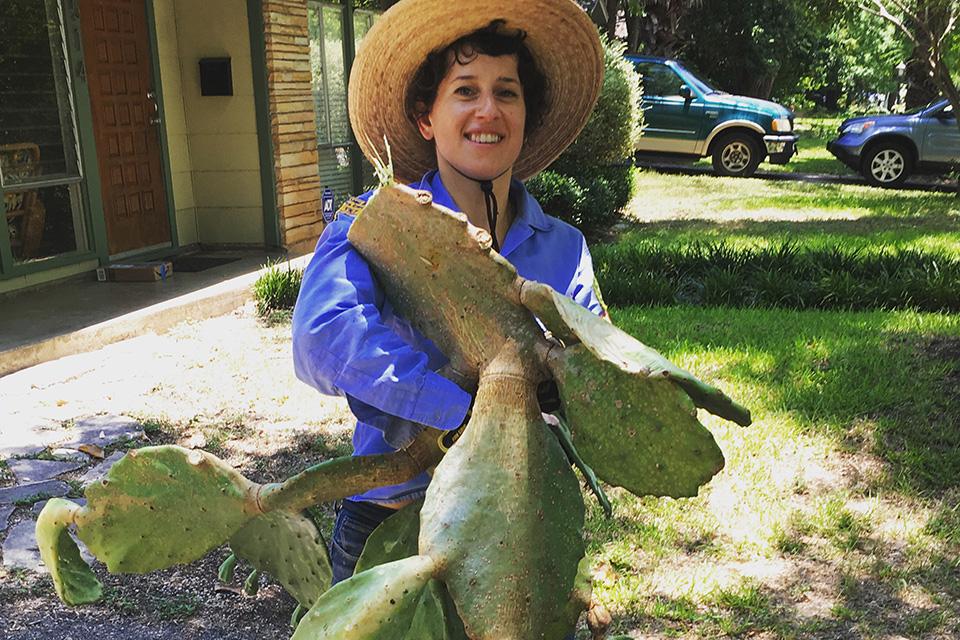 Cindy Fisher '08MS shares how her work at SLIS led to a career training librarians in technology.

What is your current job?
In 2016 I began my current job at the Texas State Library and Archives Commission (TSLAC) located in Austin, Texas, right next to the Capitol building. The State Library has four departments—Archives and Reference, State and Local Records, Library Development and Networking, and the Talking Book Program—to help fulfill its mission of serving all Texans. Before I started, I had never visited a State Library and had only a vague idea of what made it a unique institution. Now that I'm here, I'm constantly amazed at the variety of projects that are supported and created by state libraries.
As a Library Technology Consultant, I train and consult with staff from Texas libraries with a focus on digital inclusion. I organize and present in-person workshops and webinars on technology topics and answer questions from library staff about everything from digital literacy for seniors to internet policies and patron privacy to WiFi hotspots. I engage with our local and national community to build partnerships with those that share our mission, and engage with the technology and library community to better understand the needs of Texans now and in the future.
Tell us about your work with rural libraries.
I manage the You Can Do I.T. program, a hands-on technology training program for Texas library staff to increase their knowledge and confidence with technology. It was created after a pretty disastrous state budget cut back in 2011 led to the closure of regional technology centers that assisted libraries with their I.T. needs. Fast forward a few years, and it was the rural libraries that had the most difficult time finding reliable I.T. help. In response, the state library created The You Can Do I.T. program to provide training on basic I.T. concepts and to be advocates for their community's needs. This past year, I taught 14 workshops on "Teaching Technology to Patrons." Through reflective practice, we discussed how library staff can instill confidence in themselves and their patrons when approaching and teaching technology. I learn so much from my rural library colleagues and am grateful to be able to connect with them statewide.  
It's also wonderful and eye-opening to get to work with other organizations and researchers working on rural internet connectivity issues, such as Sharon Strover at UT-Austin, the Tocker Foundation, Carson Block and the folks at Internet2, and most recently, connecting with Simmons SLIS Assistant Professor Colin Rhinesmith to include a Texas library in his most recent IMLS grant!  
Every day here is different and I love that aspect of this work, but working in a state as big as Texas can be complex. Phone calls are often the best way to stay connected with our librarians out in the field and that's time-intensive work. It's a slow road and makes me appreciate small victories in the big picture for the work we accomplish.
What drew you to this work?
I taught information literacy instruction to first-year students while at UT-Austin for seven years before coming to the State Library. I met students from tiny towns across Texas and wanted to understand where they were from. When this job opportunity came up, I saw it as way to leverage my instruction and technology skills with communities where it could have lasting impact. This job includes traveling to small town libraries, which is what I do whenever I'm visiting a new place.
Is this the path you thought you would take in your career?
I didn't even know this kind of work was an option, but looking back I can see how all of the choices I made earlier in my career pointed me this way. I've always enjoyed teaching, and it wasn't until I was Dean's Fellow for Teaching Assistance in the SLIS Tech Lab that I was able to hone that skill. I experienced a steep learning curve moving from an academic library to a State Library, but I've learned that library work is essentially community building, and the kind of institution I work in doesn't mean as much as how the organization supports the community's needs.
How did SLIS prepare you for your current career?
There were specific classes like "Library Instruction," "Web Design," and "Reference of the Humanities" that gave me the framework for building my information career. But when I look back on SLIS, I remember the professors, staff, and fellow students that enriched my understanding of the profession and urged me to take risks. 
I also benefitted so much from being in Boston, the proximity to other universities and museums meant that there were ways to see practical (and some nontraditional) applications of my future profession in action. For example, I attended the 2nd Wikimania in 2006 at the Berkman Klein Center for Internet & Society and the first ROFLcon in 2008 at MIT.
Any advice for current students?
Reach out to alums if you have questions. If you have the time and financial ability, take a class outside of your program track. Learning how archivists and school librarians approach their information work helped me understand our shared professional goals while also recognizing where our strengths diverged. This knowledge came in handy later!