Alumnae/i Feature
Lyndsey Nunes '10MSEd '11MSEd: Simmons Taught Academics and Life Lessons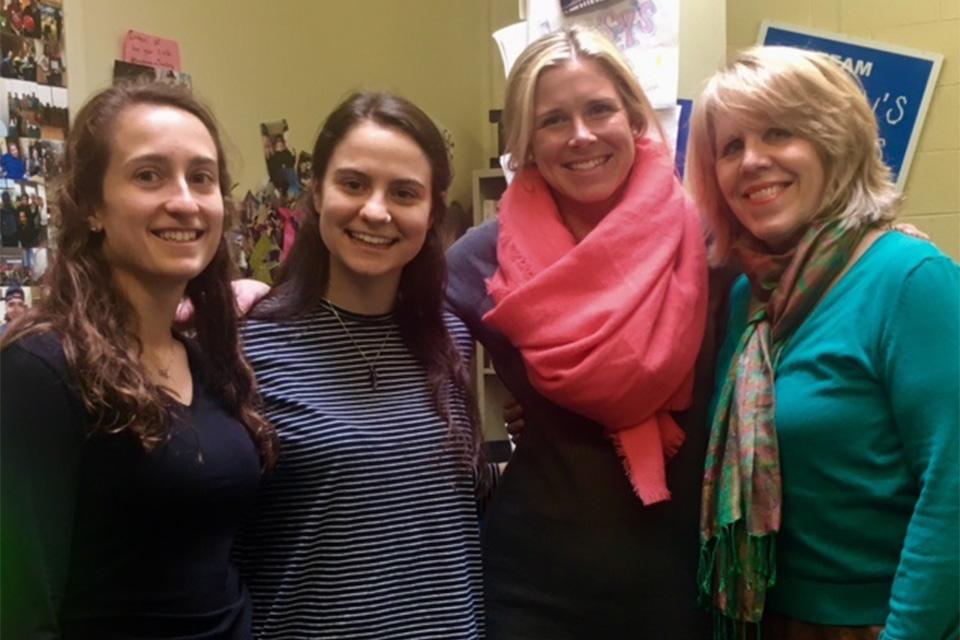 Lyndsey reflects on why she pursued graduate degrees in both behavior analysis and severe disabilities at Simmons.

What is your current job and what does it entail? 
I currently work as the Inclusive Concurrent Enrollment Initiative (ICEI) Program Coordinator at Westfield State University, which involves coordinating a fully inclusive dual-enrollment program for students with intellectual disabilities, ages 18-22. The ICEI Program is partnered with local school districts to provide students with opportunities for a college experience. The coordinator is responsible for serving as the student's academic advisor, promoting access to all on campus activities, collaborating with school districts to ensure the needs of all the students are met, and performing administrative tasks such as coordinating partnership meetings, budgets, and maintaining student and program files. 
What drew you to the field of special education? 
I was drawn to the field of special education initially by wanting to work with students. I started my first job at a small school in central Massachusetts soon after graduating with my bachelor's degree. It was on my first day at work (clichéd, I know) that I met a student who made me instantly realize I was in the right place. He didn't have a lot of communication skills and that initially made it difficult, but over the next three years he taught me how to be the teacher I am today. It was important to always look for different ways to connect with the students and to think of different ways for the students to communicate their wants, strengths, likes and dislikes with me. 
You hold two graduate degrees from Simmons – one in behavior analysis and another in special education. Why was it important to you to complete both degrees? 
My first degree was in behavior analysis where I fell in love with the subject and the department. In my role at the school, part of my job requirement was to also have a teaching license. I didn't even think of looking anywhere else but Simmons for my second master's. Both programs have great reputations and there was carryover of faculty for some courses in special education, so I knew I was going to have a high quality program. I also wanted to broaden my potential possibilities within the field and understand both Behavior Analysis and Special Education. I knew I wanted to work with schools in some capacity and I felt that understanding what both programs were teaching students would strengthen my skills once out in the field. 
How did Simmons prepare you for what you are doing now?
Simmons taught me both academics and life lessons. All of the faculty were so dedicated to my learning and connecting my learning to my work. Simmons taught me to think critically, to be a reflective practitioner, and to think outside the box. Both programs also really made me love what it is I do. It was in the behavior analysis program that I fell in love with research and was given so many wonderful opportunities to present with other faculty and students. I am still connected to quite a few of my former professors and for that I am so thankful. I've been able to teach as an adjunct at Simmons, which for me was a dream come true — being on the other side of lectures inspiring young emerging teachers. 
What was the focus of your doctoral work?
My doctoral work focused on doing an evaluative research study to examine and understand the functional components of post-secondary education programs that promote self-determination for students with intellectual and developmental disabilities and to differentiate programs that include or do not include these components. I focused on the 15 ICEI Programs in the state and examined the perceptions about self-determination of students and staff, the preparedness of staff to promote self-determination skills, and what components of the ICEI Programs are naturally promoting self-determination skills and what the programs could improve on to promote self-determination skills. 
Special education is identified as a high need teaching area in nearly every state, yet relatively few individuals consider making it a career. What would you tell someone who has never considered a career in special education about what to expect? 
Always expect the unexpected and never forget to laugh. It is a serious job with what some people consider a 'tough' population but if you can't laugh and enjoy your students for who they are then you won't make it. If you can laugh, teach, be willing to also learn, and truly love what you do then you will never work a day in your life.  
In what ways is your career rewarding? 
I am so fortunate to be part of a program that provides students who most likely wouldn't have had an opportunity for college a chance to go to college and be with their peers. It is so rewarding to see the students fully included on a college campus. Just the other day I was in the dining commons and one of our students didn't know I was nearby. Another WSU student approached her and they started talking about the Relay for Life fundraiser coming up, their other weekend plans and about their significant others. It was one of my many "aha" moments when I thought to myself, wow, the program is giving our students access to what they deserve — a college experience and, honestly, it is working. 
What advice would you give to a prospective student who is undecided about applying to Simmons? 
Don't question it, do it. I would recommend meeting the faculty or sitting in on a class. Once in the program, I would recommend connecting with faculty and working on research or projects with them.