Social Work + Social Work (3+1)
Simmons University's accelerated 3+1 program gives students a path to complete both their Bachelor of Social Work (BSW) and Master of Social Work (MSW) in just four years.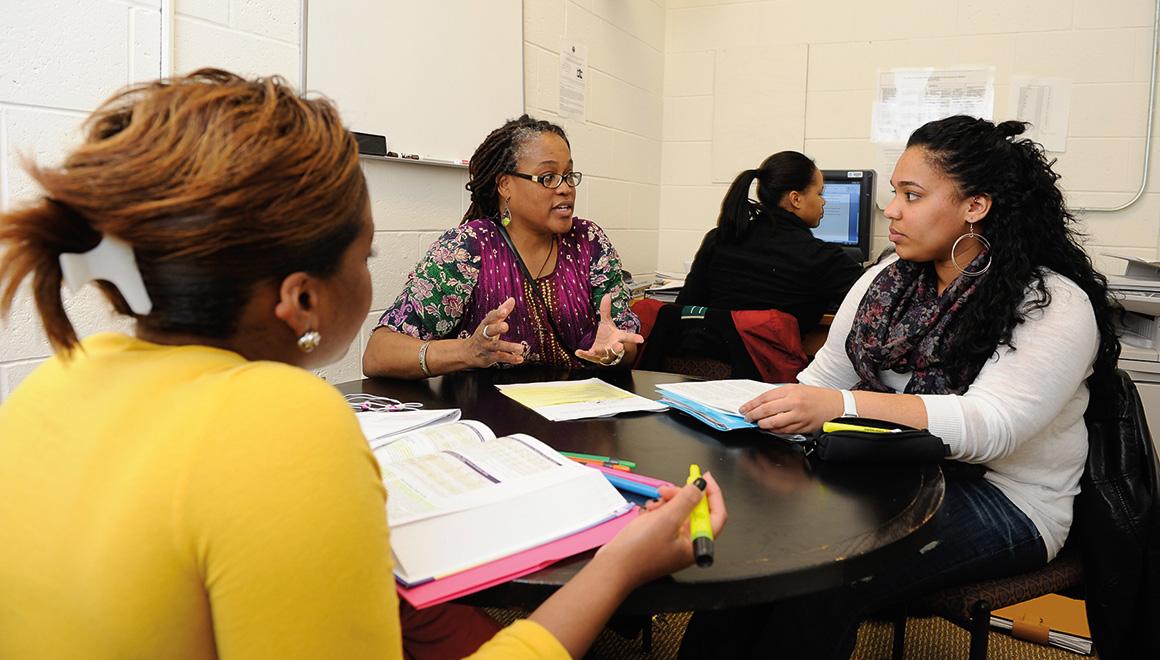 This unique and innovative program provides exceptional training in clinical social work, scholarship, and social action at a quicker pace, so that students can enter the workforce earlier and better prepared for success.
Why Pursue the 3+1 Social Work Degree at Simmons?
In 1904, Simmons became the nation's first institute of higher learning to offer training for clinical social workers —and has since been the industry-leading pioneer in social work education.
Our one-of-a-kind 3+1 program continues this tradition by offering an intensive yet rewarding opportunity to complete both the BSW and MSW degrees at an accelerated pace. Hands-on curriculum and field experiences are transformative and enriching, linking academic knowledge to a greater purpose of serving communities through social justice.
Students in the 3+1 program also benefit from all the advantages that our nationally regarded School of Social Work (SSW) has to offer: acclaimed faculty, alumni who are leaders in the field, and an ideal Boston location in the Fenway and Longwood Medical Area.
3+1 Social Work Degree Structure
Students in the 3+1 program complete their BSW undergraduate coursework at an accelerated pace, taking five courses per semester while also completing either electives of requirements during the summer terms. At the end of the third year, students submit an application for the master's portion of the program, adhering to the MSW Advanced Standing application process and deadlines.
Learn more about the 3+1 program structure in our Frequently Asked Questions.
Hands-on Field Experience
Simmons University's social work programs are renowned for their emphasis on practicum education to help students confidently prepare for the profession. Field work challenges students to think critically to apply course concepts in order to develop meaningful solutions to social injustice and provide services such as counseling, intervention, and access to social resources.
The stimulating coursework is combined with over 500 hours of field experience, building a strong foundation for practice. When students advance on to the MSW, they develop a specialization in clinical theory and practice, gaining immersive hands-on training through our renowned practicum education program. The SSW works with more than 300 exciting internship sites, ranging from schools and hospitals to government agencies and private organizations.
Equipped with theory and practice, graduates of the 3+1 program are confident leaders who have the refined expertise and hands-on experience desperately needed to enact widespread improvements that make a difference for individuals and communities.
Social Work Career Outlook
Social workers serve in essential roles that support the overall welfare of our communities. Career placements include hospitals, community health centers, adoption agencies, mental health clinics, school districts, and government agencies. Completion of an advanced and incredible versatile MSW degree qualifies graduates for a wide variety of challenging and fulfilling clinical roles at these placement locations.
Reflecting their essential role in our communities, the Bureau of Labor Statistics projects that employment of social workers will grow 13% from 2019 to 2029, making it one of the most in-demand and crucially needed professions.
In particular, students completing both a BSW and MSW degree through an accelerated 3+1 program are viewed as motivated, accomplished, and hard-working, providing a competitive edge in the employment market.
Program Accreditation
Simmons University is accredited by the New England Commission of Higher Education (formerly the Commission on Institutions of Higher Education of the New England Association of Schools and Colleges, Inc.). The MSW degrees of the School of Social Work are accredited by the Council on Social Work Education's Committee on Accreditation. The accelerated 3+1 program adheres to all accreditation standards, requiring completion of all undergraduate and graduate course and field requirements.
Admission Requirements
Students interested in applying to the accelerated 3+1 social work program must submit the following items to be considered for admission at the undergraduate level:
Completed Application
High School Transcript
SAT or ACT Test Scores
TOEFL Scores (required if English is not your first language)
College Essay
College Transcript (if applicable)
Two Letters of Recommendation (one teacher, one counselor)
Learn more about the application process, including deadlines and what we look for in an applicant.
Get Started in Your Social Work Career Sooner
Completing both a BSW and MSW at an accelerated four year pace means you can start taking on urgent social issues and improving the lives of those affected by them sooner. Ready to start your career in social work? Read more about the 3+1 program below, request more information or apply now!
In keeping with accreditation standards set forth by the Council on Social Work Education and the New England Association of Schools & Colleges, students enrolled in the 3+1 BSW/MSW Program complete all of the same undergraduate and graduate course and field requirements as our traditional programs, but at an accelerated pace.
Students choosing to pursue the 3+1 path will complete their undergraduate work in three years by taking five courses rather than four during some semesters and by taking courses during the summers between each year.
Students in the 3+1 program may then apply for advanced standing at the MSW level and, if accepted, will begin the MSW program at the end of three years. Provided they meet all requirements of the program, these students are eligible to earn their MSW in one additional year (3 semesters), allowing them to begin working and earning earlier.
Classroom and field learning have a synergistic and critical relationship within social work education. Our students prepare gradually for the profession through theoretical learning in the classroom and hands-on learning in the field. First, students fulfill service-learning hours and then are placed in formal internships.
According to the U.S. Department of Labor, overall employment of social workers is projected to grow 13 percent from 2019 to 2029, much faster than the average for all occupations.The aging baby boomer generation is driving the demand for gerontology social workers. Likewise, the need for social workers specializing in substance abuse and medical and public health is predicted to rise.
Our accelerated 3+1 is an incredibly versatile program that qualifies you for a wide variety of challenging and fulfilling clinical roles. Some possibilities include:
Addictions counselor
School social worker
Medical social worker
Emergency services worker
Outpatient mental health therapist
Policy analyst
Home-based child and family worker
Adoption social worker
Case manager
Housing advocate
Child welfare worker
Psychotherapist
Forensic social worker
Employee assistance social worker
Program evaluation coordinator
Family therapist and couples counselor
Program director
Department chief
Agency CEO
How do I apply for my master's degree in the 3+1 Program?
You will submit an application for the master's part of your program at the end of your third year, adhering to the MSW Advanced Standing application process and deadlines.
If I start the 3+1 Program, am I locked into it?
No. You can choose another major or complete just one degree if you find 3+1 isn't a match for you. However, depending on your new major, you may need to decide by the first semester of your sophomore year in order to meet the academic requirements.
Can I apply for admission into 3+1 after I am enrolled at Simmons?
Yes, Simmons freshmen may apply for admission into the 3+1 program at the end of their freshman year (spring). Your ability to complete the program by your senior year will also depend on what courses you took your freshman year and/or your Advanced Placement credits. Contact the 3+1 advisor for your program to learn more.
Do I have to complete the program in four consecutive years?
That's the plan. The curriculum for each program is set up with a careful sequencing of courses. Although there is some flexibility built in, it's highly recommended that you follow the program as it's laid out. If you feel this may be a problem, talk to your 3+1 advisor.
Will I have time to work or do extracurricular activities?
Because the 3+1 Program doesn't "skip" requirements and can demand a workload of five courses per semester, the time commitment is significant. However, your schedule should be flexible enough to allow you to work and join extracurricular activities.
Do I need to live in Boston year-round to do this?
Because the program almost entirely takes place on the Simmons campus and in field sites in the community, it's likely you will need to be in Boston for the academic year. During the summers, students are required to take electives and PLAN courses, which may be taken at other institutions, with prior approval of your academic advisor and the University Registrar.
Simmons's graduate programs are coed; can a male student participate in 3 + 1?
No. The 3 + 1 option is only available to students who enroll in our (all women) undergraduate program.
How much money do I save?
Depending on an individual's plan and progress, students may save significantly on both tuition and living expenses.
What if I leave the 3+1 Program after three years? Will I graduate with a bachelor degree as a junior?
Yes. If you complete all your academic requirements in three years, you will earn your bachelor degree.
Will 3+1 affect my financial aid?
No. You will apply for financial aid as you normally do.
How will employers view graduates of the 3+1 Program? Will I be as competitive?
Based on our extensive knowledge of the fields represented, the 3+1 Program will position graduates with an "edge" in the marketplace. You'll be seen as motivated, accomplished, and hard working.
And because the 3+1 Program doesn't cut corners - you complete the same requirements as traditional students but in a shorter amount of time - your credentials and experience will be competitive with other candidates'.
Can I really complete this in four years?
Yes! The strategic combination of course sequencing, complementary learning, and faculty mentoring make the 3+1 an appealing, feasible option. Finishing two degrees in four years will take organization and dedication. Yet in a competitive job market, we anticipate that you'll find the high-quality results and cost savings to be well worth it.
So you know that Simmons is a great place to be, you've learned about our programs, maybe even come for a visit...now you're ready to apply! Let's get started.